'Hello, I'm Mister Ed.'
A horse is a horse of course of course
And no one can talk to a horse of course.
That is of course unless the horse
Is the famous Mister Ed!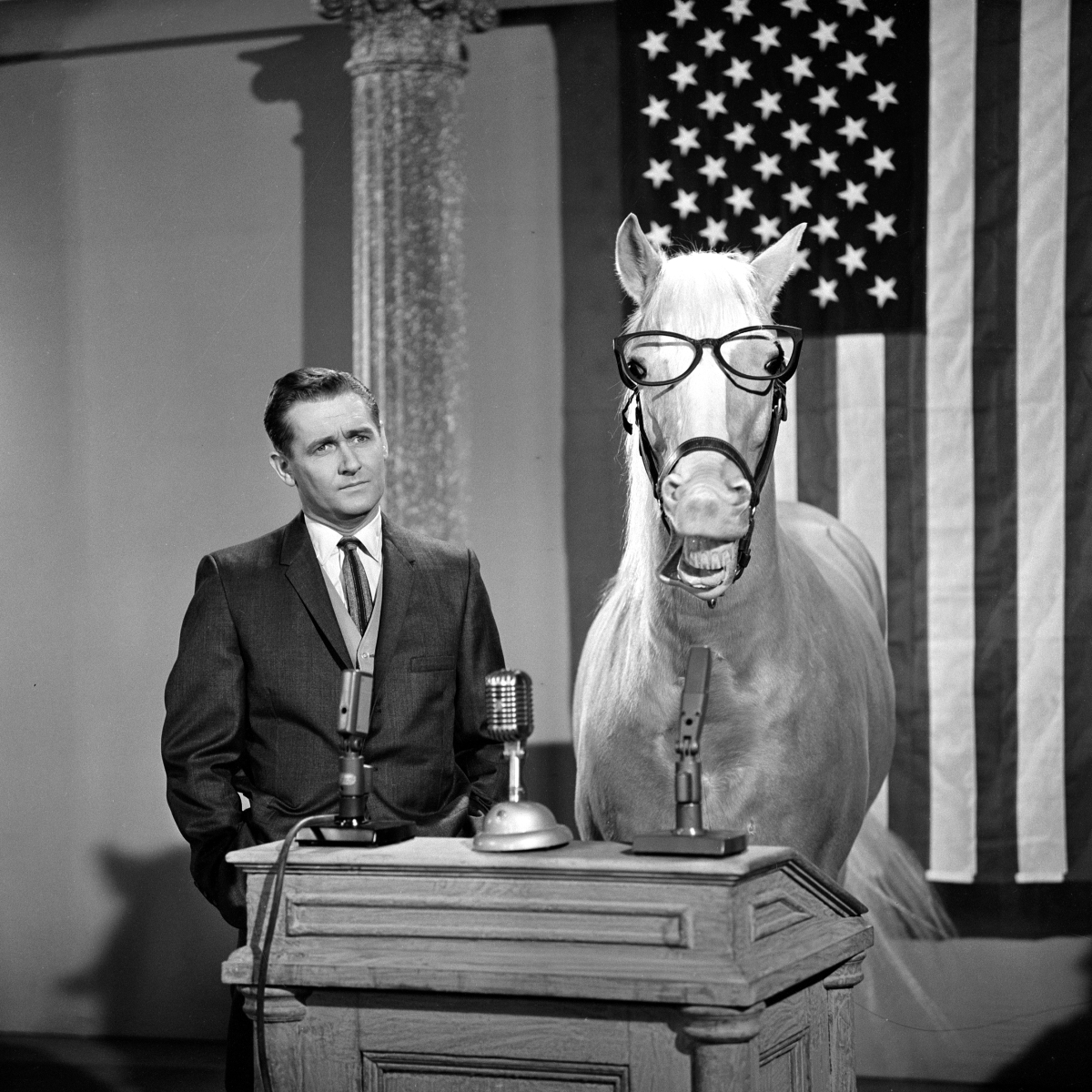 The Television Series
I grew up singing that song, even though the television series ended long before I was born. Granted, it may be the horse-lover in me that memorized the song, but this is one horse that certainly endeared himself to audiences. Mr. Ed was a television series that ran from 1961 through 1966 and starred the horse Bamboo Harvester, with Allan Lane as the voice of Mister Ed, and Alan Young as Wilbur Post, the comical horse owner. Jay Livingston is the voice behind the theme song that we know and love.
Mr. Ed and Wilbur have an incredible series of misadventures in the show. The horse would only talk to Wilbur and got him into all sorts of trouble. He played jokes and had a sense of humor. Perhaps the reason we all love Mr. Ed is that we envision having similar conversations with our own horses, and imagine what their personalities are like.
The television series was based on a story called "The Talking Horse" that appeared in a 1937 issue of Liberty Magazine. Mr. Ed, as everyone called Bamboo Harvester, was one of the most famous animals in Hollywood during the 1960s. In fact, he was so famous there was even an episode that starred Clint Eastwood as himself, he came to meet Mr. Ed too.
Bamboo Harvester
But who was the horse that played Mr. Ed? Bamboo Harvester was a golden palomino gelding and Saddlebred/Arabian crossbred. He was born in 1949 and died in 1970. Bamboo Harvester's sire was the Saddlebred stallion, The Harvester. His dam was the Arabian mare Zetna Hara.
Lester Hilton trained Bamboo Harvester. The horse would not take cues from Alan Young or the director. If they were filming the show, Hilton had to be on the set. Hilton had been a student of Will Rogers and was a well-respected horse trainer in Hollywood.
A Real-Life Mr. Ed
There are many funny quotes from the Mr. Ed series. One of my favorites is, "Well, time to hit the hay… oh, I forgot, I ate it." Bamboo Harvester may have had a sense of humor similar to that of Mr. Ed, seen in the television series. When the horse had enough filming for the day, he simply walked off the set, and the shooting for the day was over without the star of the show.
Hilton trained Bamboo Harvester to talk by putting a piece of nylon thread under his lip. Then, the horse moved his lips to make the soft thread fall out because it tickled. Then, he learned to move his lips every time Hilton touched his hoof. What's more, by the second season, he had figured out that when Alan Young stopped talking, he was supposed to move his lips, and he usually did without a cue, easing Hilton's job. Finally, he would even move his lips on his own while Alan Young was riding him during shoots. He really was a smart horse!
The personality didn't stop there, in addition, some other fun facts about Bamboo Harvester include that he really could answer the telephone, although it's unclear if he learned this before or after the television series. Bamboo Harvester, or Mr. Ed, also opened the barn door himself, and we know that when we see that in the show, it's real.
Controversy Surrounding the Death of Mr. Ed
Bamboo Harvester lived at Hilton's ranch in California, and Alan Young would go visit him and ride, even after the show had ended. Unfortunately, that bond was cut short early when Bamboo Harvester died in 1970 after struggling with kidney ailments and arthritis. Furthermore, there is some controversy surrounding his death.
First, it's important to know that Bamboo Harvester had a publicity horse and stunt double, Pumpkin, during the television series. Then, CBS continued having the Quarter Horse gelding make appearances at media shoots as "Mr. Ed" after Bamboo Harvester died. The average television viewer didn't know about Pumpkin, and people misunderstood which horse was which and that Bamboo Harvester – Mr. Ed they saw on television – had died in 1970. Pumpkin was also a star in his own right, and appeared on Green Acres, another popular television series produced by CBS. Then, when Pumpkin died in 1979 and it was reported in the media, many attributed that death to be the death of Mr. Ed, and that his how the controversy started.
One of the horses – Bamboo Harvester or Pumpkin – ended up in Oklahoma at some point during their life. A grave marker for Mr. Ed is located in Tahlequah, Oklahoma, and still draws visitors that loved the show every year to pay their respects to the horse, even though it is unclear whether it is the grave of Bamboo Harvester, Pumpkin, or a convenient place to leave the marker. A granite marker recognizing it as the resting place of Mr. Ed replaced the wood cross in 1990 and it remains a destination for fans of the horse and the show.
A Horse is a Horse
Regardless, Mr. Ed, and Bamboo Harvester the horse who embodied him, were beloved by audiences and endeared themselves to audiences. The show ended in 1966 – that is 55 years ago; yet many of us still sing the jingle and can recall a favorite scene, episode, or Mr. Ed quote. Bamboo Harvester certainly made an impact on Hollywood and introduced many viewers to the wonderful personalities of horses.
Sources: Mr. Ed (iMDb), Mr. Ed Trivia, Mr. Ed. The Talking Horse: 10 Facts You Never Knew, A Case of Mistaken Identity: What Horse is in Mr. Ed's Grave and The Inexplicably Strange History of Mr. Ed.