Big Jake was a Belgian draft horse gelding that had the distinction of being the world's tallest horse at 20 hands and 2.75 cm, without his shoes on. The Guinness Book of World Records crowned him the tallest horse in 2010. He died at Smokey Hollow Farm in Wisconsin in 2021, where he was a beloved part of the family, but his larger-than-life legend lives on.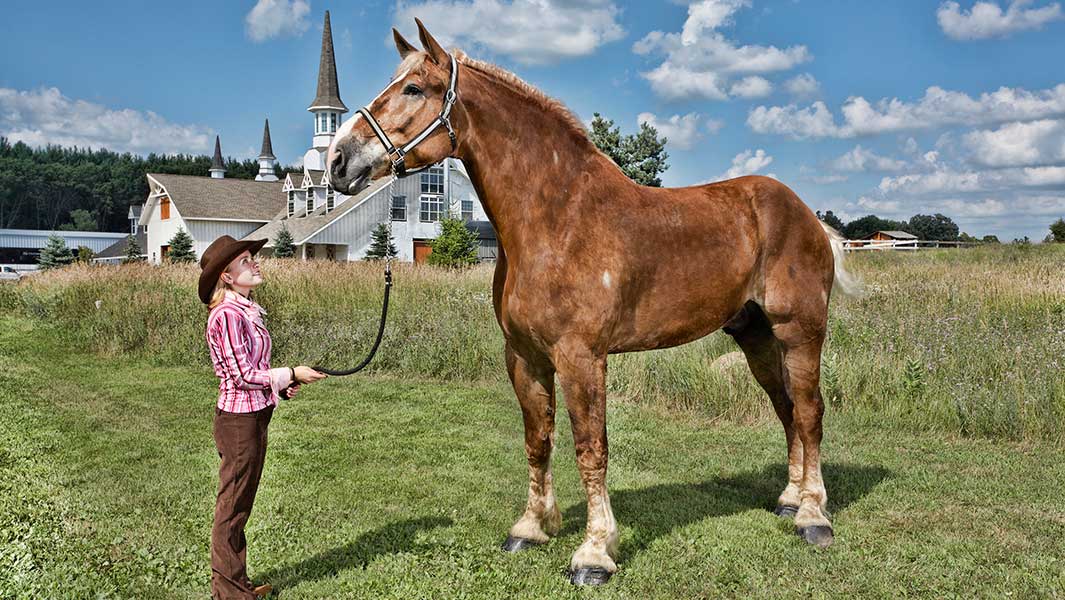 Most draft horse breeds are known for their tall stature, strength, and kind temperaments. Big Jake, who had the distinction of being the Guinness Book of World Record's tallest horse from 2010 until his death in 2021 far exceeded all these commonly accepted traits.
He was over 20 hands tall, making him nearly 6 feet and 8-inches tall at his withers. For perspective, the average height of a man in the United States is 5 feet and 9-inches, while a woman is 5 feet and 4-inches on average. Unless they were basketball stars, most people would have been unable to see over Big Jake's back.
All About Big Jake
Big Jake was born big, weighing about 240 pounds at birth in March of 2001, an early glimpse into what was to come. Jerry Gilbert and his family at Smokey Hollow Farm in Wisconsin owned Big Jake. The Gilbert family purchased Big Jake when he was three from a family member; he had gotten too big for them.
Jerry and his family knew that Big Jake was something special. He was treated like part of the family and known as affectionate and kind. One of the most famous photos of Big Jake is him standing with Caley, the Gilbert's daughter, who was a young girl at the time, holding his leadline in front of a beautiful barn. Big Jake's large size is even more pronounced by the small stature of the young girl holding him. Another photo shows Caley driving him, with her even smaller brother standing in front of the horse.
Officially, Big Jake was 20 hands and 2.75 cm tall. He assumed the title of World's Tallest Horse in 2010 after Jerry contacted the Guinness Book of World Records. The family breeds and shows Belgian draft horses and knew when Big Jake was seven or eight that he had a chance at the record.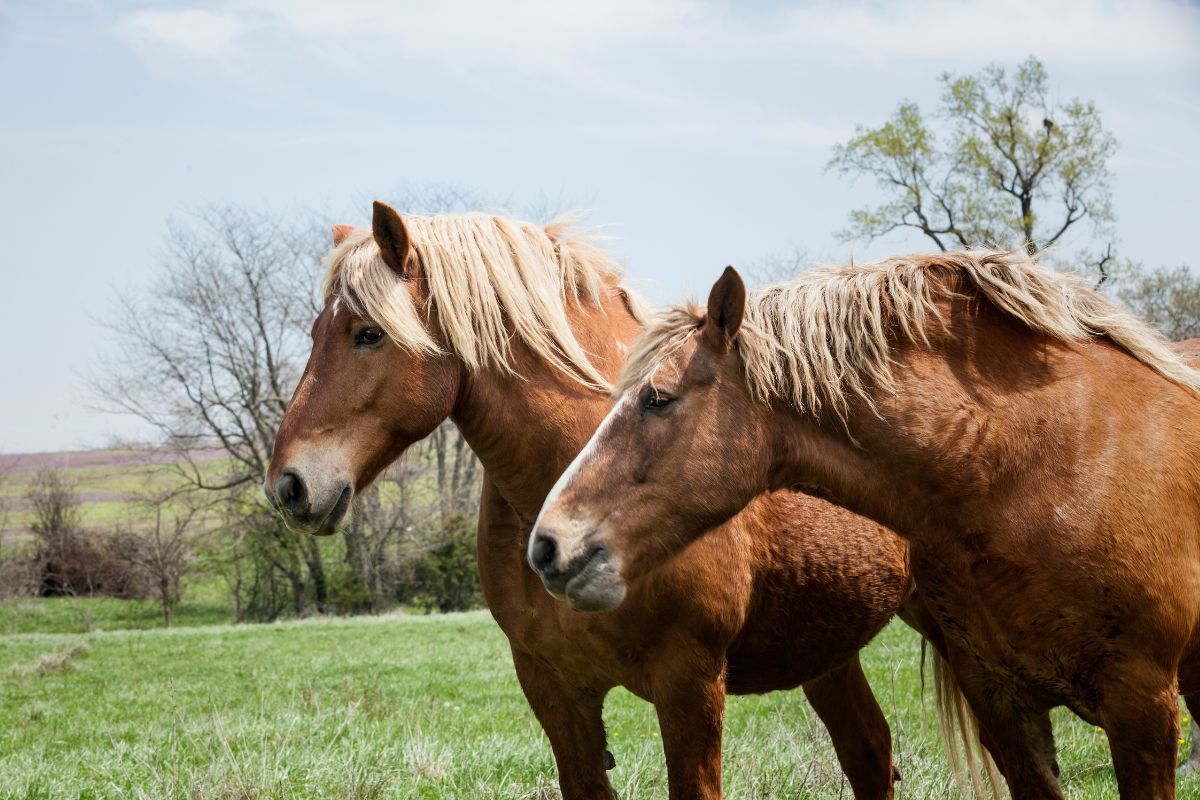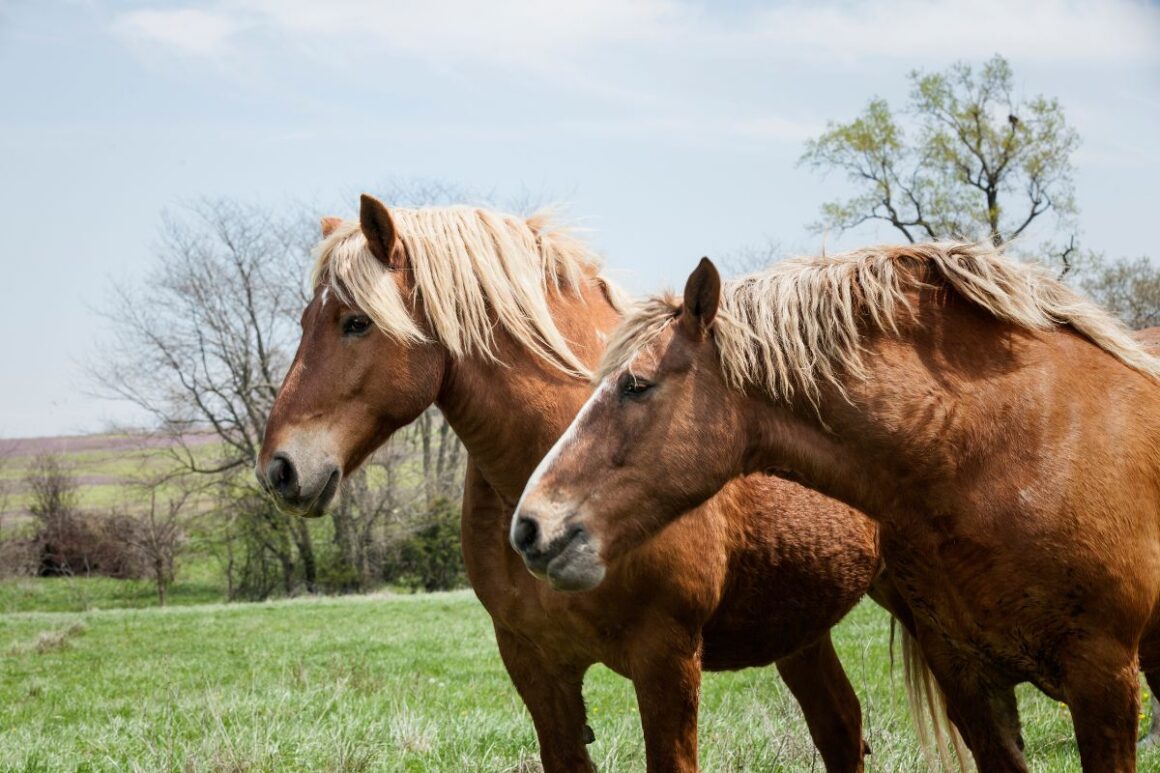 The Belgian Draft Horse Breed
The Belgian draft horse breed is the most popular breed of draft horses in the United States, with a thriving population. They're known for their strength, gentle and kind temperament, and distinctive color. Most Belgians are blonde, sorrel, or chestnut with a lighter mane and tail, making them easy to recognize. The breed has a willingness to work and a cooperative attitude that have helped them become the most popular draft breed in the United States.
The average height for a Belgian draft horse is between 16 and 18 hands. Remember, Big Jake was over 20 hands tall, making him eight inches (or two hands) taller than the average tallest height for members of his breed. Big Jake's massive birth weight – at 240 pounds – was almost double the average birth weight of 125 pounds for a Belgian foal. Both of Big Jake's parents were average size, he just won the genetic lottery so to speak.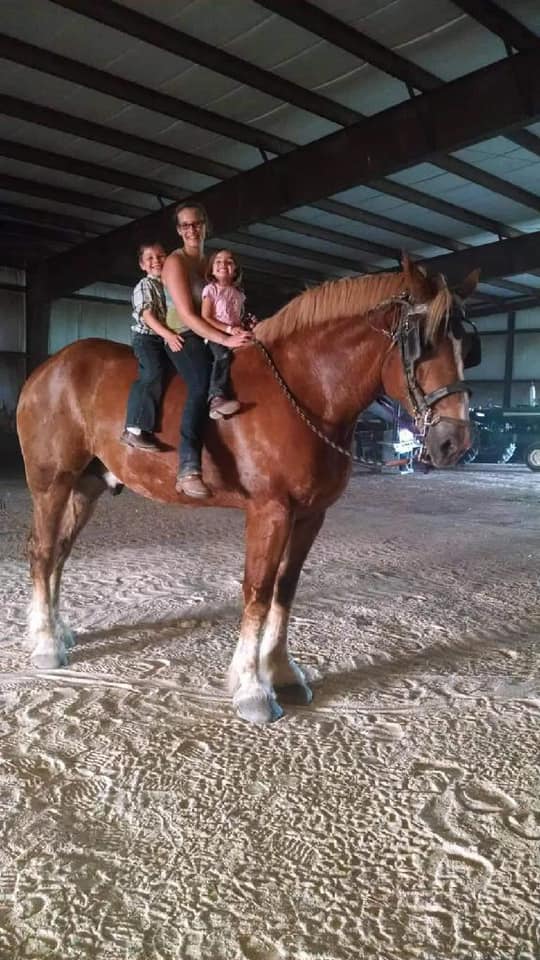 Lifestyle and Fans
His owners at Smokey Hollow Farm stated that he ate a bale of hay per day by himself, plus 24 quarts of grain daily. The Gilberts were careful not to let Big Jake get too heavy, as that would have put even more stress on his system. He lived in a box stall that was 20 feet by 20 feet so that he had plenty of space and a spacious field outside as well.
They retired him from the show ring at age nine, but still took him out for appearances. Crowds of people visited him at the farm and various events every year. Big Jake was a wonderful ambassador for horses, while also basking in the attention. The Gilbert family raised money for the Ronald McDonald House with Big Jake's appearances.
Big Jake was not the first Belgian to make the history books. Brooklyn Supreme, or Brookie, is the heaviest horse ever recorded, at 3,200 pounds. He was 19.2 hands tall and lived in Minnesota from 1928 to 1948.
Opposites Attract
As tall as Big Jake was, there was also as much excitement for the world's smallest horse. Documenting the world's tallest horse matches the measurement and popular press of the world's smallest horse. Thumbelina, who had dwarfism, held this record for many years. When she passed away, Einstein Horse assumed the honor. He's been serving as an ambassador for the equine species in much the same way that Big Jake did.
Big Jake never met Thumbelina or Einstein Horse. But photos with other large or small things, including the Gilbert children, help show just how big or small these horses really are.
Big Jake's Legacy
Big Jake passed away in June 2021 at 20 years old. Major media outlets throughout the world, including the Guinness Book of World Records, Newsweek, and USA Today covered his death.
Sampson, a Shire gelding, was the world's tallest horse ever at 21.2 hands tall (born in 1846). The legacy of Big Jake will live on, just like those of Sampson and Brookie. There is still a tribute to him on the Smokey Hollow Farm website. He also lives on in the memories of his family and all that had the chance to meet him. Big Jake wasn't just the World's Tallest Horse, he was also a great and kind horse.
Sources: Belgian Draft Horse Corporation, CNN, Cowgirl Magazine, Guinness Book of World Records, Healthline, Newsweek, Smokey Hollow Farm, and USA Today.