Dales Ponies are noble, kind, and energetic ponies that hail from the mountains, dales, and moors of northern England, along the Pennine range that includes parts of Derbyshire and Yorkshire.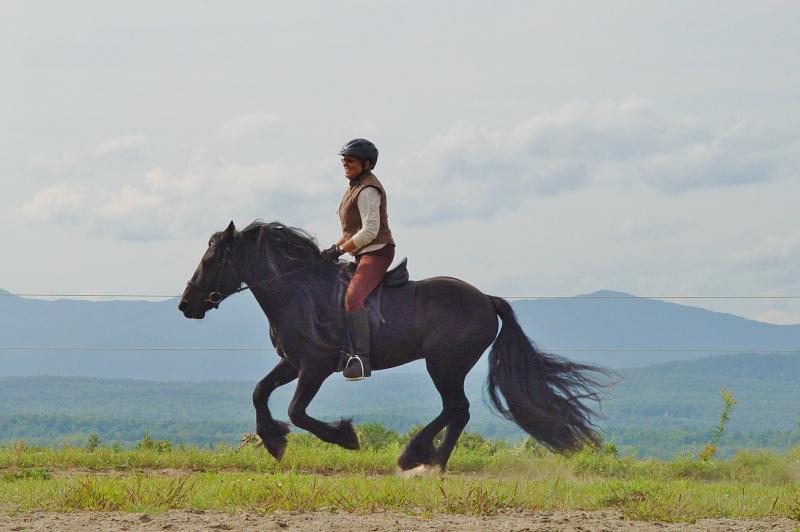 Horses have been present in England since Roman times, but in the late 1600s, specific breeding of the Scotch Galloway started creating a distinct horse. This became the Dales Pony, and although they've suffered more than their share of setbacks, the breed is slowly recovering and remains popular with a small, dedicated group of followers.
Horses were needed in northern England for many purposes. Early uses include transportation, pack animals, agricultural work, and in the lead and other mines. Dales Ponies originated from the breeds in the area, and selective breeding soon created a distinct set of characteristics and strong breed type. There are five pony breeds that originated in England, including the Dales Pony. The others are Fell, Exmoor, Dartmoor, and New Forest.
These Dales Ponies are very uniform in height, color, strength, and temperament. The Dales Ponies earned a reputation as being kind and noble. They're also alert and intelligent, all characteristics that made them ideal for this challenging landscape and the jobs that accompanied living there.
A dale is an open valley, and these ponies learned to survive and thrive in northern England's dales, moors, and mountainous areas. Their conformation made them fast and sure-footed in any terrain, a characteristic that remains today.
During my many horse hunting years, a Dales pony is one breed I was specifically looking for. I ended up buying (and loving!) and Azteca horse but still think a Dales pony would have been a great partner for someone like myself.
History of Dales Ponies
Dales Pony history is uniquely tied to the area of England where they developed. The Romans imported the Friesian to the area, and horses have remained here since. The Dales Ponies trace back to these horses.
Then, in the 1600s, people began selectively breeding their Scotch Galloway horses, the breed that became the Dales Pony. Many different breeds were used over the years to create the Dales Pony. But, despite the influx of other bloodlines, almost all horses registered as Dales today trace back to the Darley Arabian in one line of their pedigree.
The Norfolk Trotter and Yorkshire Roadsters both influenced the breed. Thoroughbreds, Clydesdales, and Welsh Cobs were also used. Dales Ponies were also bought and bred to create Vanners. These horses eventually became the Gypsy Vanner horse.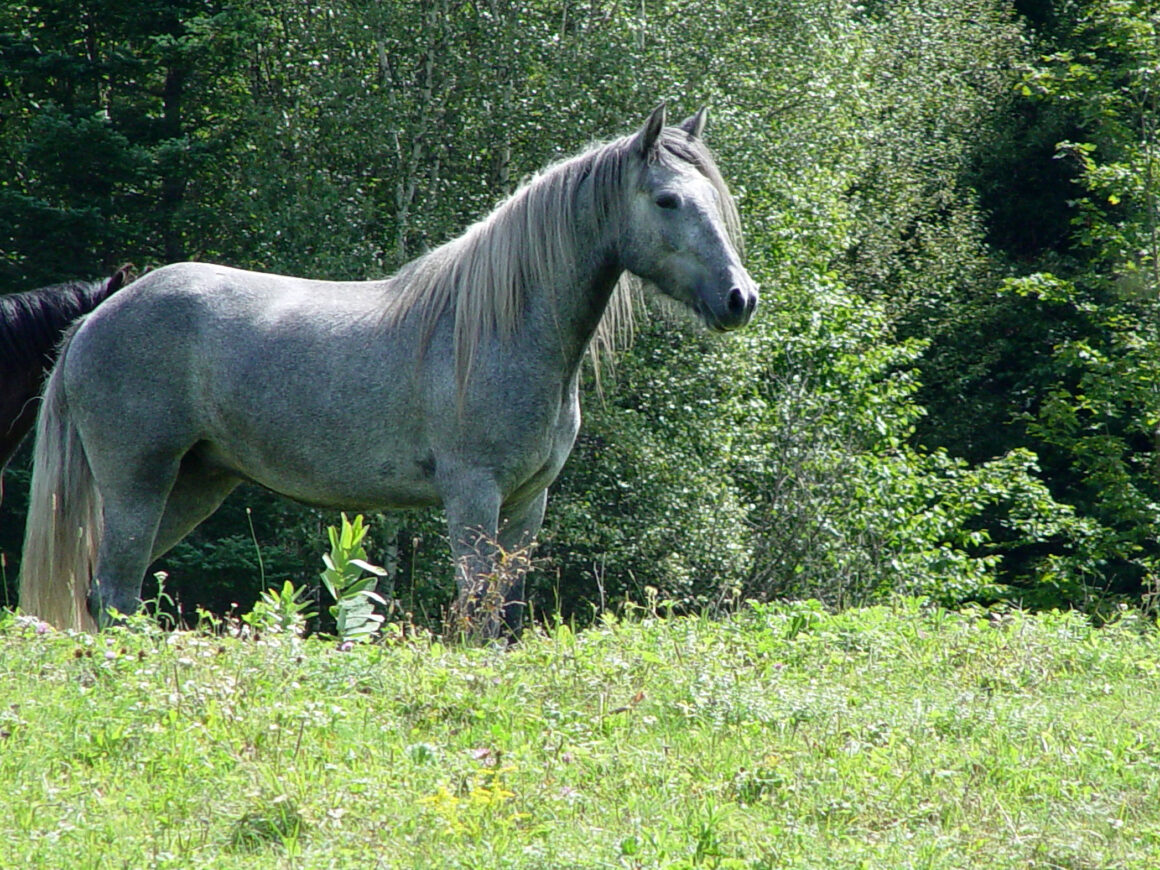 Breed Characteristics
Many Dales Ponies are recognized for their black hair coats, small, sturdy structure, and ample forelock, mane, and tail. Brown, grey, bay, and roan are other acceptable colors, although black is the most common. They have limited white markings, with only a star, snip, or blaze and white on the hind legs up to the fetlocks. Many in the breed have no white markings.
Height is between 14 and 14.2 hands. Dales Ponies have large, wideset eyes that are bright. They do have pony-like characteristics overall. The neck is long and strong and leads to a sloping shoulder. This open frame allows for animated action in their movement. They are known as a trotting breed and were once popular in trotting races. Their "deep and clean legs" are a defining characteristic of the breed.
The Dales Pony temperament is kind and intelligent. They are brave animals and are suitable for riders at all levels because of their bravery and innate intelligence.
Comet and His Family
Trotting races were popular in the 1860s. Comet, a Welsh Cob stallion, had a significant influence on the Dales Pony breed. He improved their trotting capabilities. He was often referred to as Comet Talbot because he was bred at the Talbot Hotel in Wales and lived in that area for the first 10 years of his life. While in Wales, he was a popular winner of trotting races and breeding stallion.
His son, Young Comet (also known as Comet II) carried on the family's strong trotting and breeding tradition. Teasdale Comet and Daddy's Lad, grandsons of the original Comet, were also popular sires in Dales Pony breeding.
Foal Immunodeficiency Syndrome
Foal Immunodeficiency Syndrome is a genetic disorder that affects a few horse breeds, including the Dales Pony and Fell Pony. Foals are born normal, and then, unfortunately, die within three months. Affected foals receive the gene from both parents. Luckily, genetic testing requirements now protect the breed. Two carriers of the gene are not allowed to be bred to each other.
Dales Ponies Today
The British Army used Dales Ponies extensively in both World Wars. The breed was almost eliminated as a result of World War II. However, some dedicated breeders traveled throughout the countryside, finding unregistered horses, and slowly bringing the breed back. Ponies could be graded up, and this has ensured the high quality of the breed that remains today.
Dales Ponies are popular for riding and driving horses. They are known for their endurance and sure-footedness and are used on pony trekking holidays, for foxhunting and jumping, trail riding, dressage, eventing, and in other disciplines. Their kind temperament and beauty ensure that the small population will continue growing.
Sources: Dales Pony Conservancy North America, Dales Pony Society of America, Dales Pony Society, and The Livestock Conservancy.