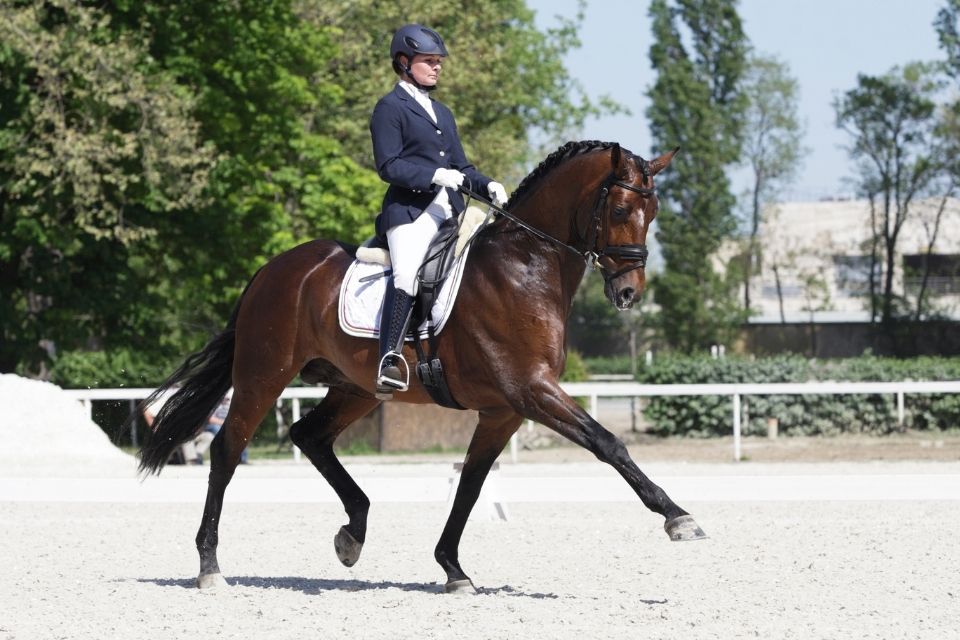 What is dressage riding? At its core, dressage riding is training. The word dressage is based on the French word that literally means training. Therefore, the purpose of modern dressage is to strengthen the horse and create a supple athlete. Maintaining and promoting a calm demeanor in the horse is also a key principle throughout dressage training.
While that is the technical definition, dressage riding can also be compared to dancing with horses. Done correctly, dressage riding is a beautiful form of art. Many of us associate dressage with the musical freestyles that remind us of ballet on horses. This is the pinnacle of the sport, nevertheless, it is a discipline that is open and accessible to riders at all levels.
Riders develop their horse over time using a progressive system where each step builds off the previous one. Dressage riders all over the world use the training pyramid, and it forms the basis for competitive dressage where there are multiple tests at each level. The tests and levels then become progressively difficult as the horse advances in its training and competition, finally reaching the Grand Prix level.
It's even more impressive when you consider that dressage has been around for centuries; with its origins in warfare. Then, it was discovered that the practices used in dressage benefit horses in any discipline, and now we see dressage used as the foundation for many of the top equine athletes.
Dressage Riding: Origins in Warfare
History traces dressage riding back to ancient Greece, and next horse sports became part of the Ancient Olympic Games in 680 BC. Xenophon was a historian and soldier in Athens and wrote a manual called On Horsemanship in 350 BC. His manual continued to be the default program for soldiers training horses for warfare throughout the coming centuries. Furthermore, equestrians still read and review copies of On Horsemanship, and you can check with your favorite bookseller or library if you've never read it.
The military principles of dressage are quite simple. Battles are chaotic and unpredictable, and well-trained and obedient horses increased the likelihood of success in the heat of battle. Likewise, the human ego also played a role in shaping dressage for the military. Knights, nobles, and those aspiring to higher positions were all part of the military. They used horses for transportation and long journeys to battles, thus, beautiful horses that moved elegantly enhanced their personal image. These attributes cemented dressage into a foundation of horse training.
Dressage transformed further and became an art form in the 16th and 17th centuries. Italy was home to the first dressage riding school, which was founded in 1532. William Cavendish, a British noble built the first dressage arena in 1634 and then wrote the book A General System of Horsemanship in 1658. He advocated for sympathetic horse training, which we understand today as empathetic; the horse is our partner in achieving our goals.
Today's Dressage Horse
The training pyramid is the focus of dressage riding and includes the same principles used by the early Greeks. It begins with rhythm; horses must have regularity and tempo to do anything else. Next, comes the suppleness, and this includes a relaxed and elastic horse. Contact is the third level of the pyramid, and we see this in a horse connected to and accepting of the bit and aids. Impulsion is next. It means the horse is engaged and wants to move forward. Straightness and collection are the final two levels of the pyramid.
Maintaining all levels of the pyramid is necessary to reach the collection stage; there are no shortcuts. Instead, the training period is a foundation that builds on the principles mastered by the horse and rider in earlier levels of training.
Dressage as a sport was born in the 19th century with Austria holding the first known competition in 1873. Modern equestrians re-introduced dressage as an Olympic sport in 1912 but it was more of a military test. Next, women and non-commissioned officers began competing in Olympic dressage in 1952.
There are two components of modern dressage: training and competition. The training pyramid and basics of dressage apply to any discipline. Look at the success of Western Dressage. The principles of dressage build a solid foundation for any horse and rider. The competition side is optional, with many equestrians pursuing this path. Each year, we see more and more participants. Musical freestyles and Olympic-level competitions inspire others to join the ranks of dressage riders.
Why Everyone Should Consider Trying Dressage Riding
History shows us that good horsemanship never goes out of style. The basic principles of dressage apply a good foundation for any horse in any type of riding. Dressage can be ridden at home in whatever saddle you have, in any area.
All horse and pony breeds can participate in dressage, and some are more popular than others. At the highest levels of dressage, we see many Warmbloods. Valegro, the Olympic gold-winning mount of Charlotte Dujardin of Great Britain is a Dutch Warmblood, and many other Warmbloods excel in dressage. Baroque breeds – horses tied to the classical dressage period from the 16th to 18th centuries are incredibly popular. These are our Friesians, Lipizzans, Andalusians, and Lusitanos.
The beauty of dressage is that any horse can learn to dance. We see incredible ponies competing in dressage, off-the-track Thoroughbreds with huge success, and everything in between. Dressage is something we can apply to become better at our chosen equestrian discipline or pursue with passion through the levels of the sport.
Sources: United States Dressage Federation, FEI Dressage, British Dressage, Dressage Today, and Horse Illustrated.