Einstein is the smallest horse that was ever born, he was only six pounds at birth, on April 22, 2010. Dr. Rachel Wagner and Charlie Cantrell purchased him the day he was born from their friend and his breeder, Judy Smith of Tiz' A Miniature Horse Farm in New Hampshire. Since then, he's been on countless television shows, has books written about him, and is a social media influencer.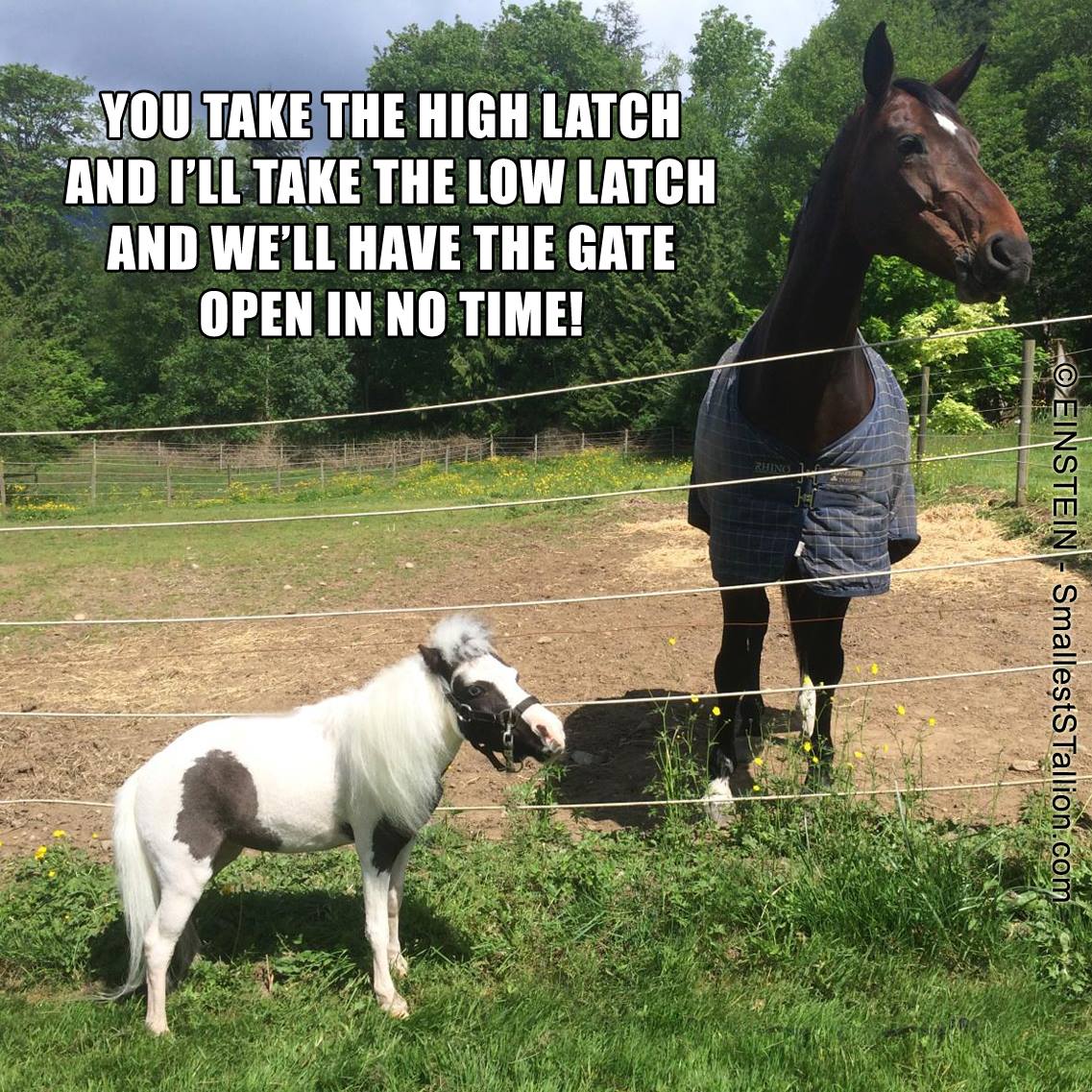 Most equestrians know that miniature horses are small, but Einstein was smaller than small. He was only six pounds when he was born, making him the smallest miniature horse ever born. Judy Smith, of Tiz' A Miniature Horse Farm in Barnstead, New Hampshire had been breeding horses for 30 years and knew that this one was different. Six pounds is two cantaloupes. It's less than most cats.
Dr. Rachel Wagner first met Judy when she was five years old, and the two had remained friends ever since. She dreamed about a small black and white miniature stallion with blue eyes. On the morning of April 22, 2010, she told her husband about it, and they decided to go see Judy since it was foaling season. They stopped for breakfast and ran into Judy and her husband – they had been up all night caring for a very small miniature stallion. He was black and white with blue eyes. Rachel fell in love with the small stallion and Charlie purchased him for her.
All About Einstein Horse
Einstein's equine parents are both champion miniatures that still live with Judy on her farm, as does his grandmother, Mona. Einstein the horse is perfectly proportioned with excellent type and conformation, evidence of his excellent breeding.
Rachel and Charlie chose the name Einstein for him. They had recently finished Dr. Einstein's autobiography and had always been fans of his scientific contributions, including the theory of relativity. Upon meeting Einstein, the horse, one of the first things they noticed was his fluffy white mane and blue eyes, and the name Einstein seemed fitting.
His hair grows quite long and looks almost curly in some of the videos and photos of him on his social media pages. There's also a recent video of Charlie body clipping him, which is normal for miniature horses.
Einstein continued growing despite his very small start. Today, he is about 24 inches tall, and 80 pounds, Charlie and Rachel say he is the equivalent of a Golden Retriever.
Life-Saving Surgery
Even miniature horses aren't supposed to be as small as Einstein was at birth, and this small size comes with some complications. They found him lying in the stall next to his mother, unable to get up when he was two months old. He had suffered a spinal cord injury because of his small size.
Einstein was rushed to Cornell University, but the equine surgeon couldn't operate on him. Instead, the veterinarian contacted the canine surgeon, who had completed numerous canine spinal surgeries and written several textbooks. The canine surgeon spent eight hours operating on Einstein and saved his life by applying five screws and seven pins to his spinal cord. Miraculously, he was on his feet the morning after surgery.
Einstein spent two months recovering at the veterinary hospital at Cornell University before returning home. Shortly after his return home, he was on the Oprah Winfrey Show in Chicago, trotting out on stage to meet the mega-star. It's hard to believe any of that is part of his history as you watch him gallop around on the videos on his social media platforms.
Einstein's Friends
Rachel and Charlie wanted Einstein horse to have as normal a life as possible but knew he was too small as a foal – and fragile because of his surgery – to be with other horses, even minis. So, they found some other friends for him.
Charlie loves rescuing animals, and Rachel is a lifelong equestrian and animal lover too. Einstein shares his stall with two Nigerian Dwarf goats, has a tortoise friend that Charlie rescued, and is best friends with Lily, the white boxer that Rachel and Charlie own.
As Einstein reached his full-grown height and regained full strength, he was introduced to other horses and animals. There are videos of him galloping along at home, leading a group of three full-size horses. He runs along loose on trail rides while Rachel and Charlie ride their horses and lives a wonderful life as a miniature horse. He also has numerous human friends.
Social Media Influencer
Everyone wants to meet Einstein, but it's important to Rachel and Charlie that he gets to spend 90% of his life being a horse, and spending time with his friends. Instead of taking him out on a lot of visits, they have an active social media presence for Einstein horse instead. He has 103,000 followers on Facebook and 10,900 subscribers on his YouTube channel.
Charlie and Rachel have written books about Einstein, including A Friend for Einstein, which made the New York Times bestseller list. There is also fun on the farm book and a hide and seek book.
Einstein Horse Today
Technically, Einstein is not the world's smallest horse. That distinction belonged to Thumbelina, a dwarf miniature mare who was a couple of inches shorter and measured 17 inches, or 44.5 cm tall. However, Einstein's perfect proportions distinguish him from the other miniatures vying for the world's smallest horse title, he looks like he was just shrunk down.
Titles and world records aren't really what's important though. Einstein horse brings joy to his humans, Rachel and Charlie, and to his millions of fans around the world that follow him on social media or see him on one of the numerous national television shows he's been on. Einstein introduces many to the joys of horses, and in the meantime, has a wonderful time living his life on the New Hampshire farm of his owners.
Sources: Einstein's Facebook Page, Einstein's FAQs, Einstein's YouTube Page, Oprah.com, Smallest Stallion (Einstein's website), WMUR News, and Guinness Book of World Records.