Tölting through the snow on a spunky little horse is an iconic dream of anyone who's seen or met an Icelandic horse. This spirited breed developed in the land of fire and ice and has been enthralling equestrians and non-equestrians alike for a millennium. The breed has five gaits, the walk, trot, and canter we see in other horses, as well as the tölt and flying pace that has made them famous.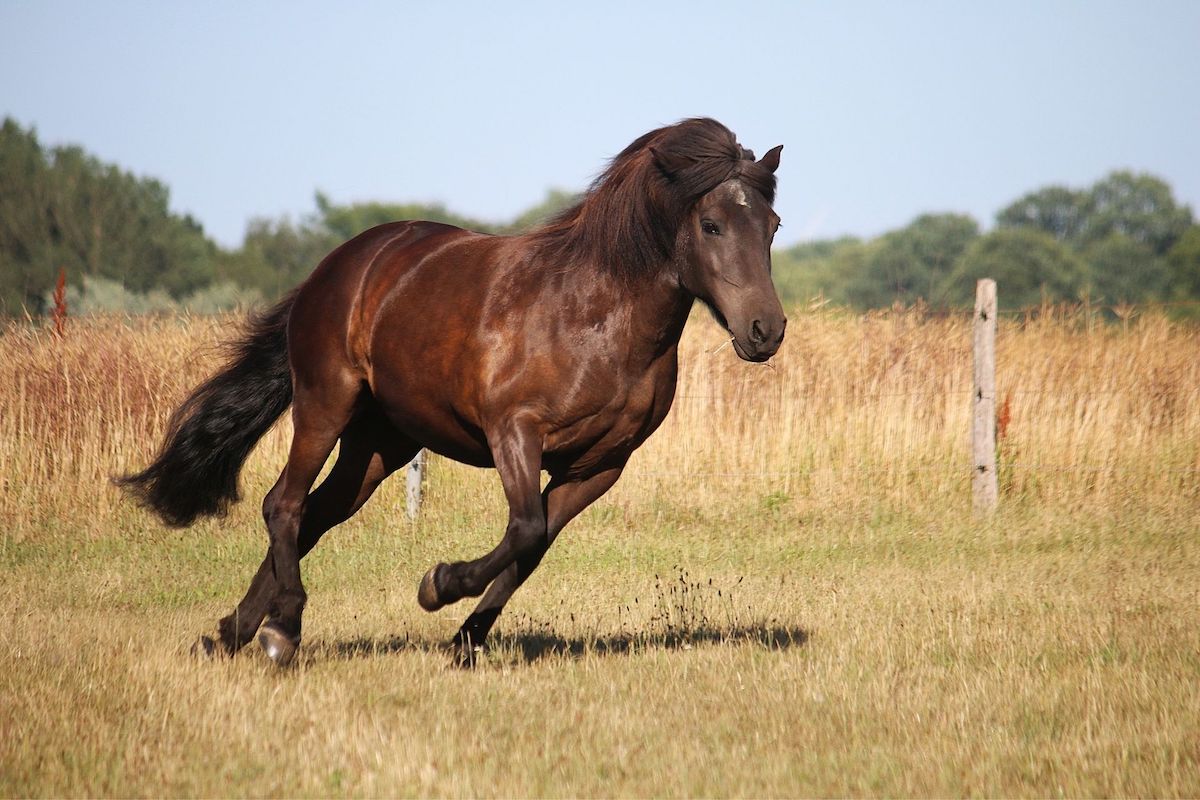 Icelandic horses have captured people's imaginations for over 1,000 years. This includes those that breed the horse and live and work with them, to people fascinated by their history and athletic ability. The Icelandic horse is small – oftentimes actually pony-sized – with a range of colors and a spunky, yet kind attitude. The speed and smoothness of their tölt and flying pace are famous. In fact, Iceland's history and mythology are intricately tied to Icelandic horses. They remain a steadfast contributor to tourism and the Icelandic way of life.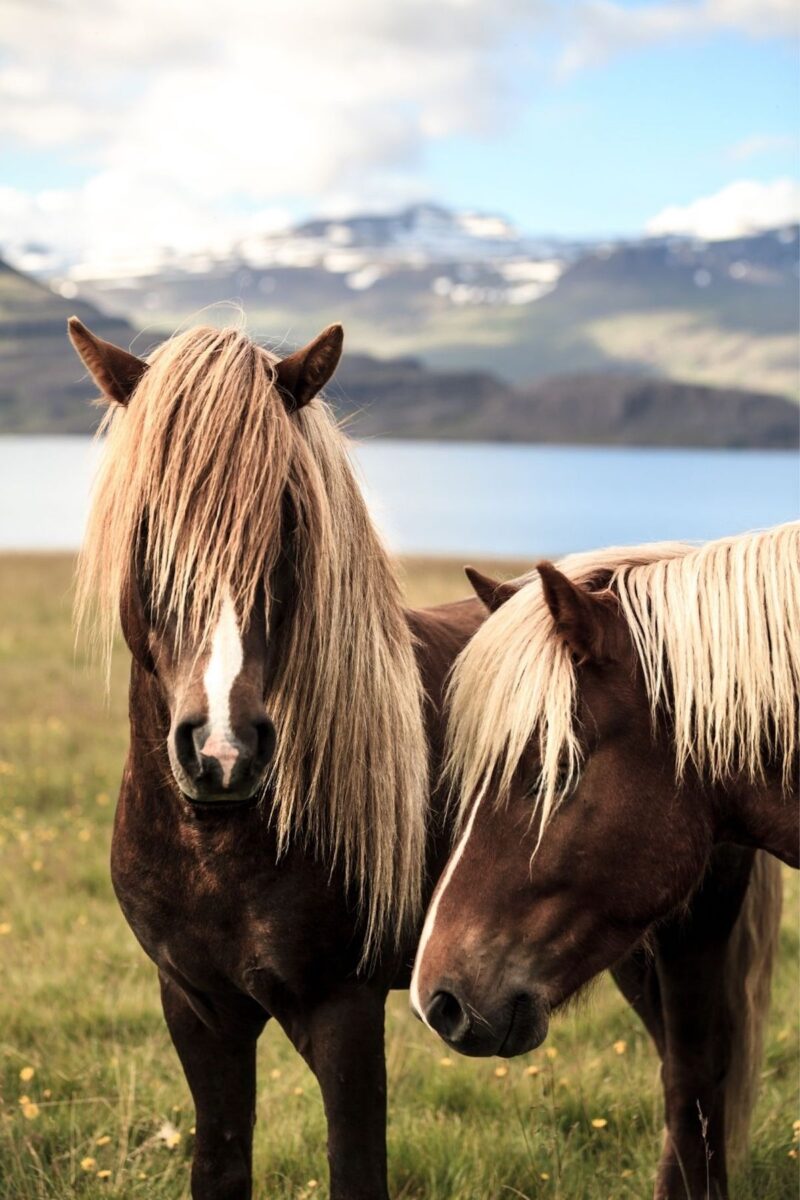 History of the Icelandic Horse
The Icelandic horse breed dates back 1,000 years to the Viking, or Norse, arrival in Iceland. They brought their small horses with them, and the Icelandic horse, as they became known, is a powerful figure in Norse mythology. Norsemen arrived in the 9th and 10th centuries. Horses are first referenced in the 12th century.
People tried importing other horses to Iceland about 900 years ago in an attempt to strengthen the breed. The results were devastating, with the deaths of Icelandic horses resulting from diseases the imported horses brought with them. As a result, the government outlawed horse imports. They also created a law that states if horses are exported, they cannot return. This means that the breed is a closed herd in its native Iceland. The Icelandic horse has practically no health issues except for some internal parasites, which are a normal issue of all horse breeds. The climate in Iceland is harsh, and survival of the fittest was part of the breed's development so these little steeds are smart and sturdy.
Breed Characteristics
So, what does survival of the fittest look like? Icelandic horses are incredibly hardy and long-lived, easily into their 30s. They survive the harsh climate of Iceland with relative ease, requiring little food and staying warm with their unique double coat. These horses are incredibly sure-footed and again, have relatively no health issues. It's a slow-maturing breed too – growth stops around seven years old, and their prime athletic years are between ages eight and eighteen.
The breed is technically a pony because their height ranges from 13 to 14 hands, although the standards aren't strict, and some are taller or shorter. They are a stocky breed though. Their strong, sturdy legs and deep body give them the same strength as full-sized horses. That's one of the reasons, it is believed, that they are referred to as horses not ponies. Icelandics are also known for their hair. They have thick, beautiful manes and tails, in addition to the thick winter coat, they grow.
Icelandic horses are calm and rarely spook, perhaps in part because there aren't any natural predators in Iceland. They are also spirited though not in a mischievous way and have oversized personalities. That's one of the traits, in addition to their sure-footedness and stamina, that endear them to people.
Icelandic horse coat color has over 100 words in the Icelandic language to describe it. That being said, it's impossible to mention them all here. Common colors include chestnut, bay, brown, and black. They can also be grey, silver, dun, pinto, cream, and in rare cases, roan.
The Tölt and Flying Pace
All horses can walk, trot, canter, and gallop. However, Icelandic horses are a gaited horse breed that also has two extra gaits: the tölt and the flying pace.
Explosive speed defines the tölt. It's an ambling gait because of the footfall pattern. However, there is nothing "ambling" about it. The tölt is often compared to the Paso Largo, rack, or running walk – all lateral gaits of other breeds. The tölt foot pattern is left hind, left front, right hind, and finally, right front. Watching this gait it something else – here you have a little horse just going along while the rider barely moves at all! There is no suspension between strides.
Races and short distance jaunts are where we see the flying pace. Horses reach speeds of up to 30 miles per hour at this pace. Again, it's fast and smooth, although not all members of the breed can perform the flying pace. It's a two-beat lateral gait, so the left side moves, and then the right-side moves, with a moment of suspension in between the two sets of legs.
You can see both the tölt and the flying pace in the video above.
Famous Horses
Icelandic Sagas feature many of the breed's famous horses. We're not sure if these horses truly existed or not, but their names live on through the myths and legends of the country. Shining Mane and Frosty Mane were the chariot horses of the Gods of Day and Night respectively.
Skalm was the first Icelandic horse to have a name, and the first reference we see of the breed, in the 12th century. Skalm was a mare that laid down under her load, so chieftain Seal-Thorir decided that was where they would settle.
Other horses were also famous as we continue through history, but it's really the breed as a whole that has become famous, instead of individuals. Today, popular breeding stallions also have name recognition among Icelandic horse aficionados.
The Icelandic Horse Today
Icelandic horses are still tending flocks of sheep. They are also used for long-distance trekking throughout the country. Both are original uses of the breed that have persevered through the years. Racing, including in the winter, is still a popular past-time. They are popular riding horses for pleasure and shows. Iceland has about 80,000 horses, which is an incredible number, especially when considering that their human population is around 270,000.
There are large populations of Icelandic horses in North America and Europe now, with dedicated breeders and owners in at least 19 countries. The use in these locations aligns with those in Iceland – people enjoy riding, showing, and trail riding on their Icelandic horses. Many also travel to Iceland each year to experience the land of fire and ice the way the original people did, from the back of an Icelandic horse.
Sources: Guide to Iceland, Horses of Iceland, International Museum of the Horse, Oklahoma State University, and United States Icelandic Congress.