With soft premium genuine leather lining and a gorgeous black/brown color pattern, the Mountain Horse Sovereign Field Boots promise a comfy and long-lasting fit. Do these riding boots live up to their promise?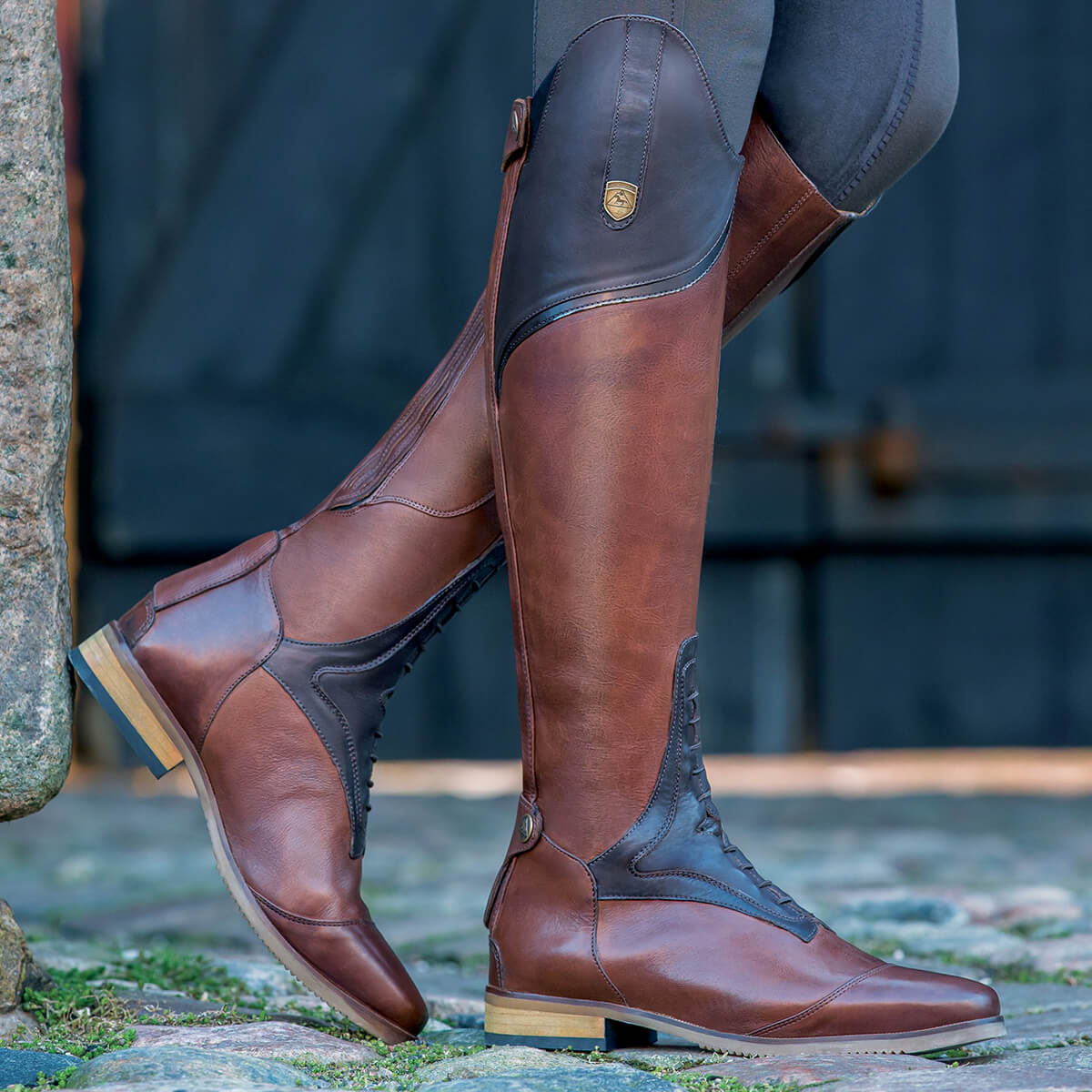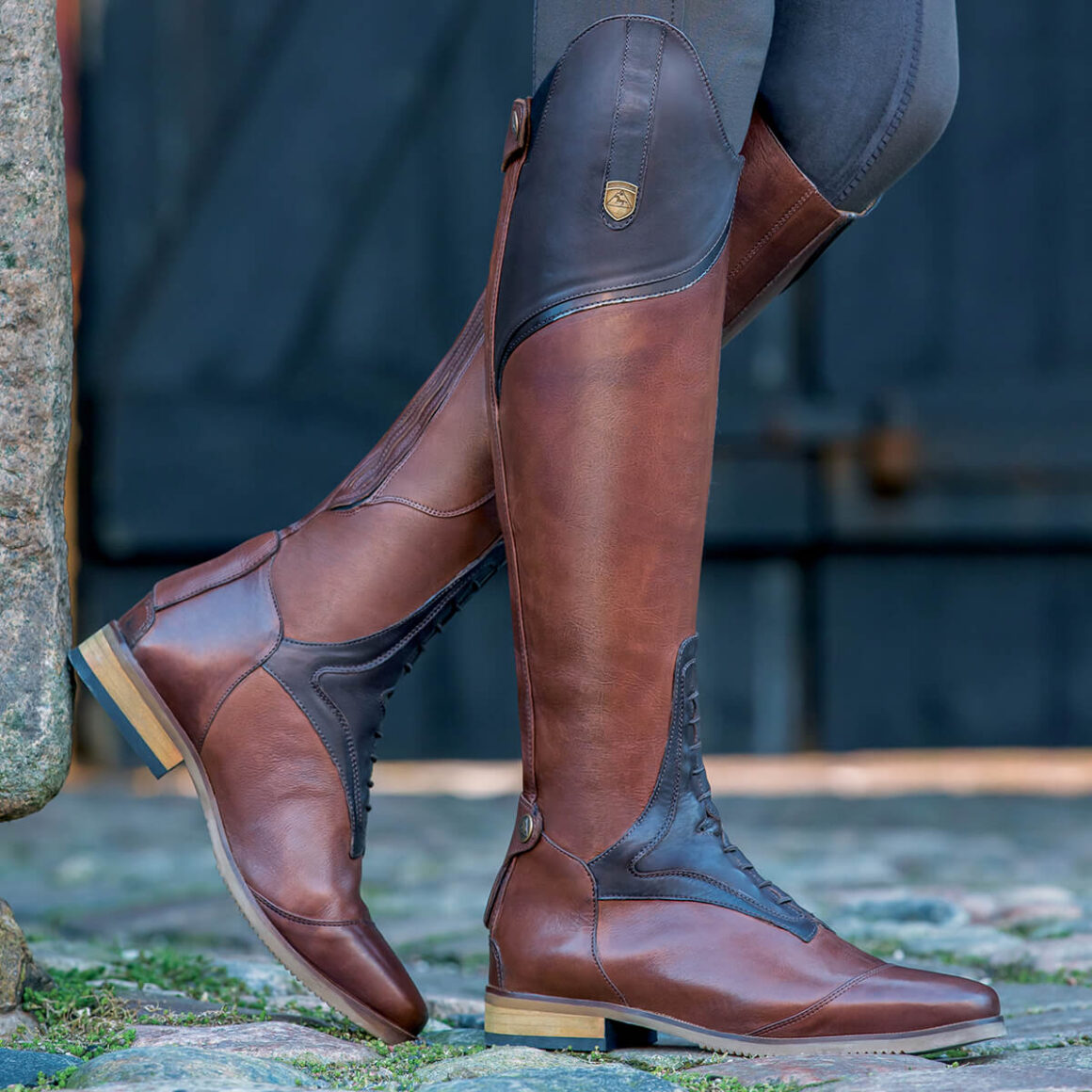 Exactly one year ago I decided to purchase Mountain Horse boots for my springtime riding. I'd been wearing my Ariat Extreme Tall H20 boots all winter (seriously my favorite winter boots!) and knew I needed something less insulated for the warmer months. After striking out with the Ariat Heritage Contour II Field boots (too pinchy) I decided to give the Mountain Horse riding boots you see here a try. I loved the brown/black pattern, and from what I could tell after perusing online reviews, these boots were known for being comfy right out of the box. I decided to take a leap and go for it, even though I had never worn Mountain Horse before.
So, how did things turn out?
Initial Impressions
Fit. Reviews that said these boots were comfy as soon as you put them on were right. I remember being impressed when I put these on. Usually, riding boots are super stiff and you expect at least a week or so of uncomfortably wearing them to break them in. I know several riders who just wear new equestrian boots around their house to break them in, and one who even submerged her boots in water to soften them. (I do NOT recommend doing that by the way.) The point is, a certain amount of discomfort is expected with new riding boots and these Mountain Horse definitely exceeded my expectations in that regard. They were comfortable when I was just walking around the barn, and also when I swung my leg over.
Style. It also didn't hurt that these are eye-catching boots. I'm someone who focuses more on utility vs. style, but I did appreciate all the compliments I received when I started wearing these. "Nice boots!" everyone would say. "What brand are they?"
Cost. Price-wise, then I purchased these boots in 2021 they cost $395. Today (in 2022) they are $450.
Sizing. One thing to note about Mountain Horse boots is that their sizing is a bit different than Ariat's. I wear an 8.5 Regular/Medium in all of Ariat's boots but needed a size 7 Wide/Regular in the Mountain Horse boots. This is not an issue so long as you are aware and adjust the size you order accordingly.
One Year Later
At the end of the season last year, I dutifully cleaned my boots and let them dry. Then I inserted the boot shaper that they came with into each boot and placed them in the protective bag that also arrived with the boots. Off they went to storage until I pulled them out again a couple of weeks ago, after approximately 6 months in storage.
Let me tell you, I was disappointed.
While the right boot still felt great, the bottom of the zipper on the left boot was now twisted so that the inside of the zipper dug into the back of my ankle. Thinking it a situation where I just needed to break the boots in again, I wore them anyway, hoping the issue would resolve itself. Every night I even placed the tall boot shaper back into each boot along with a small foam earplug, which I placed right where the zipper had twisted towards the inside. This helped a tiny bit, and the boots were marginally more comfortable when I put them on again. But within an hour of wearing them, the zipper would twist again and painfully dig into my skin.
Finally, I mentioned to my trainer that my boots were a bit uncomfortable. And without any further detail on my end, she said: "Is the bottom of the zipper digging into the back of your ankle?" Stunned, I asked how she knew. Turns out, she had the exact same pair of boots and the exact same thing happened to her. "It was so painful," she said. "I could literally only ride one horse with them before getting a blister."
That comment made me realize it was not just my boots. This was a problem with the boots in general. Time to hunt for new boots!
Would I Recommend these Mountain Horse Boots?
These boots are gorgeous to look at but painful to wear. With a hefty $450 price tag, I would not recommend them.
While the reviews on SmartPak's website are largely positive, I can't help but wonder if they were left right after purchasing the boots. I too would have left a glowing review last year! Since I now know two people with the painful zipper issue, I do wonder whether there is something faulty in the way the zipper on this particular model of Mountain Horse boots was made.