Horseback Riding During a Pandemic
Riding horses again during a global pandemic has been interesting. At first, venturing outside of our home felt incredibly risky. We have been "locked down" since March 2020 and yes, that is intense. But we felt it was our safest course of action since some family members fall into "high risk" categories. You can imagine though what 7 months of living the hermit lifestyle does to you. Leaving the house twice a week to take lessons seemed as risky as zip-lining across the Grand Canyon!
But humans have a remarkable way of adapting. So after making a list of all the things I wanted in a barn in order to consider it "reasonably safe," I finally found one that checked all the boxes. And in November I started riding again. (If you are curious, here are some of the precautions I'm taking to visit the barn safely despite COVID.)
It didn't take long to fall into a new barn routine. Wearing a mask, sanitizing my hands constantly and keeping distance from others no longer took any effort. In fact, there was only one part of my routine that was problematic: keeping my saddle in my car. Because I'm erring on the side of excessive caution, I don't go into the tack room for any reason. I can keep most of my gear in a trunk next to my horse's stall, but my saddle is the one thing that needs to be kept in my car. I was worried that storing the saddle this way would damage it over time.
That's where this portable DIY saddle rack comes in!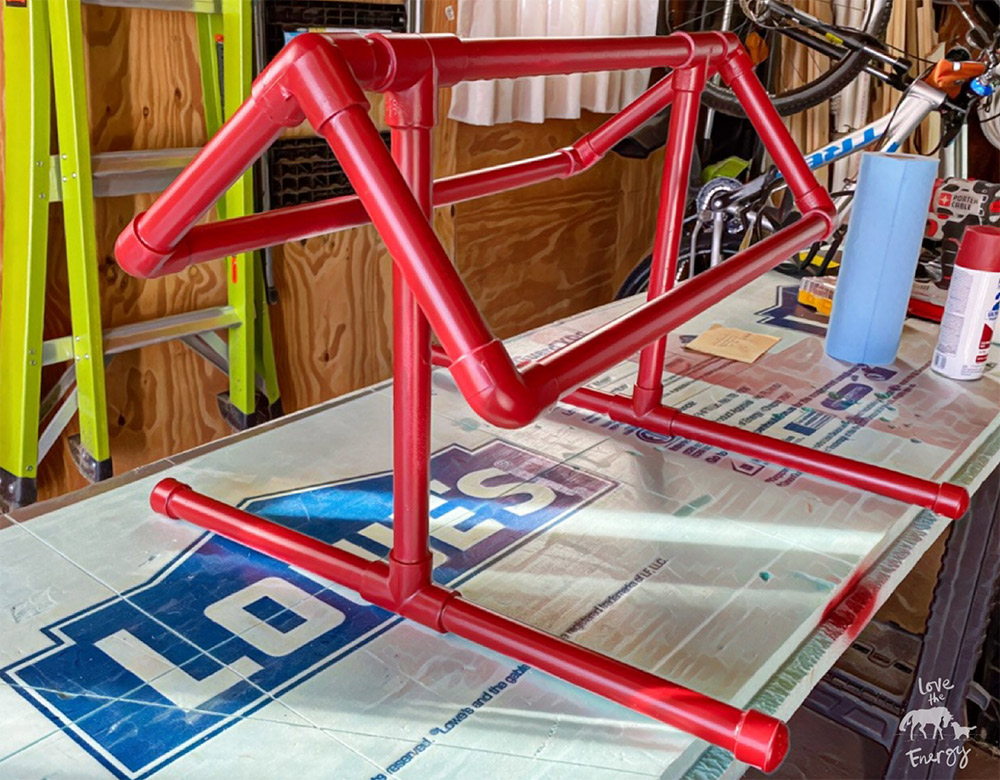 An Easy DIY Saddle Stand with PVC
There are of course pre-made saddle racks that companies make for your car. But those typically come with hefty price tags and I would rather splurge of things like, oh, the saddle. Or maybe some winter riding boots. Winters are cold here in Vermont.
Start to finish this project took a couple days. We already had most of the tools, which meant the only thing we had to order was the PVC pipes. Then it was a matter of measuring my saddle, cutting the pipes, glueing them together and waiting for the glue to dry. My husband decided to spray paint the finished PVC saddle stand a deep red so that the whole thing looked more polished.
The end result is absolutely PERFECT. It is so easy to take my saddle on/off of the stand. And now I don't have to worry about damaging it by keeping it in my car instead of a tack room.
If you would like to make PVC saddle stand for yourself, I've linked the step-by-step instructions we used below.