Norwegian Fjord horses are a complete package. They are beautiful, and trustworthy for both riding and driving. The rare combination of temperament, versatility, and looks makes them magical horses.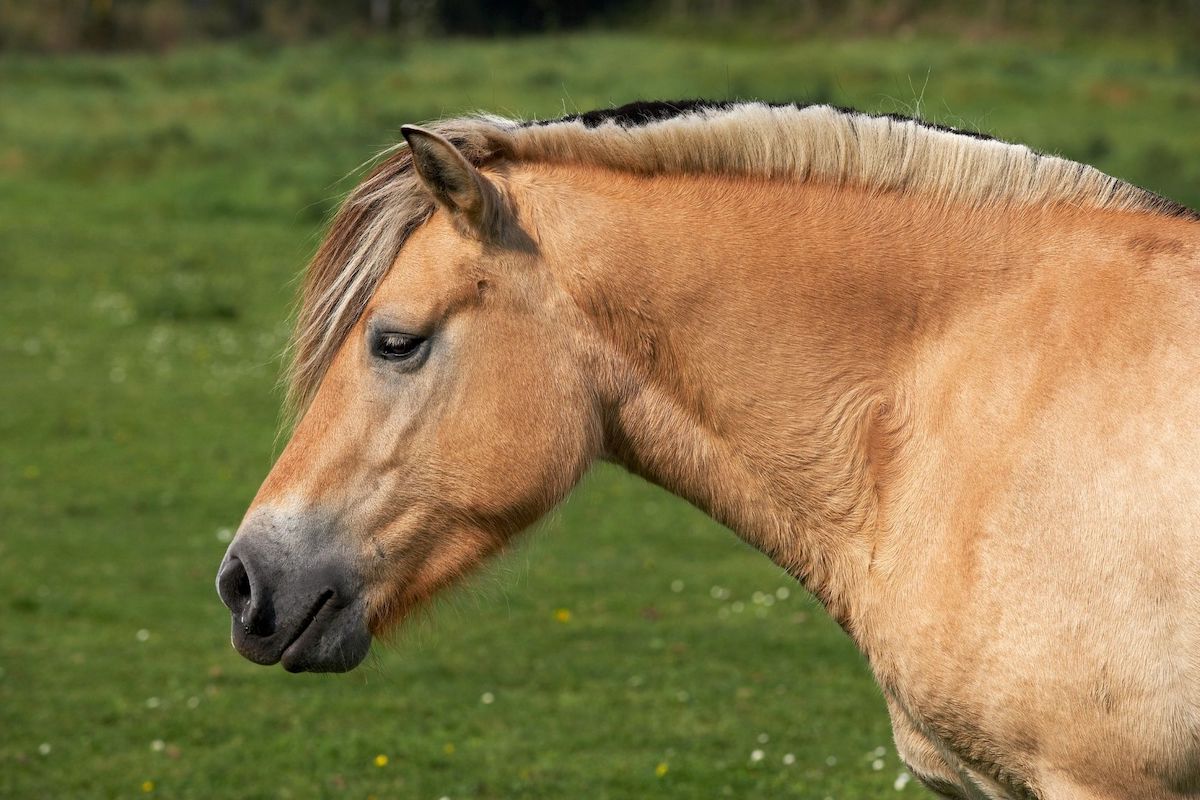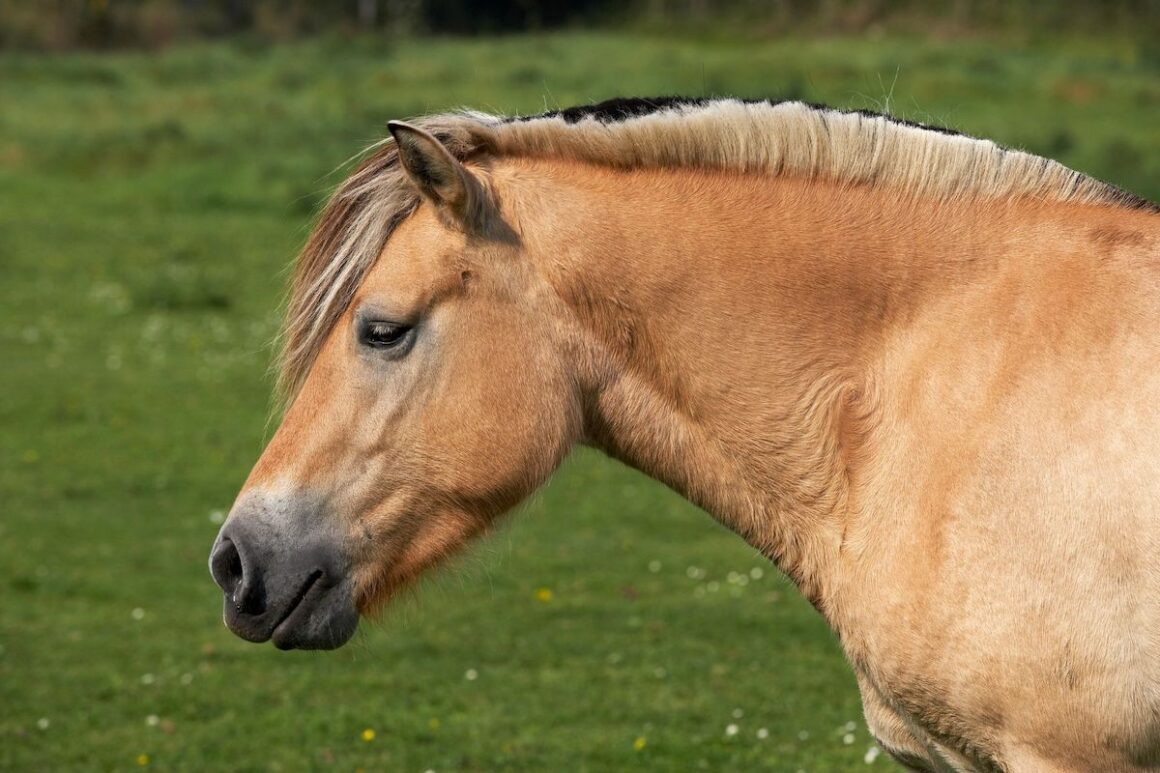 The Norwegian Fjord is one of the oldest horse breeds. They developed in the mountains and fjords of Norway and this harsh climate helped them become a hardy and sure-footed breed. A "fjord" is a long, deep sea inlset between high cliffs. The horses roamed this terrain and developed an incredible sense of balance as a result.
The Fjord horse has been part of the Norwegian landscape for over 4,000 years and is a symbol of the country and a point of pride. You'll find them on flags, coats of arms, and memorialized in other fashions. They're also still very much a part of everyday life in Norway, offering trail rides, preserved in national parks, and helping their owners with daily life.
History of Norwegian Fjord Horses
The ancestors of the Fjord were Viking horses. The Norwegian people eventually started using them for farming, transportation, and other tasks. Concentrated breeding efforts have existed for the last 2,000 years.
Unlike other horse breeds, Fjords don't have outcrosses. There was an experiment where they tried crossing Fjords with the Dole horse, another Norwegian breed. However, the crosses were stopped in 1907. Further breeding eliminated Dole blood from the Fjord horse breed.
Njål, was a Fjord stallion born in 1891. He was used to restart the breeding program, and all modern Fjord horses trace their lineage back to him. Some Fjord horses still have dark, circular markings on their thighs and cheeks. These are said to come from Njål.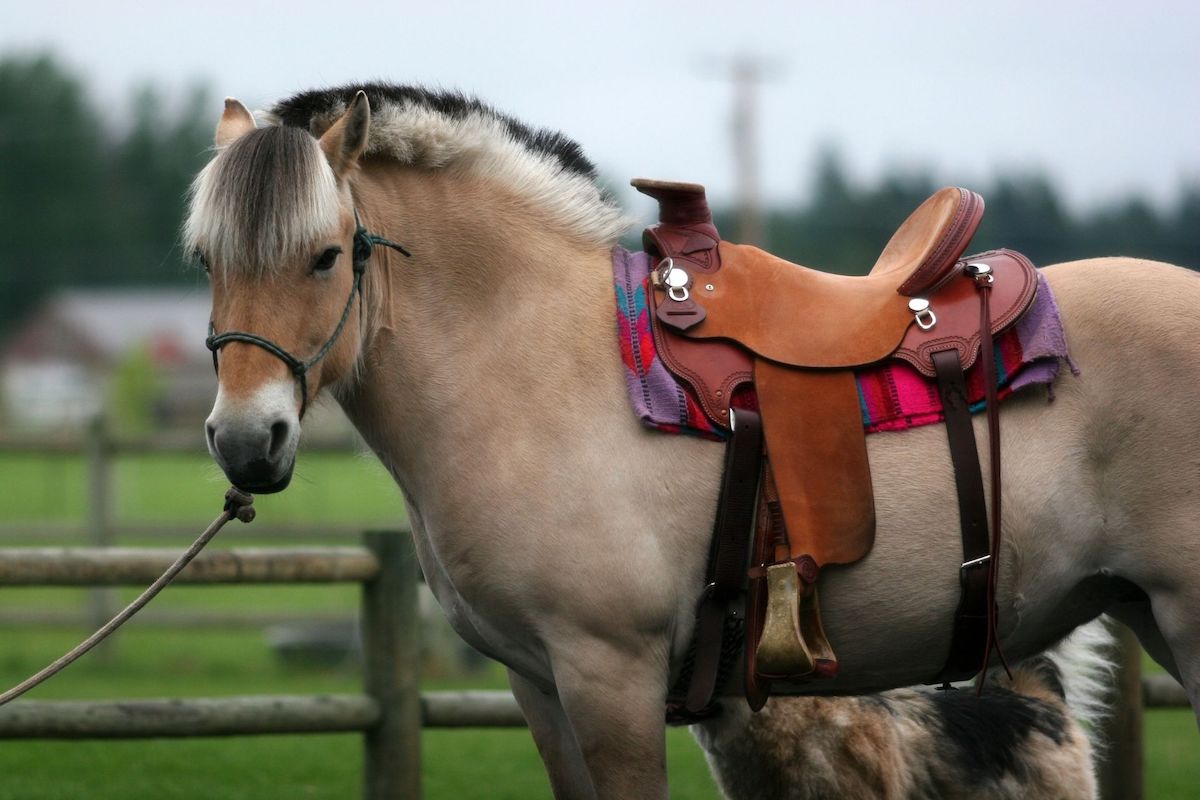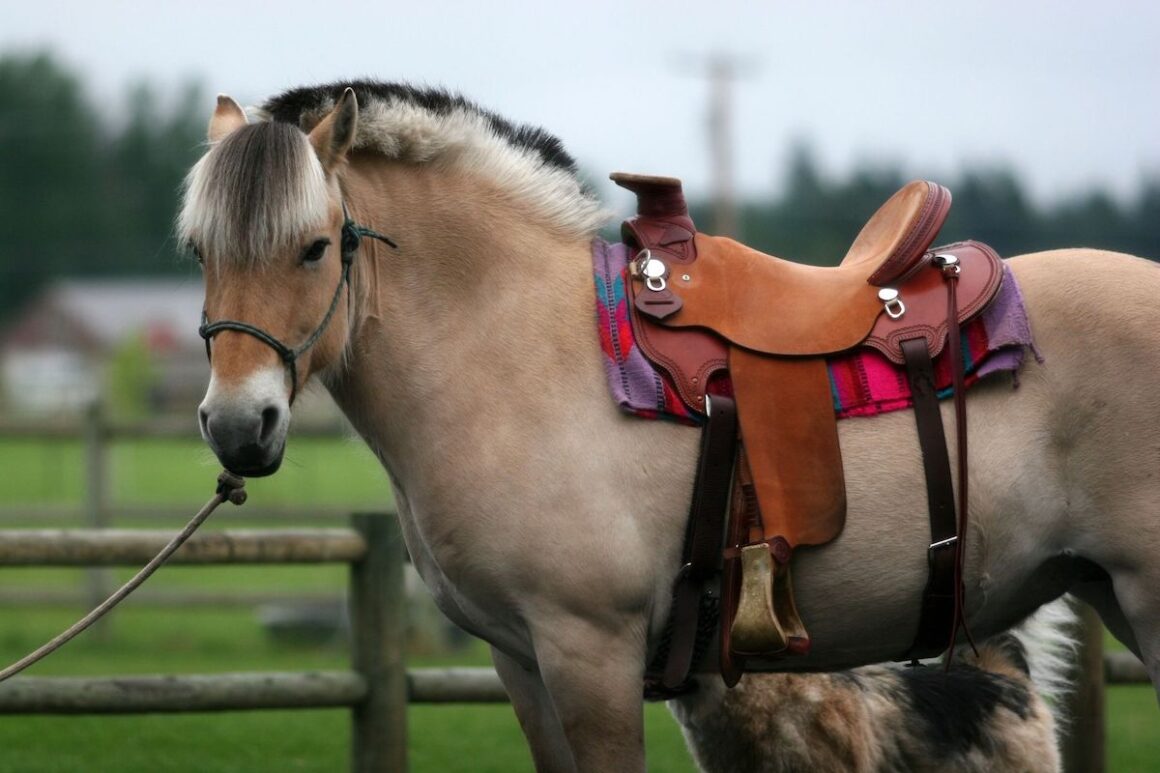 Breed Characteristics
Norwegian Fjord horses have distinct breed characteristics. They have a smaller body size in regard to height, but the muscles and bone structure of a draft breed. Height averages between 13.2 hands and 14.2 hands, although any height can be registered. Their weight is usually between 880 and 1,100 pounds. This compact body size makes them very sturdy and aids in their versatility. Even though Fjord horses can be pony sized, they are considered a horse.
Fjords have large kind eyes and a dished face. The neck is arched and elegant and leads to a sloping shoulder. Fjords have minimal feathering on their straight and strong legs. The hooves are large and generally very solid, given generations of horses that developed traversing mountain paths. They also have a short back and powerful hindquarters.
Perhaps best of all is the docile temperament that most Fjords have. They're known for their laidback personalities and as excellent childrens' horses. Other words used to describe them are tranquil and kind. Their personalities work their way into your heart when you meet one of them.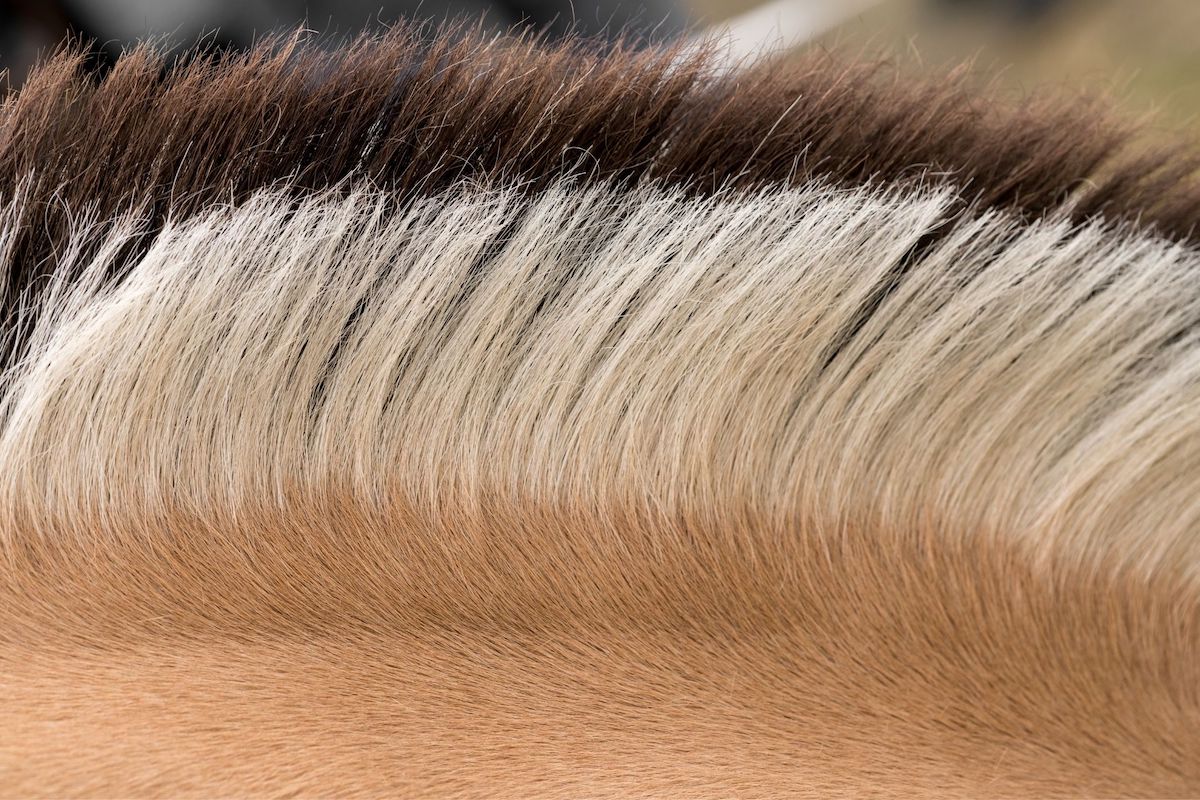 Fjord Colors
Their coloring is another unique characteristic – all are dun, or golden, brown color. The breed registry recognizes five shades of dun (brown, red, grey, yellow, and white). Fjords have a full dorsal stripe running from their forelocks all the way to the tips of their tails. Their manes are usually roached, a grooming technique that clips the mane so it stands up like a mohawk haircut would. The roached mane has a spiky appearance and shows off its dorsal stripe, as well as the arch and strength of the neck.
They have black points, and their hooves are also black. Some have black zebra stripes on their legs or across their withers. Of course, there are also the Njål marks on some horses. These all lend the breed a primitive and distinctive look.
The breed also has a genetic variation of the cream color that appears as a white horse with blue eyes. This is referred to as Kvit and is rare. Breeders try not to produce this color, but it happens when there are two cream dilution alleles.
Prince Hans' Horse: Sitron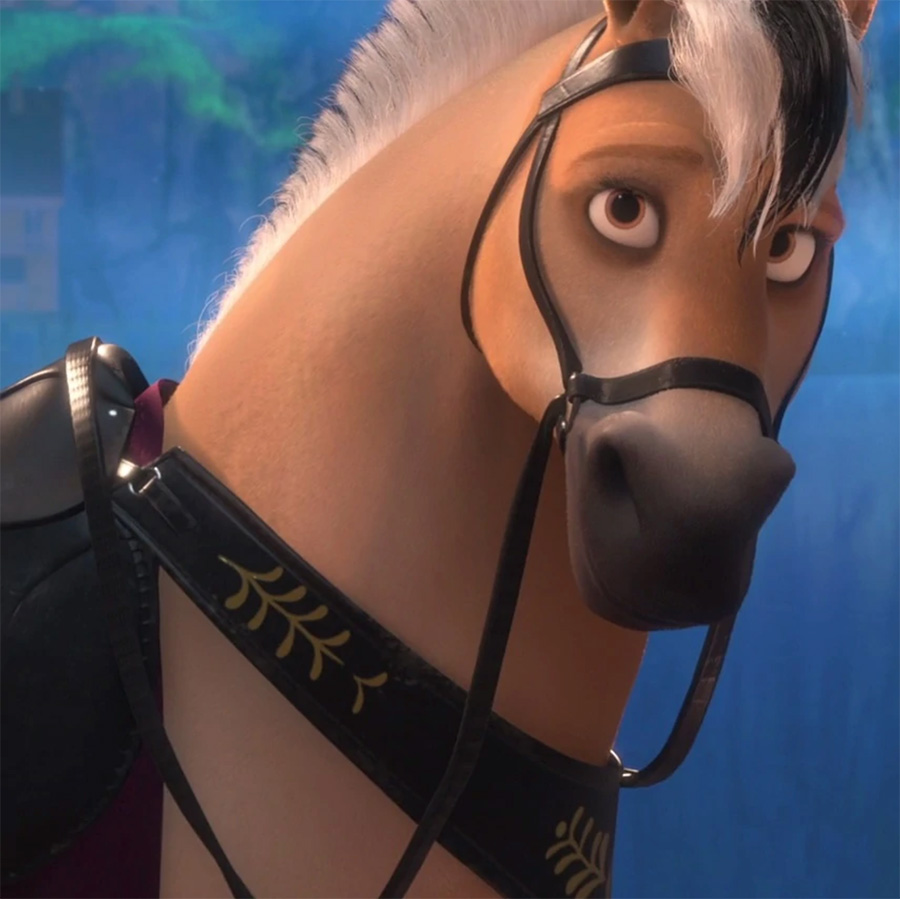 Equestrians have long been able to identify the Fjord because of their distinctive characteristics, the dun color, dorsal stripe, and spiky hair cut in their mane being primary identifiers. But Sitron introduced the Norwegian Fjord horse to a whole new legion of fans in the Disney movie, Frozen, even though they never use his name in the film.
Frozen is set in Norway. Sitron is the horse that Prince Hans (who turns out to be the bad guy) rides to Elsa's coronation. He meets Anna, the other princess, on the docks, and Sitron steals the show by first preventing Anna from falling into the Fjord, then knocking Hans into the water as he (Sitron) waves goodbye to Anna instead of holding up the boat that Hans is sitting in.
Sitron, which means "lemon" in Norwegian, adds a little humor and a lot of personality to that scene of the movie. He also created a dedicated fan base for himself and the breed!
Endangered Breed and Preservation Efforts
There are only 5,500 Norwegian Fjords in the country of Norway, according to Visit Norway. This makes them an endangered breed. Work is underway to ensure preservation efforts are sustained. The Norwegian Fjord Horse Centre in Norway oversees much of this work, and the annual stallion show in Nordfjordeid draws many visitors and breed enthusiasts.
The Langedrag Nature Park in Norway has a friendly herd of Fjords. They breed the horses there, and also offer trail rides and vaulting experiences. Many private farms throughout Norway also offer horseback riding adventures.
There are also breed registries and populations of Fjord horses in the United States, Germany, the Netherlands, Canada, Great Britain, Denmark, and several other European countries.
Norwegian Fjord Horses Today
The temperament of the Norwegian Fjord, along with their body and type, makes them ideal for many uses. Some are still used for agricultural and forestry work. They are popular at sleigh rallies and as driving horses. You'll also find them jumping, on trails, in the dressage arena, and giving riding lessons to children. Many Fjords are also used in therapeutic riding programs because they are so good at reading people and self-regulating their behavior.
The Fjord is a wonderful ambassador for all horse breeds and a natural companion for humans. They're naturally hardy horses and easy keepers, another bonus for people that own them. Fjords are sure to capture attention wherever they go, and their natural ability and athletic capabilities mean that people will continue seeking these horses out, and hopefully moving the breed onto firmer footing with their population numbers.
Sources: Disney Fandom, FEI.org, Norwegian Fjord Horse Registry, and Visit Norway.