The American Paint Horse is a stock horse breed with white and dark coat colors that add a bit of splash to your ride. Breeders and equine enthusiasts value Paint Horses for their distinct coat patterns while maintaining the conformational correctness of the Quarter Horse or Thoroughbred.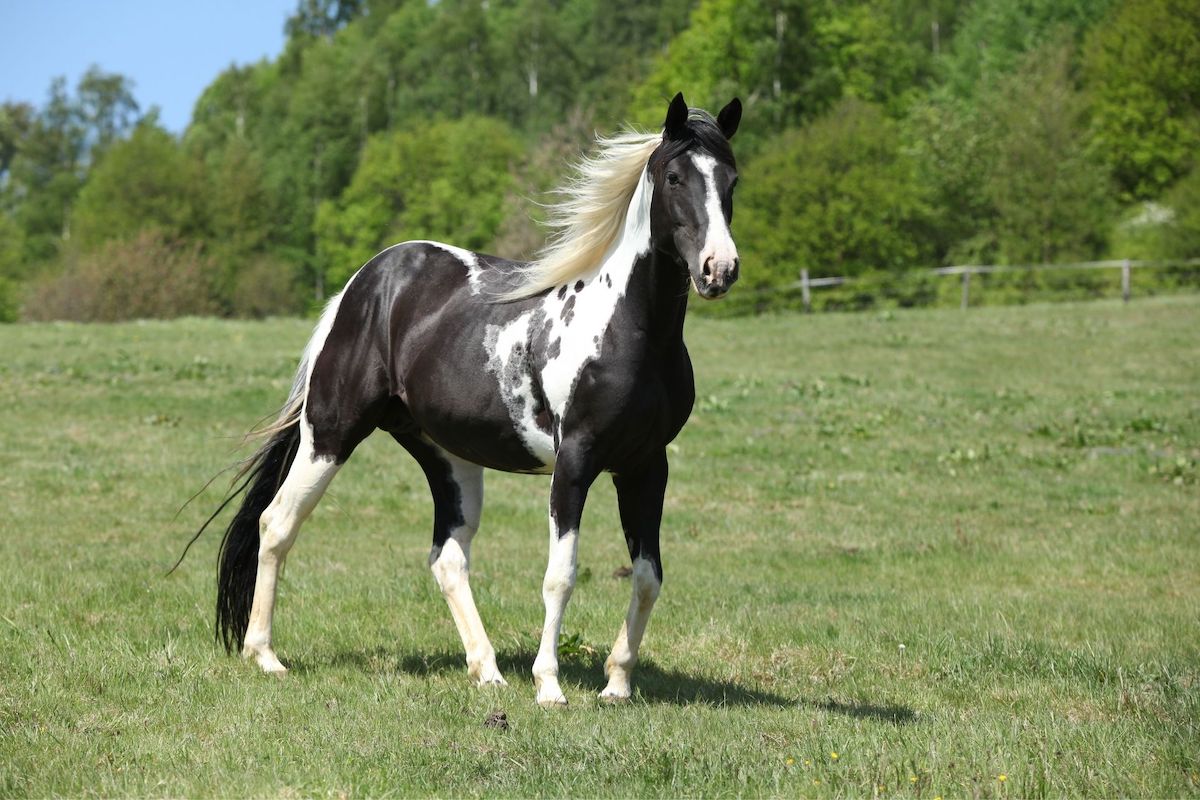 Paint Horses are white with a mix of any other color, everything from black, bay, and chestnut to grullo, gray, and roan. In the past, they have also been referred to as piebald, skewbald, and pintos, as well as Paint Horses. A quick way to understand the difference between a Paint Horse and a Pinto is that Pinto is the color, while Paint is the breed.
History of the American Paint Horse
Spanish Explorer Hernando Cortes brought horses with him in 1519. Among those was one horse that was described as a Pinto and another as a dark roan with white patches. These were the first Paint Horses in North America that we know of, and the breed continued evolving into the 1800s. They were flashy and had strong athletic abilities that made them a popular choice.
The Comanche Indians of the Great Plains were known as some of the finest horsemen. As Paint Horses expanded west, it became a favorite of the Comanches. They had large herds and their buffalo robes also featured their Paint Horses, a sign that the Paint Horses were favorites.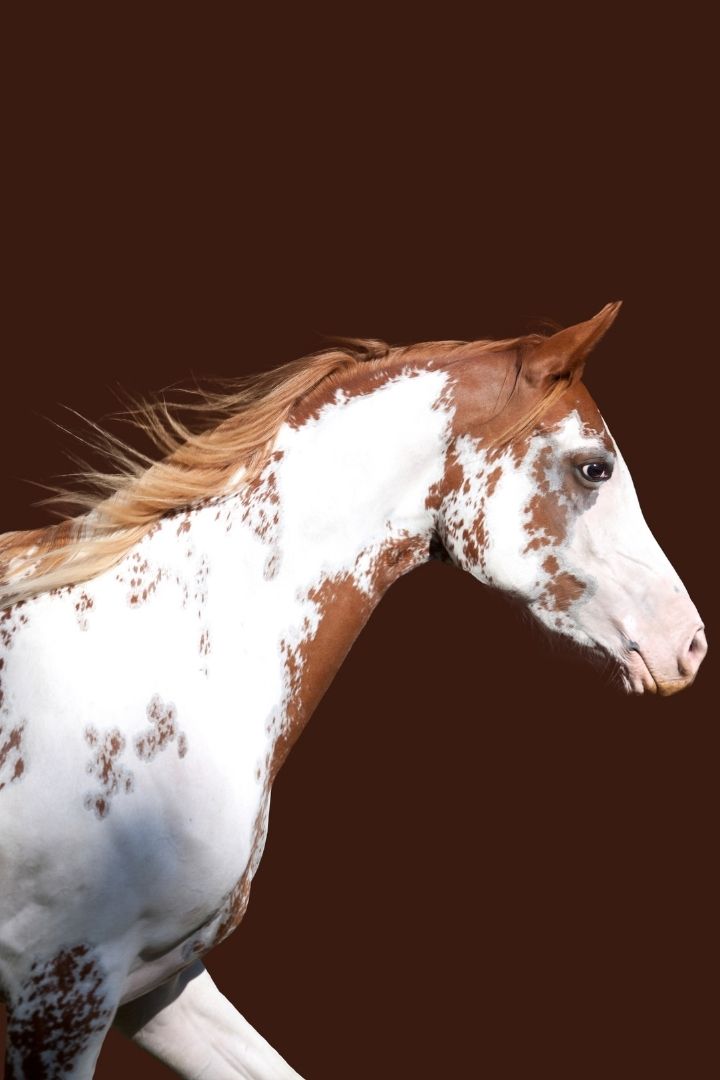 Breed Associations
The American Quarter Horse Association was formed in the 1940s; many of the Paint Horses had similar bloodlines to the Quarter Horse. But, as this new registry formed, they excluded Paint Horses and had a rule regulating against excessive white markings. This decision must have devastated Paint Horse enthusiasts. However, that did not stop their love of the breed.
The Pinto Horse Association organized itself in the late 1950s to preserve the coat patterns, it is a color registry. In 1962, the American Paint Horse Association was formed. Promoting and preserving the color patterns along with stock horse conformation is their mission. Now, it is one of the largest breed registries in North America. Stock horse conformation requirements in the registry differentiate Paint Horses from the Pinto breed association.
Breed Characteristics
Registry guidelines are strict for Paint Horses. At least one parent of a foal must be registered with the American Paint Horse Association. The other parent can either be registered with the American Quarter Horse Association, or the Jockey Club, the Thoroughbred breed organization. Additionally, the association strictly outlines color rules with a definition for the natural Paint marking.
The natural Paint marking means they have a dominant coat color with at least one contrasting area of white hair, and this must be in a prescribed zone. The detailed rules, along with visual diagrams are available from the American Paint Horse Association.
Likewise, the stock horse conformation requirements are like those seen in the Quarter Horse Association and are evident when looking at a Paint Horse. The horses are muscular, not too tall with many in the 15-hand range, and have the same quick acceleration and low center of gravity that make them able to "spin on a dime."
Temperament
Paint horses are known for having friendly and easy-going personalities. They are social and intelligent animals that are eager to learn new things.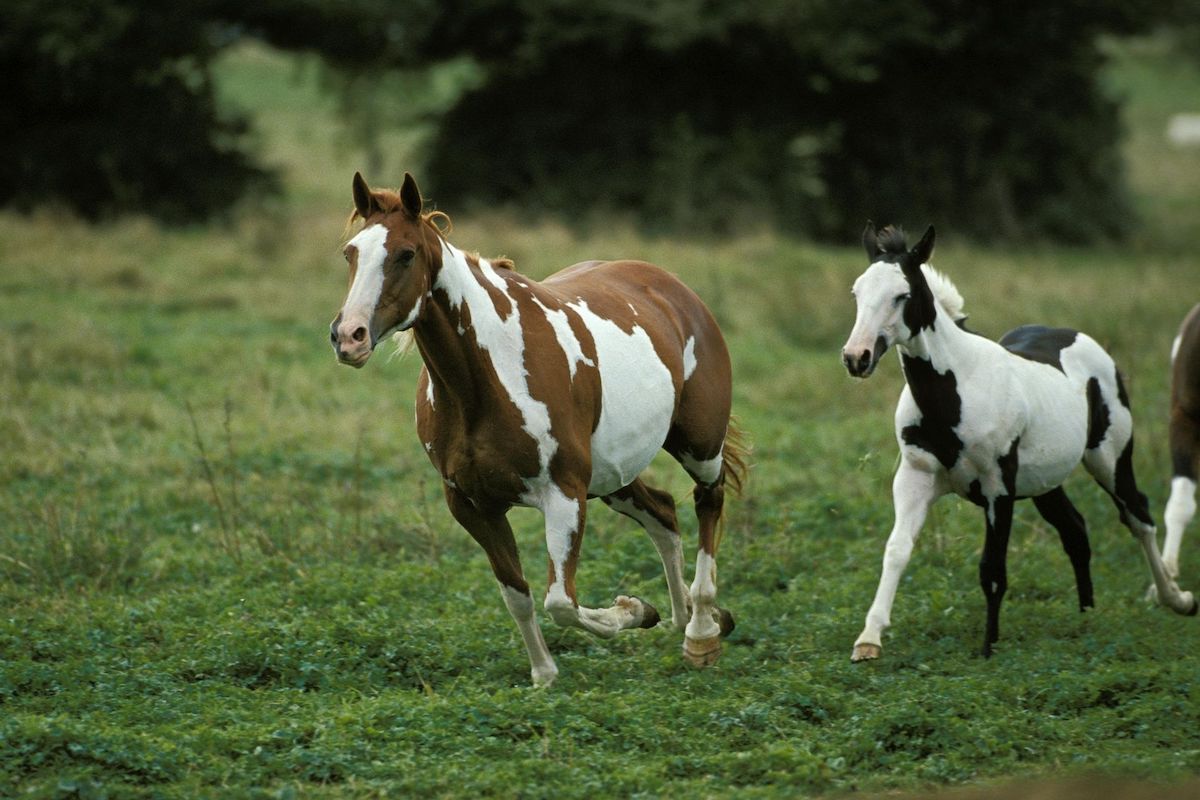 Coat Patterns
Paint Horses have three coat patterns: Overo, Tobiano, and Tovero. Each is distinct in how the color on the horse's coat appears. There are also three sub-categories among the Overo coat pattern.
Tobiano (tow be yah' no) is the most common coat pattern. I was told to think of this coat pattern as a horse standing in a tub, and having white paint poured over them as a kid. Tobianos have four white legs, their tails are usually two colors, and their spots are regular and distinct.
Overo (oh vair' oh) is the next coat pattern. Again, going back to my childhood definition, I was told to think of this as someone throwing a bucket of white paint at the horse. Overos generally have a bald, apron, or bonnet face. Their markings are irregular and the white usually doesn't cross their back. Looking at their tails, it is usually one color.
Tovero (tow vair' oh) is a mix of Tobiano and Overo. These horses have one or two blue eyes, dark hair around the ears and mouth, and chest and flank spots. They also sometimes have spots around the base of their tail.
There are some Paint Horses that do not have a large, splashy Paint appearance if any at all. However, this doesn't mean they can't produce Paint offspring. Some restrictions apply, but the solid Paints can be registered.
The American Paint Horse Today
Paint Horses are primarily used for western sports and pleasure riding, although they can also be found in a variety of other disciplines. Their striking beauty, conformation, and athleticism make them popular with riders throughout the United States and beyond.
Gunner is a stallion that helped build the fame of the Paint Horse. He was also the first Paint Horse sire to reach the million-dollar mark in National Reining Horse Association history and the first Paint to reach $2 million in earnings. Gunner was a frequent champion in reining horse shows and Breyer made a model of him in 2002.
One thing is certain. Paint Horses will continue dancing through the dreams of children and adults alike and will be seen in the backyards, show rings, and trails providing enjoyment for all.
Sources: American Paint Horse Association, Equisearch, and Horse Genetics.