Striking colorful coat patterns and beauty make Pinto horses easily recognized. But these horses have more than just a pretty face. They are highly respected for their athleticism and quality as riding and driving horses. Horse breeds from the Miniature on through to the Gypsy Vanner horse have this color coat pattern and it is prized by equestrians worldwide.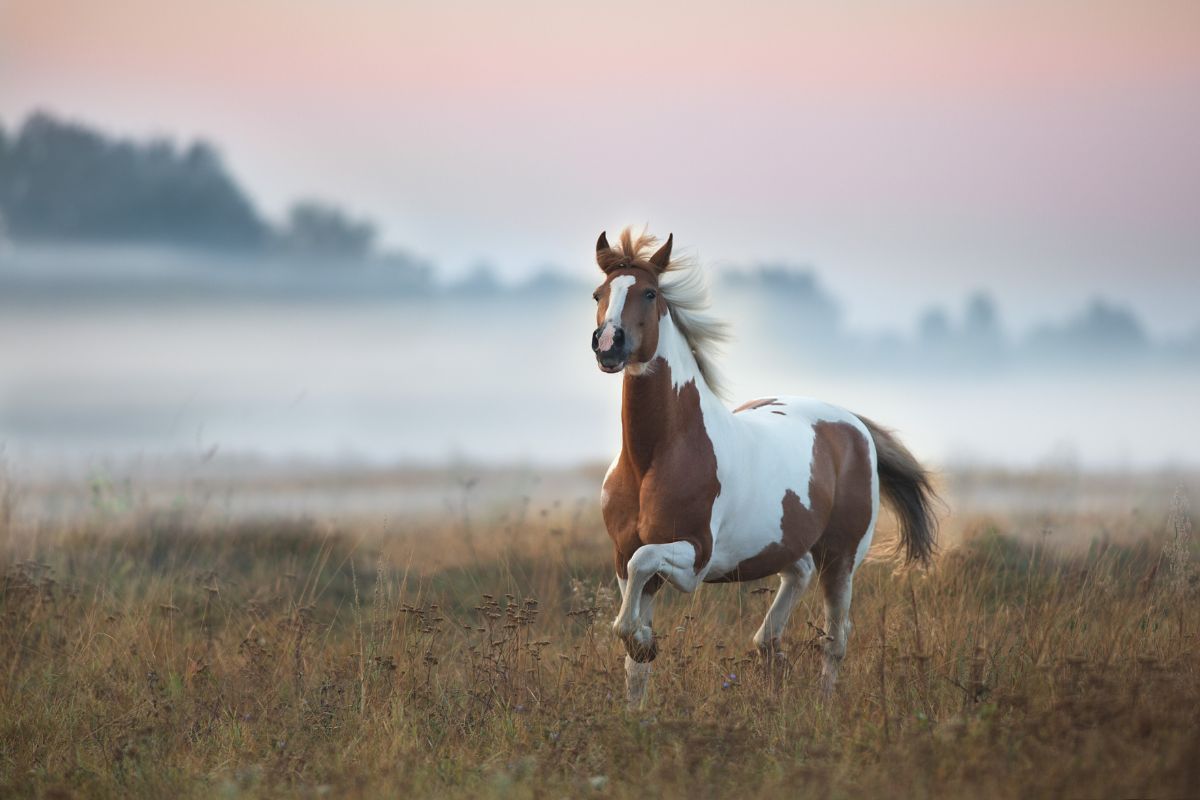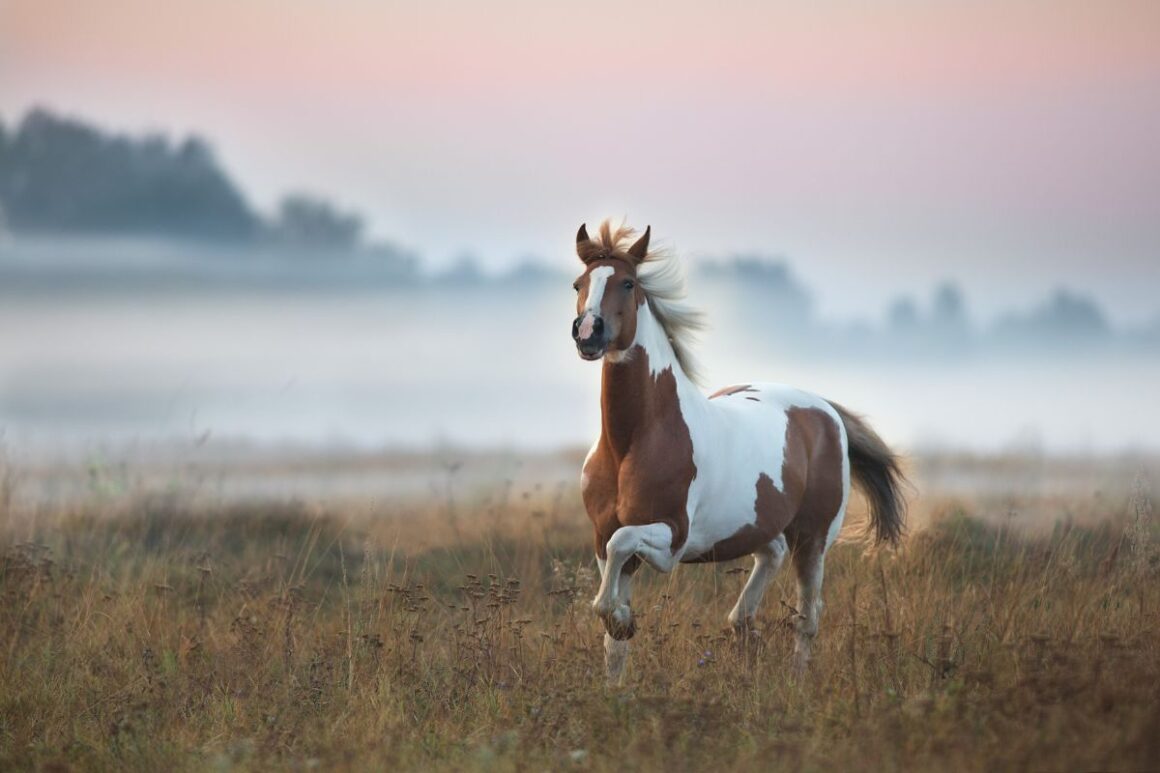 There is an old saying that a good horse is never a bad color, and it's true. But it's also true that you will spend a lot of time looking at that horse, so you may as well choose a pretty one. A Pinto horse has a distinct color pattern on its coat and can therefore be many breeds of horse. The color of the Pinto pattern can also vary from light brown to chestnut or black. It's the mixing of the solid color with the white coat color that's important.
Both equestrians and non-horse people sometimes use the words Pinto and Paint interchangeably, but they are separate and distinct. Pinto is a coat color pattern, while Paint Horses are a breed. Paints can only be from Quarter Horse, Thoroughbred, and Paint bloodlines, whereas the Pinto can be any breed from a miniature up to full-size horses.
History of Pinto Horses
The history of Pinto Horses begins in Spain, and then they extended throughout the world as the Spanish traveled and explored, bringing their horses with them. Spanish horse bloodlines are thought to go back to Russian and Arabian strains, creating horses with excellent conformation. Pinto horses were introduced to North America in the 1400s.
Many of these horses escaped and mixed with other feral horses. The Pinto gene is dominant, and because of this, the prominence of the color grew. Selective breeding of Pinto horses has also existed for hundreds of years but became more organized and intentional in the early to mid-1900s.
Piebald and skewbald are terms used for Pintos in the west. A piebald is black, and a skewbald is any color other than black. Famous Pinto horses include the Pie, the horse ridden by Velvet Brown in National Velvet (a fictional horse – in the book he was a piebald), and Hidalgo, the horse of Frank Hopkins (now immortalized by a movie).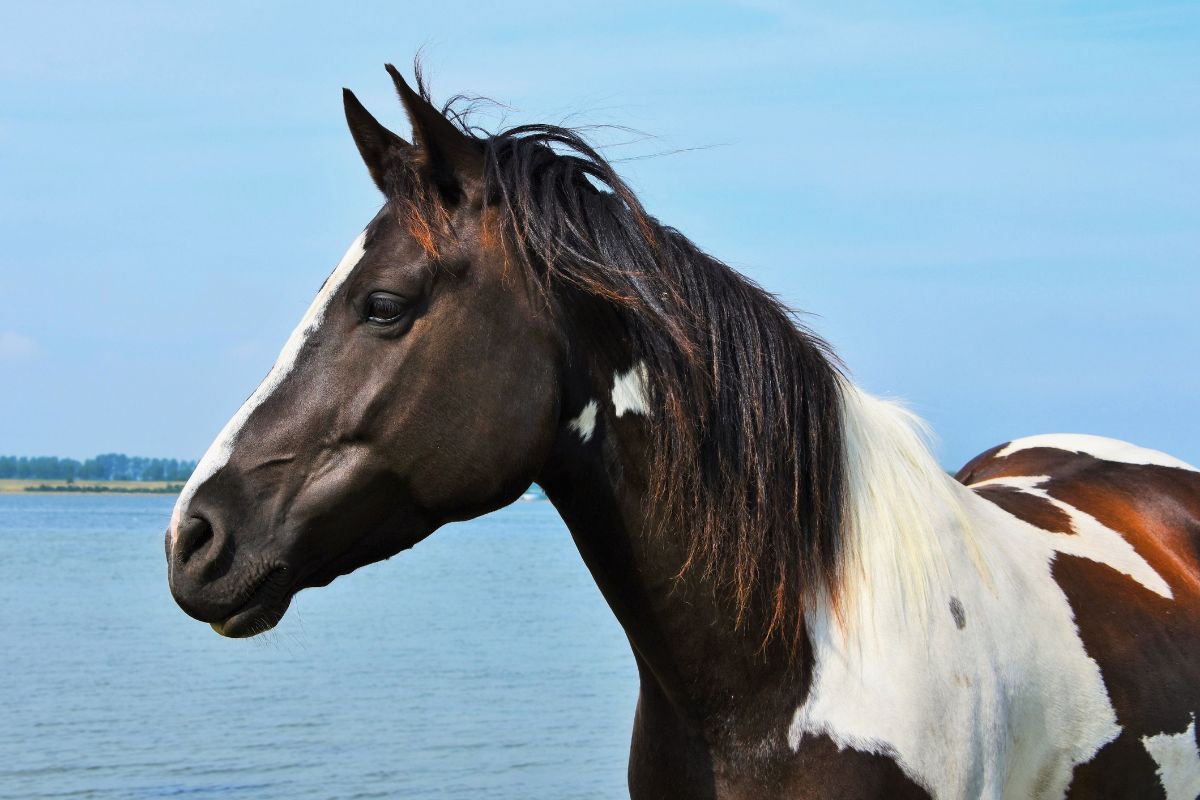 Breed Associations
The Pinto Horse Association of America is a color breed registry. It was incorporated in 1956 but was founded in 1947 and is based in Oklahoma. Its mission is "quality with color," and they offer major events, breed registration, and other services.
They do not register horses with Appaloosa coat patterns, mules, or donkeys. There is also a solid-color registry for horses with Pinto bloodlines that do not meet the coat pattern requirements. Within the registry, there are four classifications, miniature, pony, horse, and utility with types under these classifications.
The National Pinto Horse Registry is another color-breed association option in the United States. Many breed registries, from Miniature to Saddlebred, Shetland, and Gypsy also register Pinto as a color. This means horses can be double-registered with both breed and color associations.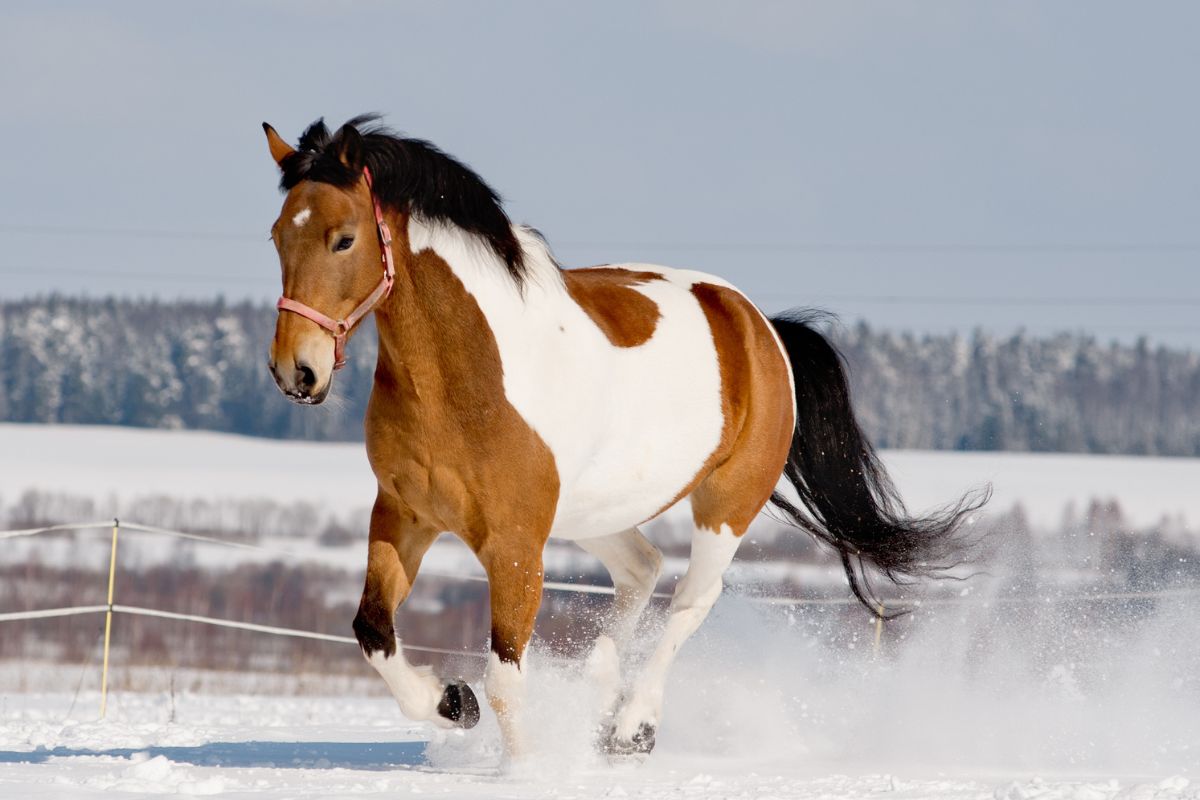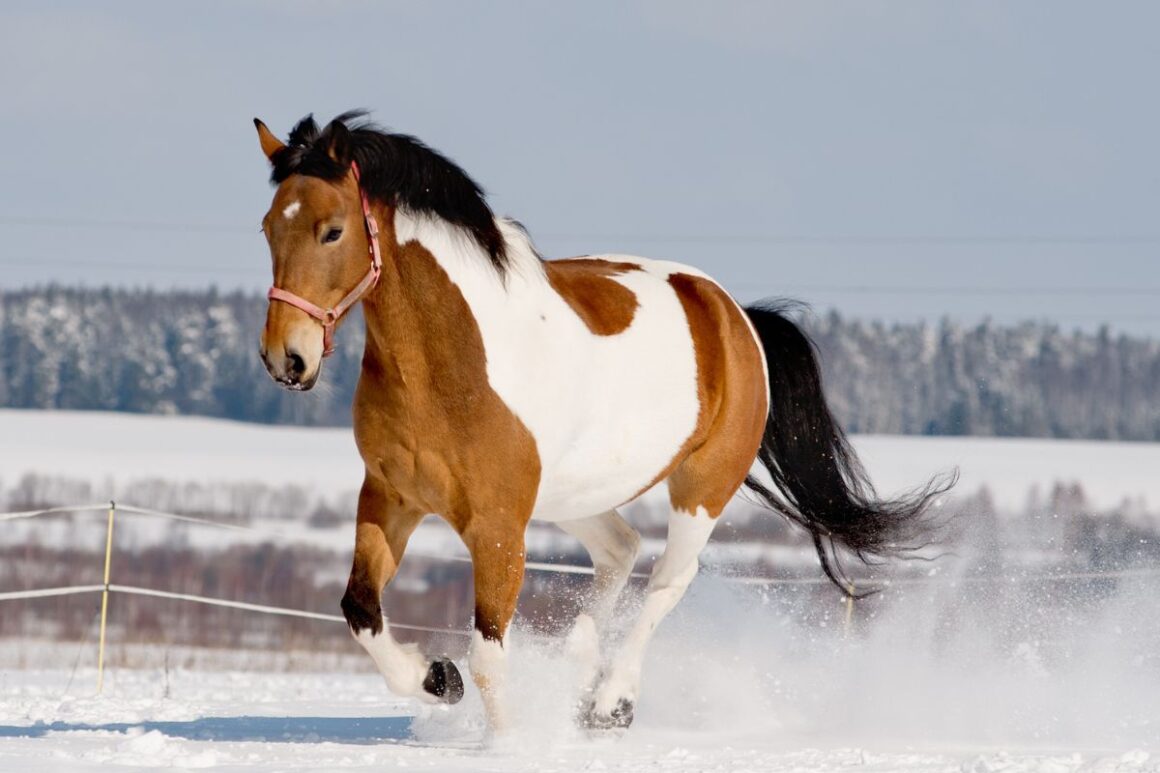 Breed Characteristics
Pinto horse breed characteristics vary more because it is a color breed. The four classifications – miniature, pony, horse, and utility – determine the breed characteristics. Stock, hunter, pleasure, saddle, Mini A, Mini B, Gypsy/Vanner, and Drum are types within these classifications.
Stock horses are a western type, usually having Quarter Horse or Paint conformation and temperament. The Hunters have Thoroughbred and Warmblood characteristics, and a disposition that aligns with the dominant bloodlines.
Horses with Arabian, Andalusian, and Morgan breeding and conformation are the Pleasure type. The Saddle horses are generally of Tennessee Walking Horse, Hackney, or Saddlebred bloodlines. Again, with all of these, the temperament aligns with their specific breed.
Miniatures are broken into the A or B categories based on height. Those under 35-inches are designated as an A and those 35 inches or taller a B. The Gypsy horses have a heavier build in a shorter frame, whereas the Drum horses are a more-draft type with Gypsy crossbreeding.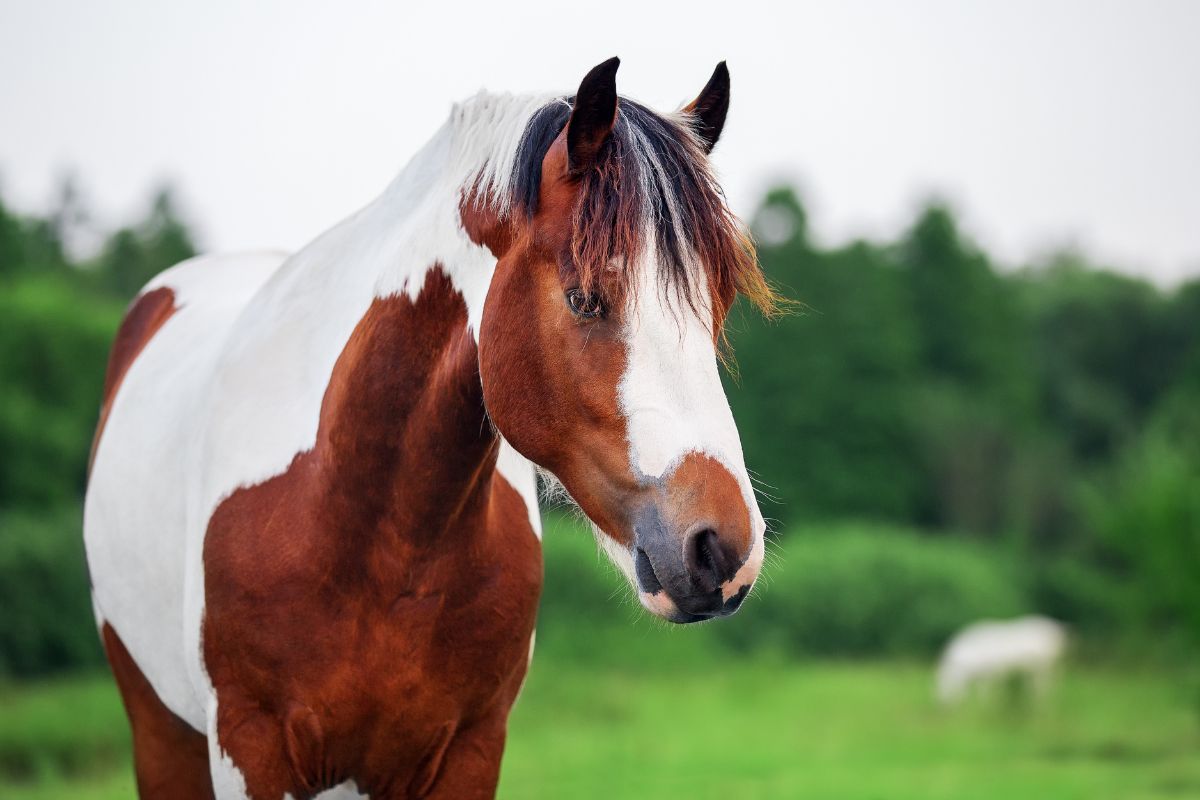 Coat Patterns
Tobiano and Overo are the two Pinto coat patterns. I use the tub analogy to remember Tobiano. Picture a solid-colored horse standing in a bathtub. Then, someone pours a bucket of white paint over the horse. The horse ends up with white over its topline and four white legs. The head is dark with some white markings.
Overo can use a similar analogy. This time, our solid-colored horse is standing on the ground. The bucket of white paint is thrown at the horse. White starts on the belly, the markings are irregular, and the face is often white with blue eyes.
The Pinto gene is dominant, so either homozygous or heterozygous genetics will exist. If two Pintos are bred, the resulting foal will always be a Pinto. Two horses or ponies with solid coat colors will never produce a Pinto foal.
Pinto Horses Today
Today, Pinto horses are still found throughout the world. In some countries, horses with a Pinto coat pattern are worth more money, and selective breeding continues to create quality with color. There is a large diversity of Pinto horses because of the many types and classifications, and breed organizations recognizing the color. As such, Pinto horses can be found enjoying and excelling at anything that people want to do with them. They are shown in-hand, as driving horses, found in jumping arenas and at dressage events, or out working cattle.
The Pinto horse can do it all because it encompasses all kinds of horses. It's true that a good horse is never a bad color, but Pinto is a great color in any horse.
Sources: American Miniature Horse Pinto Coat Genetics, Britannica, Horse Illustrated, International Museum of the Horse, Oklahoma State University, and Pinto Horse Association.