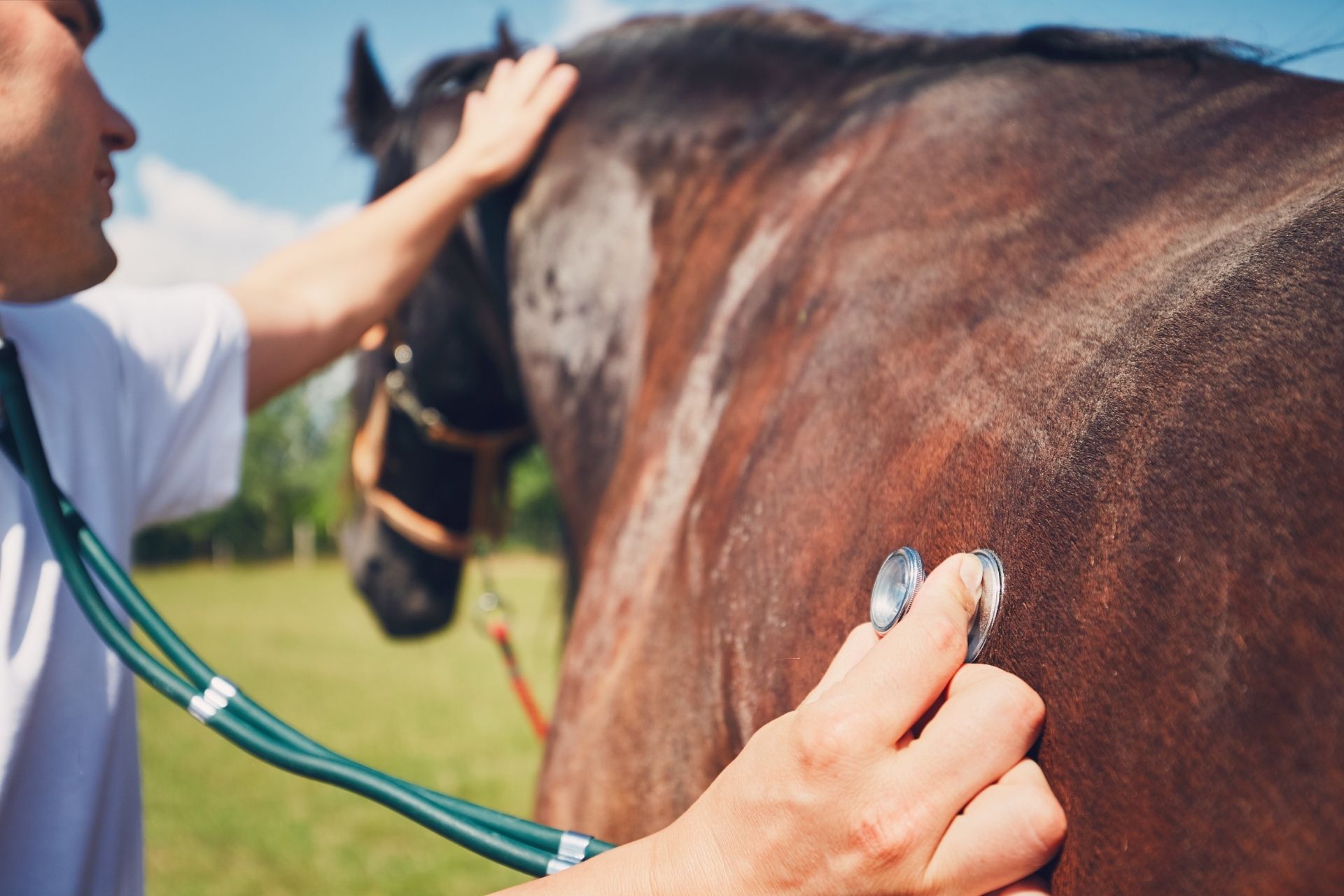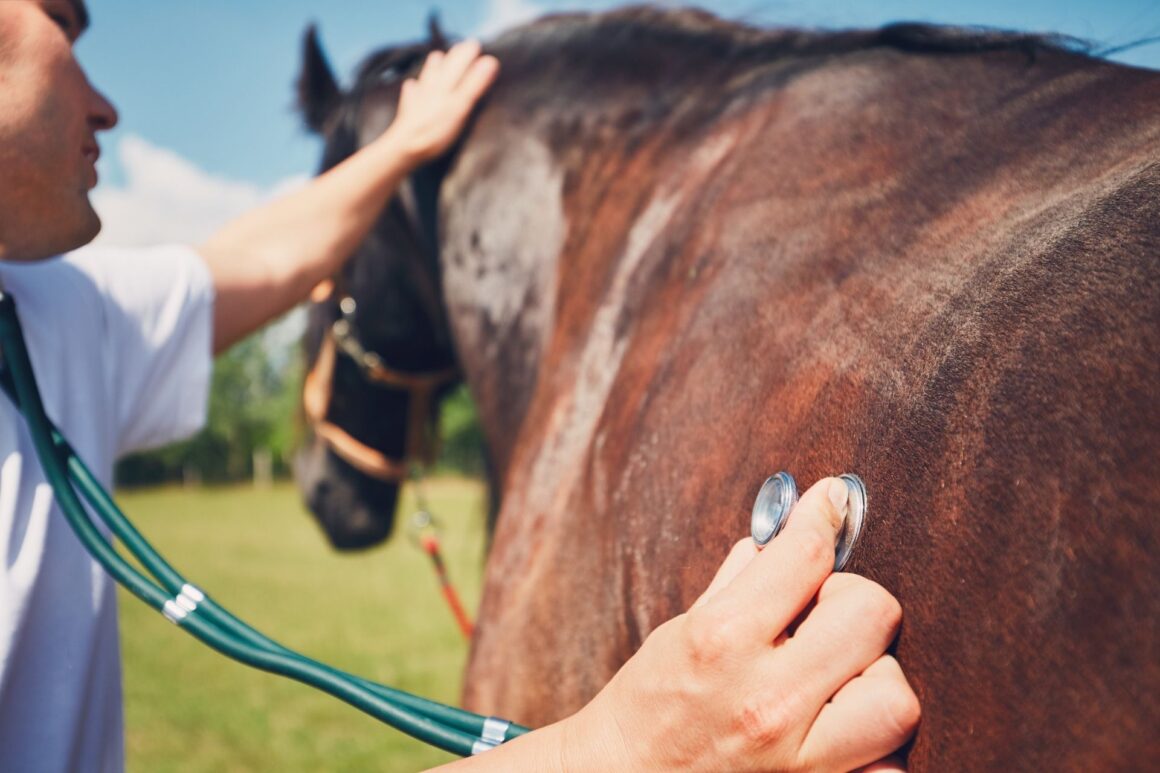 So, you're shopping for a new horse, and you think that you found the one. What's your next step? Is it heading to the bank to get the cash you need, or calling a veterinarian to schedule a pre-purchase exam (PPE)? If you said to call the vet, you are correct.
A PPE is a risk assessment service that can help you determine whether the horse you've fallen in love with can withstand the type of riding you have planned. People often skip the PPE step in the purchase process in the interest of saving money, but some issues uncovered in a PPE could cost much more over the long run.
What is a Pre-Purchase Exam (PPE)?
Veterinarians conduct pre-purchase exams (PPEs) for prospective buyers. A PPE is similar to a wellness visit or annual physical with your personal medical doctor. The veterinarian conducting a PPE is acting as a generalist PPE unless you bring in a vet that specializes in sports medicine. They will need to evaluate all systems on the horse, from the teeth to the hooves and everything in between. The expectation is that they will review eyes, lameness/soundness issues, cardiac function, and assess whether the horse is suitable for your goals.
A PPE is a risk assessment situation. It may uncover an issue, such as back pain that is a deal-breaker for you but fine for another buyer. Or a PPE may diagnose a horse with ringbone or another serious issue that could cost you a lot of money in the future, had you skipped the PPE and bought the horse.
What is Involved?
There are many layers to a PPE.
Finding a vet: First, you'll want to consider who is conducting the exam and how it's set up. For the most part, you do not want to use the seller's vet because it poses a conflict of interest. So some research is required to find a reputable vet who has the skills and equipment to do the kind of PPE you are looking for. If you want x-rays or ultrasound, for example, not all vets will be able to do this.
Establishing your goals & non-negotiables: You'll also want to consider the circumstances of the sale, the horse's location, and goals for the purchase. If you are purchasing a high-end show horse your goals for the PPE will be very different from someone looking to purchase a pleasure horse for trail riding. So it is important to establish your goals and also your nonnegotiables.
Establishing clear roles for all people involved in a PPE: The veterinarian should know ahead of time what your goals for the horse are. You should ask the seller for previous medical records to help the vet get a clear picture of the horse beyond the one-time PPE exam.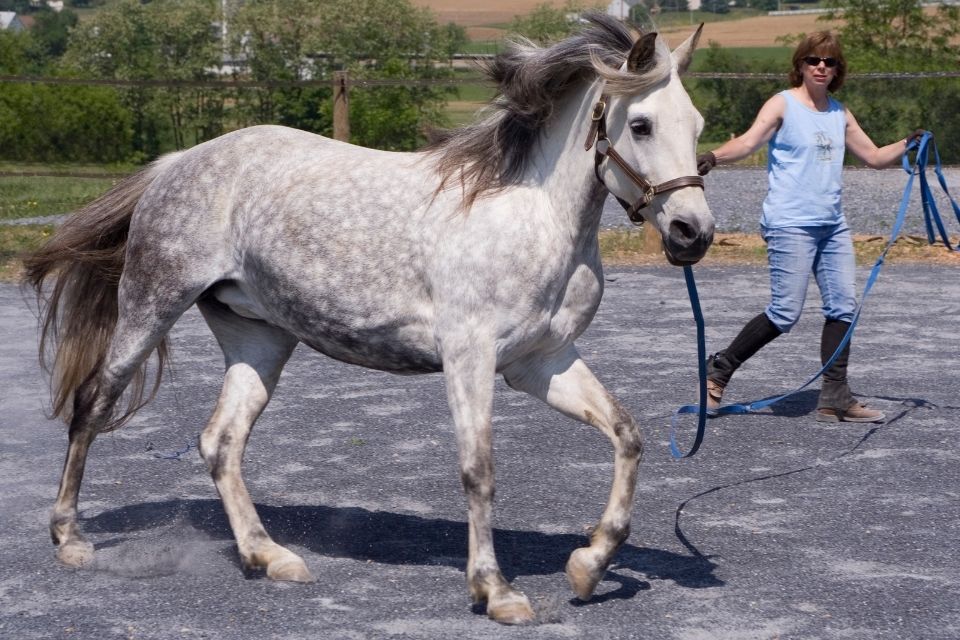 The Phases of a PPE
Once all of the above is done, it's time for the actual PPE. Veterinarians conduct a PPE in several phases and following this system creates the most accurate and consistent assessment of the horse. Although some veterinarians may have their own variation, most follow a similar formula.
Stage 1: Initial Exam. This is a thorough examination of the horse at rest to detect any signs of injury, disease or physical abnormalities. It includes palpatating all the limbs, listening to the heart and lungs with a stethoscope and an examination of the horse's eyes in a dark stable with an ophthalmoscope.
Stage 2: Observing Horse During Light Exercise. For this portion usually the vet's assistant will work the horse on a lunge line at the walk, trot and canter. They will also walk/trot the horse in a straight line on a hard, level surface. The vet will then "flex" the horse and watch how it moves after each flexion to determine if there are any lameness issues.
Stage 3: Observing the Horse During Strenous Exercise. Usually a broken horse will be worked under saddle, then the vet will examin the horse's recovery after the exercise has been completed. Unbroken horses are usually worked on the lunge line or in a round pen.
Stage 4: Rest and observation. Veterinarians want to determine how well the horse recovers from exercise. This phase generally lasts 30 minutes and the veterinarian will work on their paperwork during this time.
Stage 5: Trot in hand. Finally, trot the horse out one more time in hand. The veterinarian is looking for any soundness changes following strenuous exercise.
It is also important to note that not everyone does all 5 stages of a PPE. For this reason, a "five-stage vetting" is the gold standard for high-end performance or show horses.
That being said, most buyers will only do Stage 1 and Stage 2. Then, depending on how the horse did, some buyers will proceed to have x-rays done and sometimes ultrasound. How much you do really depends on your goals and how much information you need to make a decision about purchasing the horse.
For myself, I do Stage 1 and 2. Then at a minimum, I do x-rays of the front feet, hocks and stifles. One time I did ultrasound because the horse flexed positive (had a lameness issue) but had clean x-rays. Since I really liked the mare I wanted to know why she was flexing positive and did an ultrasound to uncover the source of her lameness.
Be ready to go through the results with your vet, ask questions, and have them help you understand how the data could affect the horse and your future goals.
How Much Does a PPE Cost?
This will vary greatly depending on what you need done and where you live. In my area of Vermont a PPE with a soundness exam and the x-rays I mentioned above is usually around $1,000.
You should consider not only the cost of doing a PPE but the cost of doing multiple PPE's into your horse shopping budget. This way if the first or second horse you like fails their PPE you have not exhausted your budget.
The Good, The Bad, and The Ugly
Let's face it, not every pre-purchase exam is going to come back clean, especially on a horse that's done something. Not many of us have an entirely clean medical record either – life happens for both horses and humans. Veterinarians like to joke that horses spend their lives looking for trouble and opportunities to get hurt. PPEs have also evolved over the years as further testing is available.
The important thing is to analyze the data collected in the PPE and discuss it with the veterinarian. Some parts of the PPE will receive a green light and need no discussion. Other parts of the PPE may be a deal-breaker. Talk to the veterinarian about your riding goals, the lifestyle the horse will lead, and other factors. Use the data to your advantage and make the best decision possible with the information on hand.
Completing a PPE before you buy a horse will help you manage your risk and achieve your equestrian goals. It's frustrating to find out that your horse is injured or needs some time off just when you think you're ready to hit the show ring or trails. A PPE is trying to help you avoid those situations.
Don't Give Up
I'm currently searching for my "forever horse" and have had three failed PPEs in the span of two months. Each of them found significant soundness issues that could not be reasonably maintained and made the long term soundness of the horse questionable at best.
First I had a lovely 16-year-old mare who ended up having torn deep digital flexor tendons and who the vet said should just be retired. Since I certainly don't want to be causing a horse pain in order to ride them for my pleasure, I decided to pass on this mare even though she was perfect in every other way.
Then, I vetted a 4 year old gelding that had a perfect soundness exam. I could have just stopped there, but since it's always good to have x-rays to refer back to should an issue arise in the future, we took the x-rays I mentioned above. As a result we found an OCD lesion. It could have never caused an issue, or it could have made him go lame in a year. It was too big of a risk for me, so I passed on this guy too.
Most recently, I did a PPE on a handsome 5-year-old Quarter Horse gelding. He flexed positive (showed lameness) on he left front during the soundness exam despite being totally sound under saddle. We x-rayed that one foot and found nothing, but an ultrasound found he had a swollen navicular bursa and mineralization on his deep digital flexor tendon. On an older horse in his late teens that may not have been a deal breaker because I would have known he had been working and sound with these issues. But on a just 5-year-old it was worrying and we felt it would be best to pass.
It's tempting to give up but the right one is out there so I'm still looking. I don't expect perfect PPE results – just an overall sound horse, and if it is an older horse then some maintenance would be fine too. In each of the above examples though, if I had moved forward with these horses I would have been looking at significant maintenance and soundness issues for the rest of that horse's life. The mare would have needed almost $1,000/month in maintenance alone. This goes to show how even though a PPE is not cheap, it can actually save you a lot of money in the long run.
Closing Thoughts
The point of a PPE is to know your goals and work with a veterinarian to get information about a horse before you purchase it. That way you can manage your risk and enjoy your equestrian lifestyle and new horse. Call a veterinarian, have a PPE done, finish your homework, then get out there and ride!
Sources: American Association of Equine Practitioners and Merck Veterinary Manual