Ranch riding is fun; it puts a competitive spin at the horse show on an age-old job at the ranch. The competition has horses and riders enter the ring individually and complete a pattern with required and optional maneuvers. Each team is scored on a scale of zero to 100 points, and the highest score wins. The division is popular for good reason, it's challenging and fun for the horse and rider.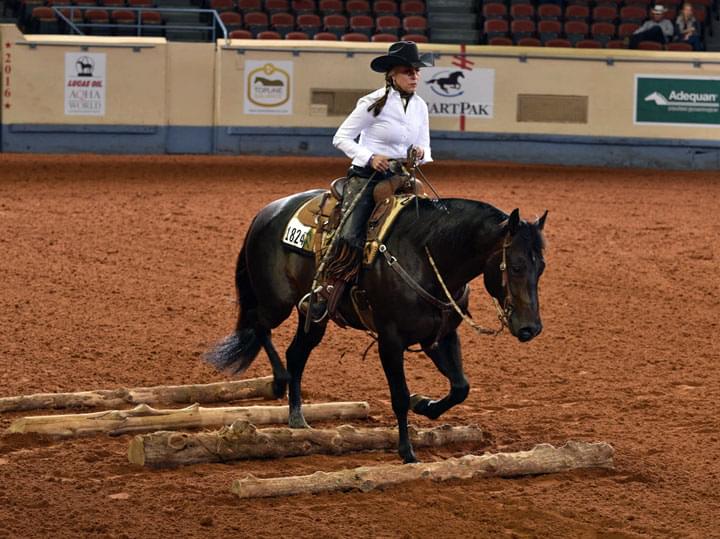 Most equestrian disciplines were born out of necessity or sport, and ranch riding is no different. It has existed for hundreds of years and accelerated in popularity after it was introduced as a competitive pursuit. While western pleasure riding has evolved as a discipline that's predominantly for the show pen, ranch riding classes prioritize the workmanlike ability of the horse – they could head back out the next day and go back to work on a ranch.
History of Ranch Riding
Ranch riding is a relatively new class at horse shows, it started appearing at major horse shows around 2002. But the premise it's built on is not new, as ranches have existed for hundreds of years in the United States. Horses played a pivotal role in the day-to-day operations of ranches, and in some cases still do. They helped complete various tasks, from working cattle to moving cattle or materials and checking fence lines.
Those that started the competitions wanted something that shows the versatility of their horse, the utilitarian value that they have, and workman-like qualities. Ranch horses are versatile, calm, have a good temperament, and are willing to work. Ranch riding showcases these attributes.
Where You Ride
The ranch riding class at a horse show usually takes place in the show pen or some other area where the pattern can be set up. Where you ride at home can be anywhere. The required and optional maneuvers in a ranch riding class are the same ones that a horse and rider might perform while actually out riding around the ranch. Similarly, the trails can be a good place to practice different maneuvers for a ranch riding pattern.
The required movements include the walk, jog, and lope in both directions. Riders and their horse must demonstrate the extended jog and extended lope in at least one direction. Finally, horses are also required to halt and back up. Optional maneuvers include the side pass, a simple or flying lead change, riding over logs at any gait, and a 360-degree turn. Riders can also add in other maneuvers that are normally found on the ranch.
All these maneuvers are best practiced on a ranch, the trail, or in the arena if home isn't a working ranch. Competitions use natural logs whenever possible, so what better way to practice than with down trees out on a trail. Each of the maneuvers requires the horse to be forward moving throughout. They should not slow down or hesitate, instead of exhibiting that willingness to continue working.
Horseman's Skills
Ranch riding challenges the horse and rider to improve and score higher. The evaluation system provides riders with concrete feedback on where they need to improve; the average score is a 70. Riders must be confident riding a forward-moving horse at the walk, jog, and lope. They also need to confidently ride an extended jog and lope. The rules state that riders can post the extended jog and can hold onto the horn.
The optional maneuvers require a rider with a little more finesse and a horse with a higher degree of training. The side pass, lead change, and 360-degree turn all ask that the rider have a higher skill level, and this translates to a higher score overall in the competition. Finally, the rider needs to be able to memorize the pattern and keep performing it even if something doesn't go as planned during the class. There isn't a time limit on the class, and riders should embrace this and work to make it a positive experience with their horse while improving on their previous outing.
A Good Horse
A good horse is a part of what makes ranch riding so much fun, and any breed can successfully participate. The horse enjoys the pattern and maneuvers as much as the rider does and is a willing partner for a ranch riding class or anything else the rider wants to try. Ranch riding horses are versatile, with a ground-covering stride, and good temperaments. They conserve energy because they never know how long the day will be, and this makes them quiet and reliable mounts in the ranch riding competition.
It's important for ranch riding horses to have correct conformation, and naturally, this is what riders should look for first in a good horse. Horses with correct conformation are well-balanced and able to gain fitness and perform the maneuvers without lameness or other issues impeding their working life.
Differences in Tack
Ranch horse riding maintains the workman-like quality of its roots. Tack needs to be clean and safe. The discipline discourages fancy tack, including the silver that is prevalent in western pleasure classes. Riders are also discouraged from applying hoof black to their horses' hooves. It is acceptable to trim the bridle path and other areas, but not required. One of the big differences when comparing ranch riding to western pleasure riding is that the riders can post the extended jog and hold onto the horn. While these aren't tack differences, I feel like the tack differences that do exist help open the door for these other characteristics.
Ranch Riding Today
Ranch riding is a relatively new class, and it's here to stay. The sense of competing against yourself and your own best score, and the opportunity to continue learning and improving excite riders and keep them involved. Ranch riding today is a growing discipline, and its popularity will continue growing as more equestrians want to ride with a purpose, set goals, and enjoy their time in the saddle.
Sources: AQHA, Cowgirl Magazine, Extension Horses, and Horse and Rider.