Secretariat is the greatest racehorse that ever lived. That may be considered a bold statement, but consider this, he won the Triple Crown in 1973 and still holds the fastest time for all three tracks in the respective races. The chestnut stallion made history and is still influencing the Thoroughbred breed today.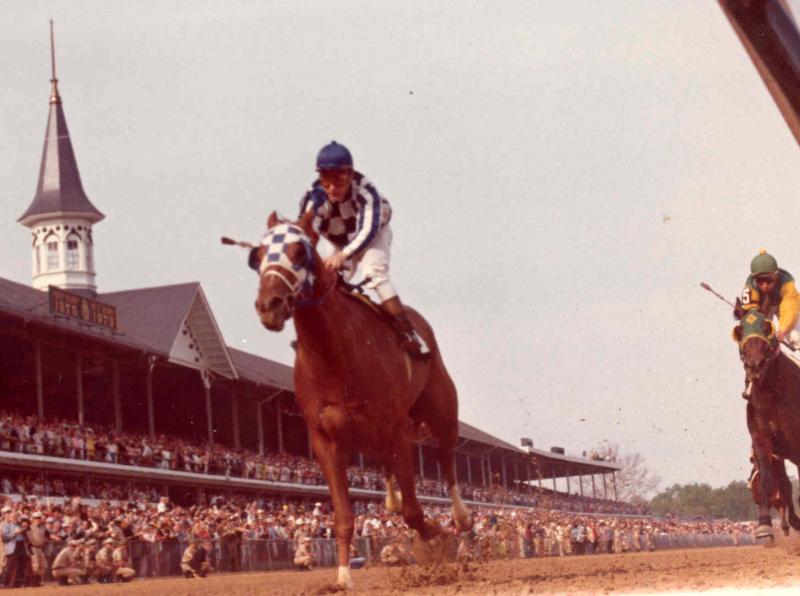 A chestnut Thoroughbred colt was foaled on March 30, 1970, at Meadow Stud Farm in Caroline County, Virginia. That began the storybook life of Secretariat, the greatest racehorse that ever lived. He was bred by Christopher Chenery, who owned the horse with his daughter, Penny. In fact, Penny managed Secretariat's racing career as her father's health was failing.
Big Red, his affectionate nickname became a larger-than-life horse that captured the hearts of Americans in 1973 during his historic Triple Crown run. He is as beloved today as he was then.
Early Years and Breeding
Secretariat was by Bold Ruler and out of a well-bred mare called Somethingroyal. A little-known fact is that Penny actually arranged the breeding because her father was already sick. Unlike the movie story, there was only one foal born in 1970. Penny actually lost the 1969 coin toss and got to keep the foal that Ogden Phipps didn't want in 1969 and the only foal from 1970. Family history shows that both Phipps and Penny wanted to lose the 1969 coin toss, knowing the "loser" was the real "winner" in getting two foals.
Big Red, as he was affectionately known, also had a big personality and was a leader among the foals born that year. Penny's reaction to seeing him was one word in her journal, "Wow." Two rounds of names were submitted to the Jockey Club, and all were rejected for various reasons. Finally, Penny and Elizabeth Ham, the secretary at Meadow Stud, submitted the name "Secretariat" as a tribute to both Elizabeth and her role in helping the secretariat of what is now the United Nations.
Secretariat's conformation was near-perfect, as were his biomechanics. He was 16.2 hands tall, and his chest was so wide that his girths were custom-made. He had heart and lung efficiency that were vital to his success because of his excellent conformation. Big Red was also a big eater, weighing 1,152 pounds during his three-year-old year and eating 15 quarts daily of oats.
However, it was Secretariat's large heart that was his superpower. His heart was 22 pounds, while the average Thoroughbred racehorse has an 8.5-pound heart. Sham, the horse that was Secretariat's chief rival in his Triple Crown year, had an 18-pound heart. Of course, Secretariat's other attributes, the near-perfect conformation, easy-going temperament, and 24-feet and 11 inches long stride all helped too.
Secretariat Wins the Triple Crown
There was a 25-year Triple Crown winner drought in early 1973. Many started to believe that it was too tough and that another horse wouldn't win. Citation won in 1948 and while some years looked promising, there weren't any winners.
Secretariat dispelled the myth that the Triple Crown was too hard by winning the Belmont Stakes, the final race, by a jaw-dropping 31 lengths. He made it look easy, and for him, it was. He was trained by Lucien Laurin, and Eddie Sweat, his groom was also instrumental to his success. Ron Turcotte, his jockey, were the blue and white stripes and checks of Meadow Stables.
A third-place finish in the Wood Memorial, a Kentucky Derby prep race, nearly derailed our storybook tale. Secretariat had promising wins in his two-year-old races and the early races of his three-year-old year. Lucien and Penny discovered that an abscess in his mouth and the associated pain were the cause. But this didn't stop other trainers, bettors, and the media from questioning his ability, given the performance and his stocky build.
But Secretariat soon proved them wrong at the Kentucky Derby. He ran negative splits; each quarter mile was faster than the one before it. He easily cruised to the win. On to the Preakness, where he gave them all something to talk about with his last to first move down the track. His winning time of 01:53 was confirmed by a special forensic review in 2012, at the request of Penny.
Finally, the Belmont. The speculation leading up to the race was intense. Most horses wouldn't run. Trainers knew they couldn't beat Secretariat. Many considered it a match race between Secretariat and Sham. Lucien trained Secretariat hard leading up to the race, letting the horse run because that's what he loved to do. He proved it with his iconic win on June 9, 1973.
Media Darling and Sire
Secretariat was a media darling during his race to the Triple Crown, but the press and accolades didn't stop with his Belmont victory. He ran a few more races that year, always drawing a crowd and media attention.
When he retired to stud at Claiborne Farm in Kentucky, he naturally garnered additional media attention, as did the resulting foal crops. He went on to sire 663 foals and 341 of them won some type of race. Fillies sired by Secretariat, and their respective foals, were his most successful offspring.
There is a statue of Secretariat at Belmont Park, a mural at Secretariat Park in Paris, Kentucky, an immersive exhibit at the Kentucky Horse Park, memorabilia, and so much more to memorialize Big Red and his accomplishments.
In 2010, a movie chronicling his Triple Crown year and his owner Penny Chenery was released. It introduced Secretariat and horse racing to a whole new generation. Horses like Secretariat become ambassadors for equestrian sports in general.
Secretariat's Lasting Legacy
Unfortunately, Secretariat was diagnosed with laminitis, a lethal hoof disease, in 1989. He was given state-of-the-art care, but nothing could be done, and he died at age 19 on October 4, 1989. It was during a necropsy after his death that the veterinarians realized how large his heart was.
Many notable racehorses, including American Pharoah, trace their bloodlines back to Secretariat. We may never see another horse like him, but we did see Secretariat, even if for some of us, it was after the fact. The greatest racehorse that ever lived continues to inspire horse people and all who hear his story, watch the movie, or see a recording of one of his races.
Sources: Secretariat.com, ESPN, Britannica, Kentucky Derby, Blood Horse, Kentucky Derby Museum, Fox News, and IMDB.