The history of Trakehner horses is as dramatic as the European region where they originate. However, this breed has survived the ups and downs and population numbers are increasing again. They are popular horses for eventing, show jumping, and dressage; the Olympic disciplines, and are now found in many parts of the world.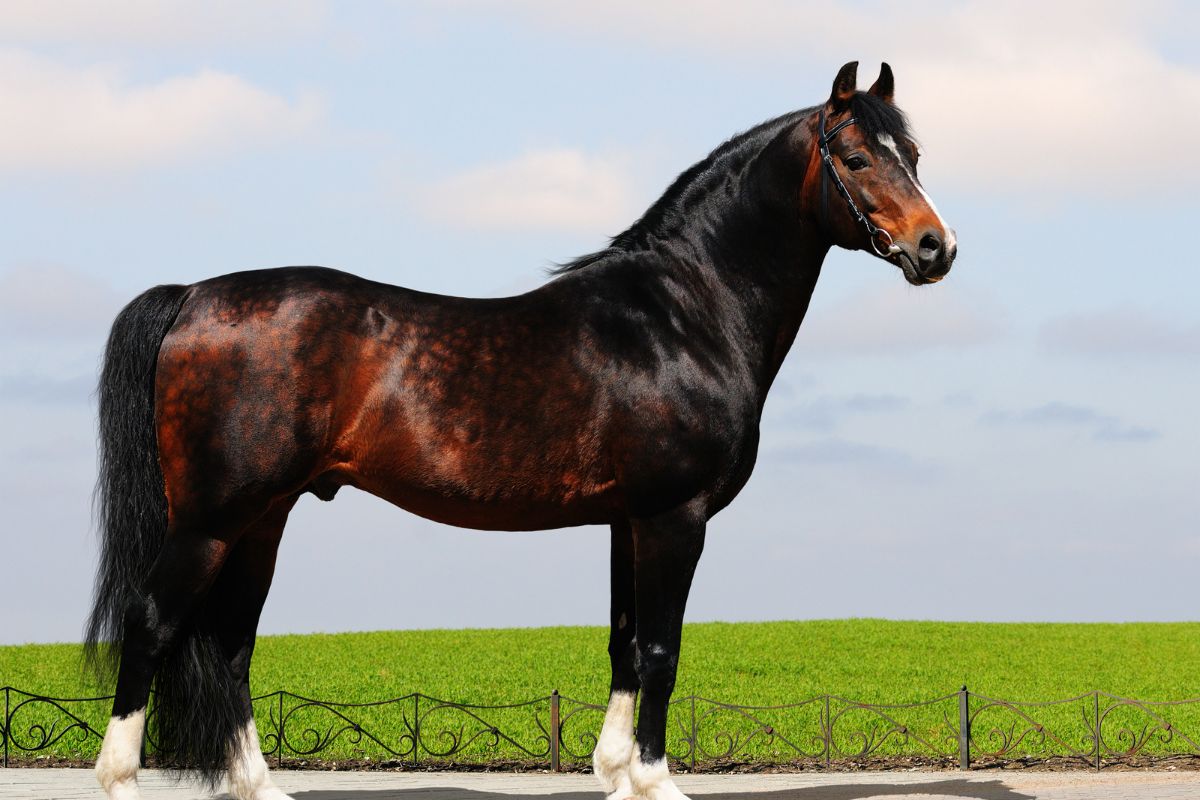 Trakehner horses take their names from the Trakehnen region, which was once part of Germany, a key breeding area for Warmblood horses. Trakehnen is in East Prussia, and Russia annexed it during World War II. The war was disastrous for the breed's population, but careful stewardship is building the breed population back up. These athletic horses with amazing gaits are refined, powerful, and kind.
History of Trakehner Horses
The history of Trakehner horses dates back 300 years, similar to the histories of other Warmbloods. They were bred by royals in the Trakehnen region, and also used for military horses, pulling carts, and transportation as riding and driving horses. The Schwaike breed, native to East Prussia, along with Thoroughbreds and Arabians, was influential in developing the breed. Trakehners were also used to help develop many other breeds, including the Dutch Warmblood.
King Frederick Wilhelm I developed the stud in 1732 because he wanted faster horses. Another goal was breeding a horse that stayed sound longer despite the workload. Each horse had its own circular stone stable and tree-lined pasture. Horses also had their own groom who ensured they lived a comfortable lifestyle.
Only the best horses were kept at the royal stud. Those deemed sub-par were given to locals, who used them as plow horses, and for riding and driving. The soil in the region is thick and muddy, and Trakehners developed a reputation for their hard work.
Russia disbanded the stud farm when they annexed the region, and this, along with the other catastrophic events during World War II led to the breed population dipping to only 1,000 horses from a high of 80,000 before the war.
Breed Characteristics
Trakehner horses are athletic-looking, powerful, and noble in appearance. They are tall, with an average of 16 to 17 hands, with strong bone density, while still looking refined. Although they are one of the heavier Warmblood breeds, Trakehners are also considered the most refined. Common colors are bay, black, gray, and chestnut; and any color can be registered.
The horse's head is noble and refined. The neck is long and crested, tying into prominent withers, and a rectangular body on long legs. Pastern bones in the legs are long and help give the horses incredible gaits. The Trakehner has a long back, and this connects to its powerful hindquarters. Breed characteristics, including the long legs and pasterns, with the powerful hindquarters, have made them standouts in the jumping disciplines.
Trakehner horses are known as low-maintenance and hard-working horses, but they are also sensitive and spirited. Their personality, along with the sheer power from their athletic breed characteristics means that temperament-wise, they are not ideal for beginners.
Abdullah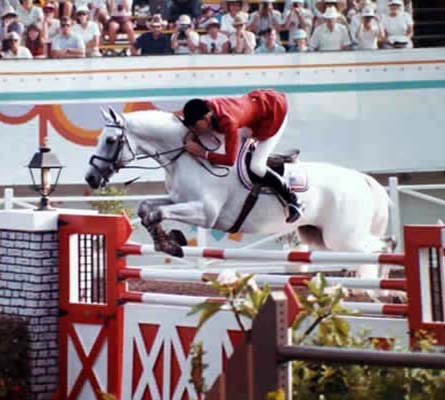 History provides many notable Trakehner horses. Bill Biddle was the first to compete in the Olympics in 1952, ridden dressage by R.J. Borg of the United States. Windfall II was a more recent Olympic competitor, partnering in eventing with Darren Chiacchia at the 2004 Athens Games. But Abdullah is the most famous of them all.
The grey Trakehner stallion was born in Canada in 1970. Abdullah was imported to the United States at three years old. He was incredibly versatile, and successful in both dressage and eventing competitions. Then, Conrad Homfeld started riding and competing with him in show jumping. Together, the pair jumped to team gold at the 1984 Los Angeles Olympics, clinching the win with a clear round. They also captured the individual silver medal.
Abdullah won Grand Prix show jumping competitions with three different riders. He was also a prolific sire who passed on his athleticism and intelligence to his sons and daughters. Frozen semen is still available, and all Warmblood breed registries accept his offspring. Seven of his foals have gone on to receive USEF Horse of the Year Honors to date.
Trakehner Horses Today
Today, Trakehner horse breeding is centered in Germany, where the Trakehner Verband is working to rebuild the population. There are also Trakehner breed populations in the United Kingdom, Canada, and the United States. Pedigrees still link back to those from the Trakehnen stud farm. Horses are used in show jumping, dressage, and eventing, but are also popular in other disciplines because of their athleticism, work ethic, and good temperaments.
Sources: American Trakehner Foundation, American Trakehner Association, Trakehners International, Trakehner Verband, International Museum of the Horse, and Oklahoma State University.