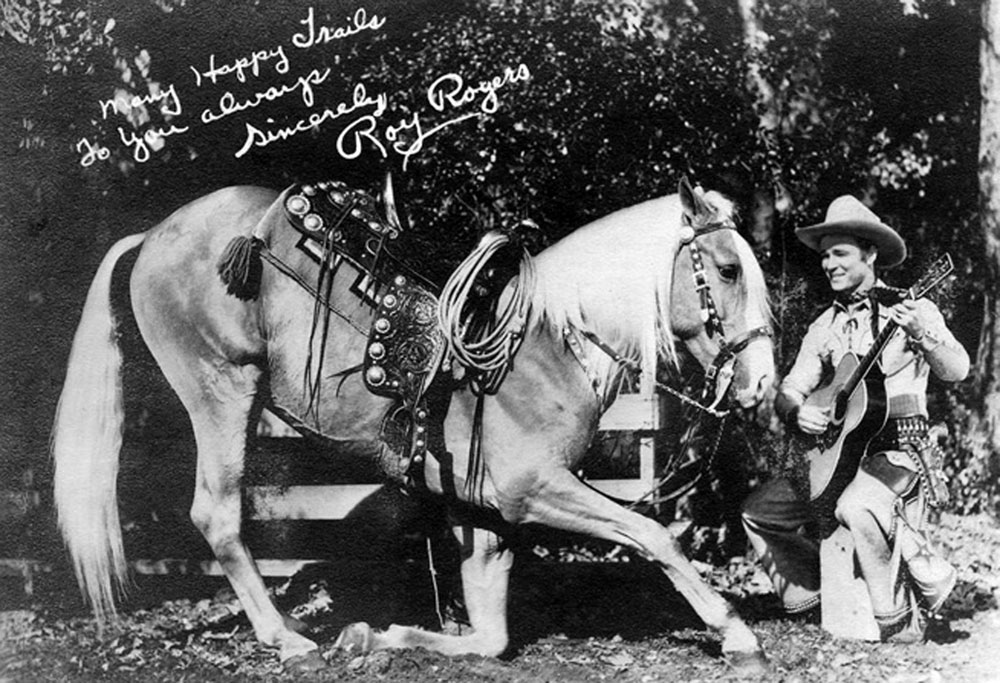 I grew up wanting a horse just like Trigger even though I missed his living years. His golden coat and flowing white mane and tail helped make him an equestrian icon. Trigger was Roy Rogers' horse, and from the 1930s to the 1950s, everyone wanted a horse like him.
The golden palomino stallion was the stuff that Hollywood loved and thrived on, a superhero with stunning good looks. In fact, the image that most people think of when they hear the name is Trigger rearing while Roy Rogers gallantly sits on his back waving. He was tough when he needed to be, but one of the gentlest of souls with small children.
Trigger was born in 1932 or 1934 – reports vary – at a ranch in San Diego, California. He was originally named Golden Cloud after Roy F. Cloud, the ranch's manager. He was what now call a Warmblood, Trigger's sire was a Thoroughbred, and his dam was a cold-blooded, draft-type mare.
The Early Years for Trigger
Hudkins Stables in Hollywood supplied horses for many of the movies in the 1930s. They bought "Golden Cloud" when he was three years old and added him to their stable. His career started alongside one of the biggest stars of the day – Olivia de Havilland – he was her mount when she played Maid Marian for The Adventures of Robin Hood in 1938.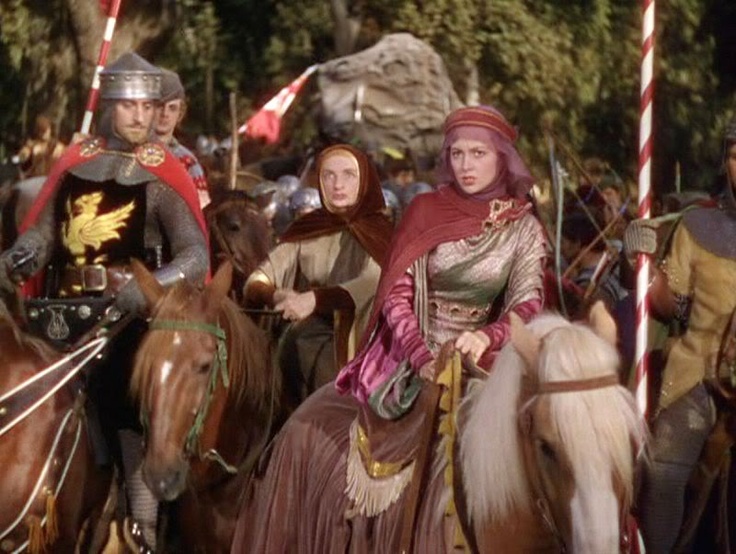 Roy Rogers was a young, singing cowboy and his career was just starting in 1938 too. He landed his first starring role in a movie called Under the Western Stars and couldn't be the leading man in a western film without a horse. The Hollywood stables brought out six or seven horses for him to try, and Golden Cloud was one of the horses that Hudkins Stables took to the auditions.
It was love at the first ride for Roy Rogers on Golden Cloud. A lot of us know that feeling when we're trying horses and we find "the one." I've been there, done that myself, and Roy Rogers had the exact same feeling. He loved everything about Golden Cloud, his power, the effortless lope, and of course, his gentle personality.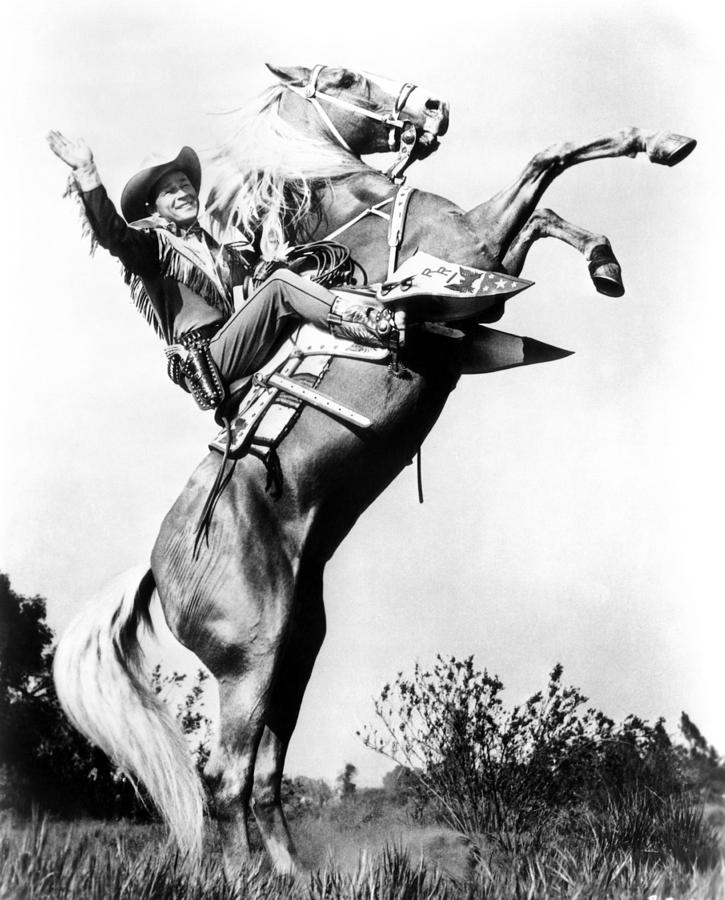 Under the Western Stars
They renamed Golden Cloud while they were filming Under the Western Stars. Where did the name come from? Well, Smiley Burnette, another actor, played the sidekick to Roy Rogers' character in the film. Smiley was watching Roy practice his quick draw. He said they should call the horse Trigger because he was quick too. The name stuck.
When their movie came out, audiences loved Under the Western Stars. Even though it was only a B-film they loved Roy Rogers and Trigger. The stars were born – and in fact, Roy realized that Trigger was just as popular, if not more popular than he was!
Eventually, Roy realized that own popularity was dependent on Trigger being his horse. They were a team and if another rider used him in a film, it might diminish his own career. So he decided to talk to the stables about purchasing Trigger.
Aspiring actors in the 1930s were not wealthy. Roy was under contract with a studio and was only earning $75 per week. When he asked Hudkins Stables about purchasing Trigger they wanted $2,500 for him – that's about $30,000 in today's dollars. It must have seemed like a ghastly sum of money, but Roy agreed to the sum and made payments until he owned the horse.
Trigger and His Hollywood Career
Roy Rogers went on to make 88 films and 104 episodes of his television show, called "The Roy Rogers Show." Trigger starred in every single movie and television episode. Their names were synonymous with each other, and their fame was partly due to the bond they shared. Dale Evans and her horse Buttermilk were frequent co-stars alongside Roy and Trigger.
The tricks Trigger performed were part of his appeal, he could untie ropes and shoot a gun. The daring on-screen performances where Roy and Trigger always saved the day matched their off-screen personalities. They traveled all over the country visiting sick children in hospitals and at shelters. Trigger was extremely gentle with children and helped them believe in magic again, he lifted spirits and gave them a reason to smile.
Roy refused to play a cigarette smoking, drunk early in his career. The studio execs threatened to take Trigger away unless Roy did as they asked. But then they found out that Roy had bought Trigger. They never asked him to play a role like that again. No one wanted to lose Roy Rogers and Trigger.
Little Known Facts About Trigger
It's hard to believe that one horse could accomplish as much as Trigger did. Here's the thing – he didn't. Roy had a second horse for personal appearances called Little Trigger, and this horse did a few movies too. Hollywood's demands were still a lot for two horses. So, Roy purchased a third horse, Allen's Gold Zephyr, a Tennessee Walking Horse, to help with movies and appearances. This horse was referred to as Trigger Jr. The studios did not widely publicize that there were three Triggers because that would have hurt the brand, but as equestrians, we all understand that having multiple horses was the best thing for the horse.
Trigger retired in 1957 and spent his final years roaming a large pasture at a stable near Roy's home, before passing away peacefully in 1965. A taxidermist mounted his hide on a plastic rearing horse so that fans could continue seeing him at the Roy Rogers-Dale Evans Museum in Apple Valley, California. The museum remained in California until 2003, when it moved to Branson, Missouri, and then it was closed down in 2009.
For Roy, Trigger was a once-in-a-lifetime horse that catapulted him to fame, and he likewise carefully guided and guarded the horse's career. The singing cowboy and his horse gave viewers and young children an ideal to look up to. After all, who wouldn't want a golden palomino stallion as their best friend and equine superhero to help save the day.
Sources: Roy Rogers World, Dale Evans, Roy Rogers, Under Western Stars.