Western pleasure riding makes a day in the saddle appear effortless, as horse and rider quietly continue along at a steady and relaxed pace. The discipline has soared in popularity, especially among stock horse breeds, as riders embrace the joys of equestrian sport and a quality bond with their horse.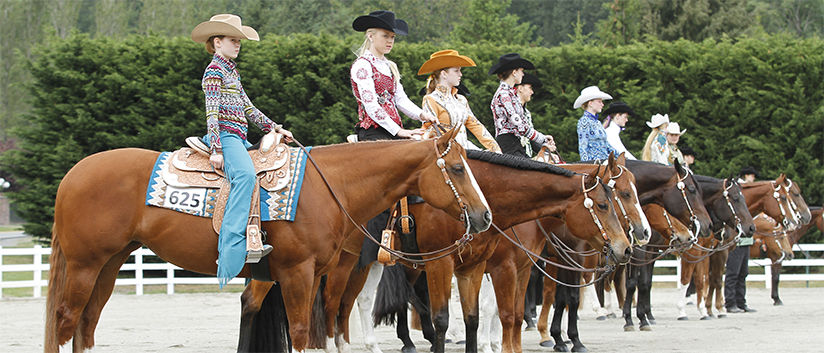 Western Pleasure Riding is one of the most popular disciplines for equestrians, attracting people to the sport and the joy of horseback riding. Although Quarter Horses, Paint Horses, and other stock breeds tend to dominate the discipline, it's popular across breeds.
The goal of the western pleasure horse is exactly as the name implies – it should be a pleasure to ride. This means smooth, comfortable, and consistent gaits with little fanfare or tension. The gaits should be forward-moving, quality, and correct. The walk demonstrates a clear, four-beat cadence; the jog is a steady two-beat gait, and the lope is a rhythmic, three-beat gait.
Horse and rider are relaxed and look like they could continue in the same way for hours, which, as history tells us, is exactly how the discipline evolved.
History of Western Pleasure Riding
The premise of western pleasure riding is in stock horses that spend long days out on the range, checking fence lines and trailing cattle. Horses had to maintain a slow, steady pace to perform their duties without tiring out. There is a certain level of stamina and endurance required to stay out on the range for a long day. While the energy required is moderate, it's the sustained exercise that requires endurance.
Western pleasure riding is still practiced on ranches and other agricultural operations throughout the United States, and in some cases globally, However, in the 1940s and 1950s, ranch hands started competing against one another, and that's when western pleasure riding competition as we know it today began. There is a bit of a competitive streak in all of us, and ranch hands are no different. One way they entertained themselves was by getting together at rodeos with their best ranch horses and competing to see which was the best of the group.
Where You Ride
Western pleasure riding competitions take place in arenas at horse shows, and training often takes place in an arena at home. But this is not the only place where you ride a western pleasure horse. Remember how the discipline was born and the purpose it served. Working situations were the starting point for many western pleasure rides, whether on a ranch or some other activity. Horses benefit from various training techniques, even those elected solely to show in western pleasure riding at competitions.
Horses require endurance, stamina, and a high degree of training to compete in western pleasure riding. This means that they must be trained and consistently worked before ever setting foot in a show pen. The pace in western pleasure riding is slower because outside of the show pen it would be continued for hours.
However, training at a faster pace, specifically through long trotting, stretches the horses' muscles, tendons, and ligaments and builds strength and endurance. Furthermore, adding in exercises like square corners and patterns improves the horse's balance and makes the work more interesting. In or outside of the arena is acceptable for training. Again the variety of practicing on the trail or somewhere else makes it more interesting for the horse and rider.
Horseman's Skills
The horse is only one half of the equation; the rider has an important role to play as well. Horseman's skills may be hard to distinguish in a western pleasure riding competition, and that's the point. A skilled rider has trained their horse and is effortlessly communicating with their horse using imperceptible signals.
Riders need to have a certain amount of training and endurance too. Mental strength and training are required. This is because it can be hard to carry on at the same speed and consistency for long periods of time (for both the horse and rider). Fit riders are easier for their horse to carry. Calm and quiet riders will elicit the same response in their horses, making success in the show pen or other area possible.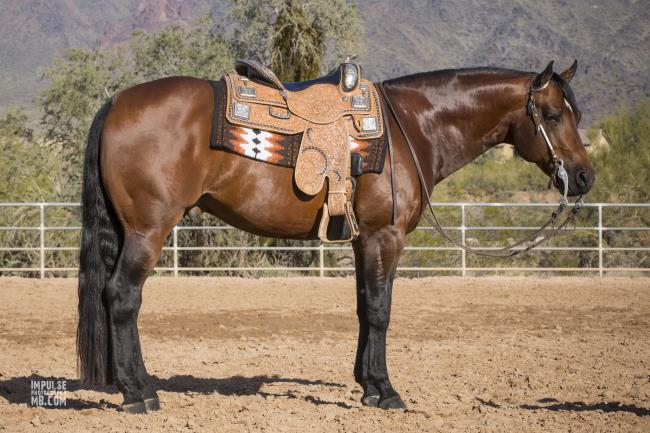 A Good Horse
First and foremost, a good horse needs good conformation. The ability to perform in western pleasure riding correctly starts with correct conformation. Horses should be balanced with clean legs, a neck that is not too high-set, and a sloping shoulder and hip. Second, the attitude and temperament of the horse are important. It must be tractable, and willing to maintain the gaits for long periods of time; horses need to be happy performing their duties. These qualities in a horse–balanced conformation and a willing temperament, combined with the horseman's skills, make western pleasure riding look effortless.
Western Pleasure Gaits
Some of gaits in Western Pleasure are different than what you would see in a Hunter-Jumper or dressage ring. According to the AQHA website these gaits are judged as follows:
Walk – The walk is a natural, flat-footed, four-beat gait. The horse must move straight and true at the walk. The walk must be alert, with a stride of reasonable length in keeping with the size of the horse.
Jog – The jog is a smooth, ground-covering, two-beat diagonal gait. The horse works from one pair of diagonals to the other pair. The jog should be square, balanced and with straight, forward movement of the feet. Horses walking with their back feet and trotting in the front are not considered performing the required gait. When asked to extend the jog, it moves out with the same smooth way of going.
Lope – The lope is an easy, rhythmical, three-beat gait. Horses moving to the left should lope on the left lead. Horses moving to the right should lope on the right lead. Horses traveling at a four-beat gait are not considered to be performing at a proper lope. The horse should lope with a natural stride and appear relaxed and smooth. It should be ridden at a speed that is a natural way of going. The head should be carried at an angle, which is natural and suitable to the horse's conformation at all gaits."
Differences in Tack
The tack used in western pleasure riding is similar to other western disciplines, although with some distinctions. Riders should familiarize themselves with the rules of the governing body before entering any competitions. First, there is the western saddle, it can have square or rounded corners, and must be in good working condition. Many riders compete in saddles that have silver on them, although this is not considered in the judging. The saddle pad must be thick enough and large enough to cover the entire area where the saddle sits and prevent the saddle from touching the horse's back.
Next, the bridle is western-style with a single or double earpiece. Rules prohibit nosebands and cavessons. Riders use a curb bit and chain in the western bridle, with snaffle bits and hackamores for junior horses. Split and romal reins are both allowed, but whichever type is used must be held correctly. A rope can be attached to the saddle, but this is optional. Spurs on the rider and a breast collar on the horse are also optional.
Western Pleasure Riding Today
Western pleasure riding today is a fun discipline that riders can enjoy with their horse while competing against their peers. The careful training involved bonds horse and rider closer together as they continue improving their skills as a team. There are many reasons why western pleasure riding has exploded in popularity – and while each rider may have their own for choosing the discipline, it is something that any equestrian can enjoy.
Sources: AQHA, Horse and Rider, Iowa Extension, National Snaffle Bit Association, and Rider Magazine.