Horses need shoes for various reasons, and that's a fact that people have accepted for thousands of years. Horseshoes were first used around 400 BC and helped protect the horse's hooves from excessive breakage or damage because of use, terrain, or sharp objects. We use horseshoes today for the same reasons, although they've evolved quite a bit since then and there are now more types of horseshoes available.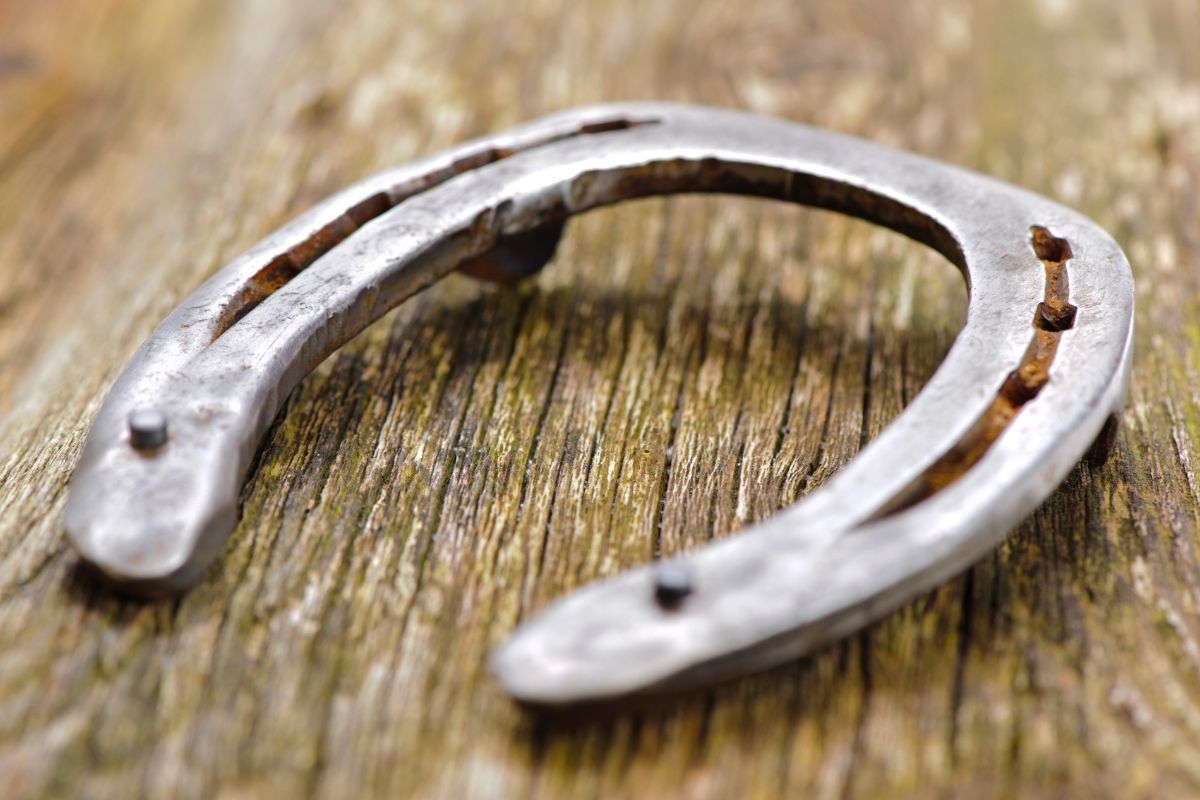 The question "Why do horses need shoes?" is probably as old as the history of riding. The answer hasn't changed much in the thousands of years since horses were domesticated though. First, it's important to understand the horses' hooves and how they work to protect and support the horse.
The hoof is a complex structure with the wall, sole, and frog encapsulating the coffin bone. The wall is the outer part we see, and the sole and frog are visible when we lift a horse's leg to clean the hooves. These three structures – the wall, frog, and sole – bear the weight of the horse. Hooves distribute the horses' weight evenly and expand and contract as they land on the ground and then lift up again, helping to absorb shock.
History of Horseshoes
Humans started riding horses around 3500 BC and needed hoof protection for longer distances and increased use. So, documentation of the first horseshoes dates to around 400 BC. These aren't horseshoes that we think of today, but they were hoof protection nonetheless.
Early horseshoes developed by the Romans were made of leather, plants, and rawhide. Horse people in Asia wove plants together to make shoes for their horses. Horseshoes, as with any invention, evolved over time. Light bronze shoes with nail holes appeared around 1000 AD, although they had a scalloped shape. The modern horseshoe we think of today appeared around the 14th century. Later, a machine to mass produce horseshoes was developed in 1835 in the United States.
Horseshoes are also associated with good luck. The Chaldeans were an ancient civilization in present-day Iraq and Syria. They believed the horseshoe's crescent shape was of the moon goddess and protected people. This belief dates to the eighth century. St. Dunstan, the patron saint of blacksmiths (or farriers) in the Catholic Church warded off the devil with a horseshoe in 969 AD. He made the devil promise not to enter any place that had one hanging over the door.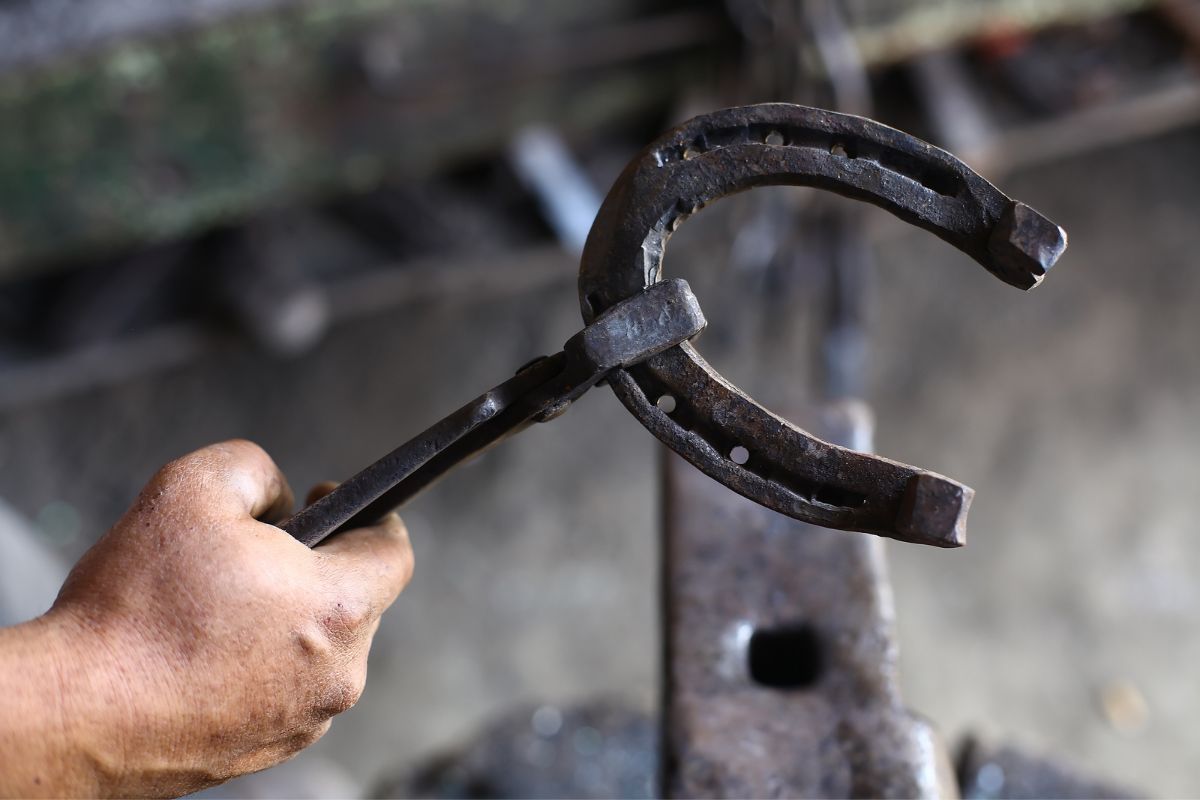 Why Horses Need Shoes
Obviously, horses' hooves serve as protection and not all horses require shoes. Some horses do quite well barefoot, especially if they are not working hard and have time to acclimate to the terrain and work they are doing.
However, horses need shoes if they are wearing down their hoof wall faster than it grows. Horses kept in stalls, that work in rocky or mountainous areas, and that are ridden or worked frequently are all candidates for shoes. Hoof protection is the primary reason why horses need shoes. Other reasons are traction, weight distribution (to adjust for conformation defects), gait improvement (again, usually because of conformation issues), and finally for treating a disease, birth defect, or injury (laminitis, club foot, and hoof cracks are examples).
There are different types of shoes for each situation, and a certified farrier will select the correct shoe and make recommendations based on hoof health, type of work, and conformation. There are also different types of horseshoes, many farriers still use steel shoes, although aluminum is popular with Thoroughbred racehorses and horseshoe alternatives are also available.
Alternative Horseshoes
Horseshoe alternatives abound now, thanks to innovative designs and ongoing research into hooves, equine biomechanics, and related fields. The major horseshoe alternatives include glue-on shoes, hoof boots, and plastic shoes (which can also fall into the glue-on category).
Hoof boots are a simple option. Horses can remain barefoot most of the time, and use boots as needed. There are many different ways that hoof boots are applied and companies manufacturing them. Fit is the biggest and most important consideration; they must fit snugly and per manufacturer specifications to prevent rubs or falling off. They are made of durable materials, just like our boots. They are reused until the tread wears out, except in the case of glue-on hoof boots. Another use is for injured horses that can't have shoes nailed on, or as a horse transitions back to being barefoot.
Plastic shoes are an option that evolved over time as an alternative to steel. These shoes can be nailed or glued on, depending on the type and manufacturer. Plastic shoes offer the same protection in a lighter-weight material. Horses need to be re-shod more frequently when using plastic shoes, similar to aluminum shoes.
Glue-on shoes are another newer product and offer more shock absorption. Badly damaged hoof walls or those that cannot hold nails are common reasons for glue-on shoes. Foals that need corrective shoeing because of conformation issues also use glue-on shoes. One of the biggest detractors of glue-on shoes is that they are considerably more expensive than steel shoes.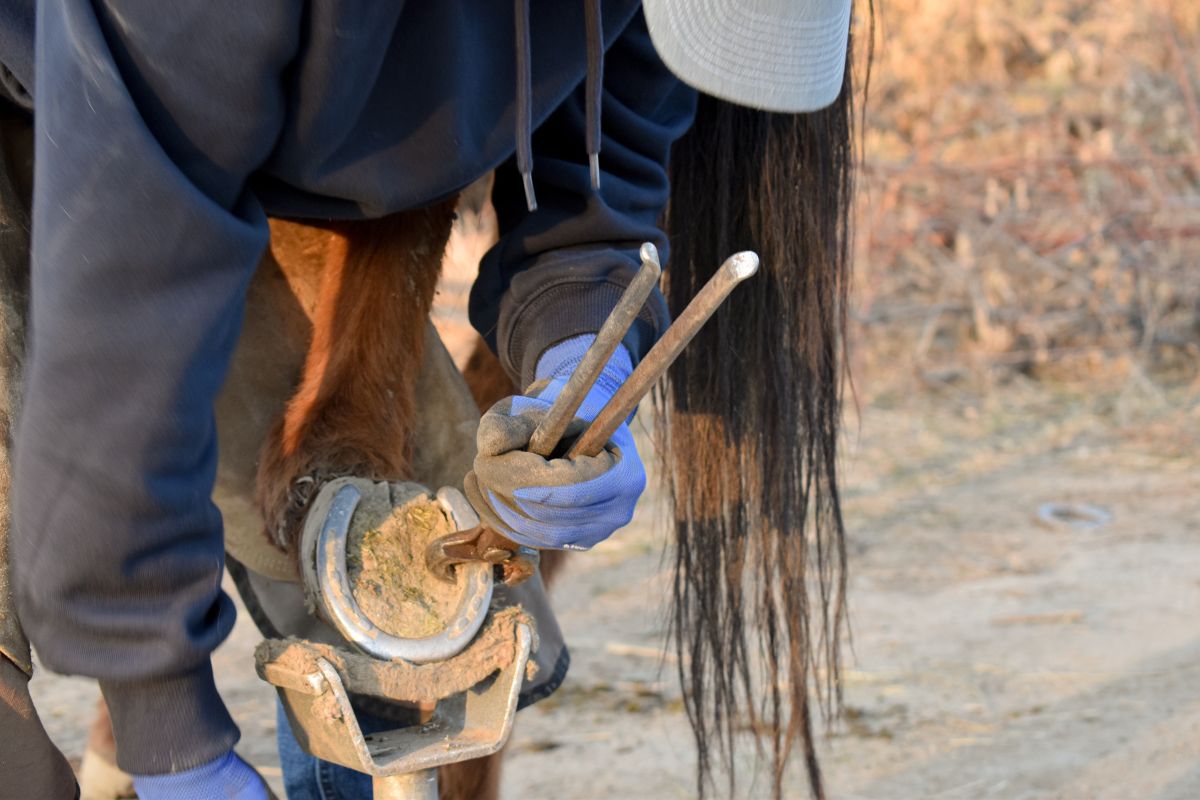 Do Horseshoes Hurt Horses?
No, a properly fitted horseshoe that has been correctly attached to a horse's hoof does not hurt the horse. In fact, the right kind of shoe can help alleviate pains a horse might have from their workload, or from chronic conditions such as navicular syndrome.
Horseshoe Basics for Equestrians
Yes, many horses need shoes because of hoof protection, traction, weight distribution, gait improvement, or to treat an injury or disease. But equestrians don't need to know everything about horseshoes to keep their horses' hooves healthy. Certified farriers specialize in trimming feet and applying the right horseshoes for any situation.
Horses need new shoes or a reset every six to eight weeks, although some horses need farrier work more frequently, even once per month depending on workload. The hoof wall in a healthy horse grows about 3/8th of an inch per month. Hooves grow nonstop, similar to the nails on humans' hands and toes, although they do grow less in the winter months.
Find a farrier with adequate training and experience because the adage "no hoof, no horse" is true and a horseshoe nail in the wrong place can make a horse lame. The farrier can help you decide on the type of shoes, frequency of shoeing, and other decisions to keep your horse sound, comfortable, and performing their best.
Sources: American Equus, EquiMed, Horse Illustrated, Kentucky Derby Museum, Practical Horseman, University of Missouri, and the University of Illinois.