Hip mobility is a game changer when it comes to riding your horse & providing clear, correct leg cues. Learn how to improve your flexibility with two easy routines.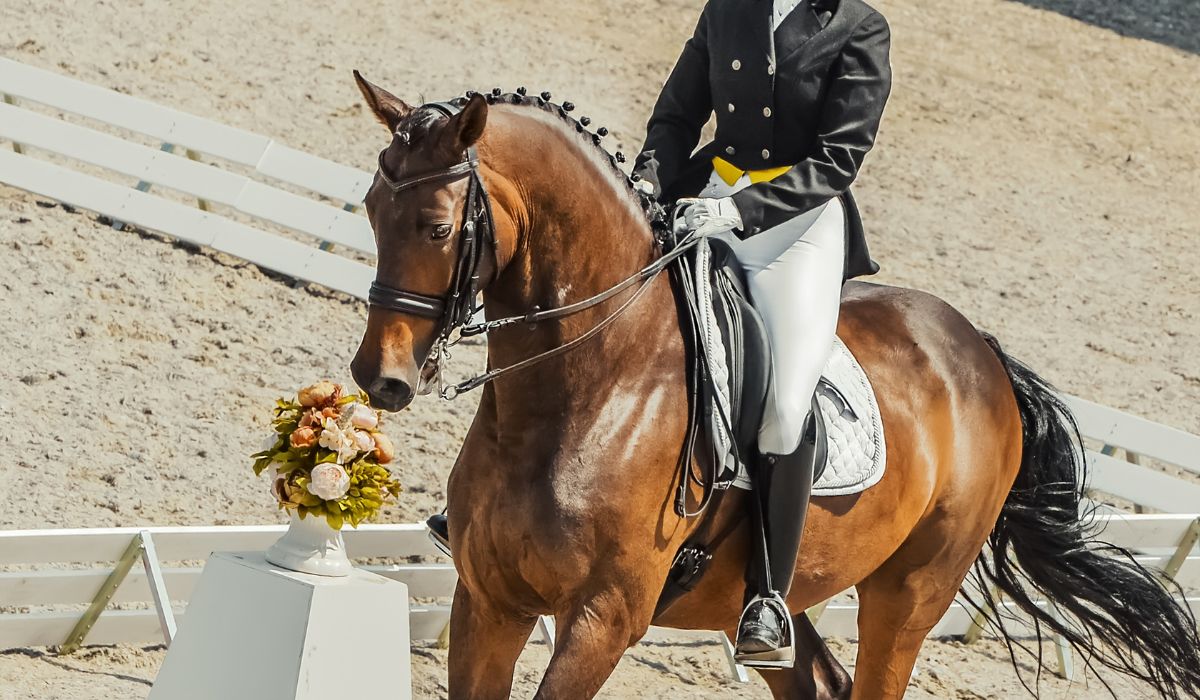 Of the many things I thought I would learn while pursuing the equestrian dream, the importance of hip flexibility is not something that was on my radar. But in the past couple of months, I've realized that hip flexibility is a game changer.
The first "ah ha" moment came when my trainer was asking me not to grip my horse while riding. I didn't feel like I was grippy, I felt like I was just sitting there relaxed. But then she asked me to bring my horse to halt and take my legs as far away from the saddle as I could. Turns out, I couldn't move them off the saddle – at all.
The second lightbulb went off when we were doing trot work and my trainer asked me to encourage more forward movement by giving my horse a quick kick with my inside leg. I had an incredibly difficult time kicking because I couldn't bring my leg far enough away from the saddle to actually kick. So really the best I could do was grab my horse with my inside leg by pressing it inwards. Not good. And on top of all that, my horse is incredibly sensitive and if you grip he goes slower and slower – it's nearly impossible to get him going forward nicely.
So much of riding comes from your seat and leg, and obviously, if I couldn't use my legs in as nuanced a way as needed, something had to change.
How I Improved My Hip Mobility
One of the things I love most about horseback riding is how our horses inspire us to be better versions of ourselves. In this case, I was determined to become looser in the hips so that I wouldn't be grippy. Luckily, making improvements in this area proved incredibly doable – even if it did take some time.
First: I found the above hip mobility yoga routine on YouTube and committed to doing it twice a week. If you watch the video it may look easy, but let me tell you – if you are tight in the hips, this routine WILL make you sore. Even though I didn't push myself hard, for the first few weeks after I started this routine I had noticeable soreness in my hip joints.
Second: The other thing I started doing is moving my legs off the saddle as far as possible at the beginning of every lesson. During that warm-up period where my horse and I would walk around the arena became the time I'd flex my hip joints and practice balancing on my seat bones.
Results & Improvements
Fast forward 3 months and now I can actually move both of my legs several inches away from my saddle while balancing on my seat bones! My legs now drape softly down my horse's sides and when I need to cue him my leg is much more effective. He is happier, more forward moving, and my cues are more clear and precise because I can actually move my leg the way it needs to move. This one change has totally changed my riding and while I still have a long way to go in my education, I'm encouraged by how improving this one area resulted in such a dramatic improvement.
Next time you hop in the saddle try taking your legs as far away from your horse's sides as possible. If you don't get far – or anywhere – experiment with improving your hip mobility and see what happens!