The fate of draft horses has risen and fallen like the tides of the ocean, and luckily, seems to be on an upward swell again. Belgian Horses are the most popular draft horse breed in the United States, along with many other countries. These gentle giants are known for their incredible strength, chestnut coat color, and blonde mane and tail.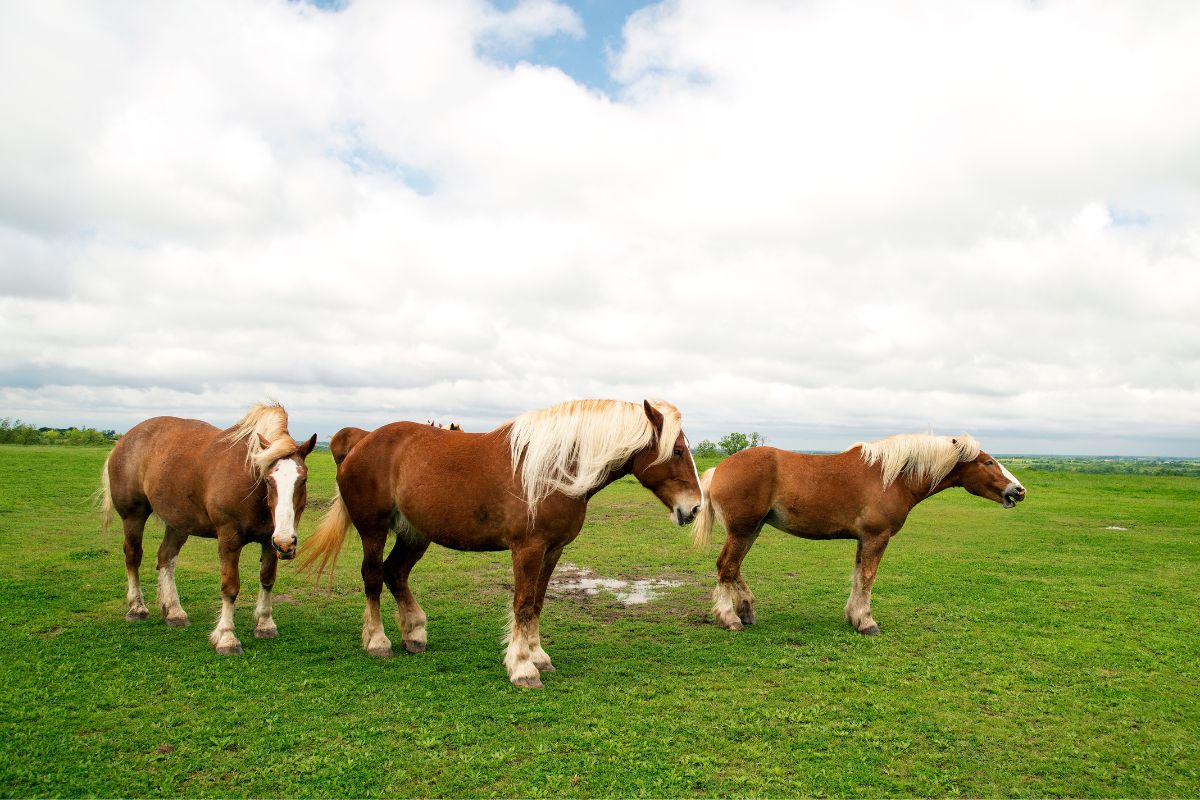 Draft horses played a vital role in building many civilizations, carrying soldiers and equipment to battle, and working the agricultural fields to feed people. The industrial revolution and motorized vehicles drastically reduced our needs for horsepower, yet the Belgian Horse breed held on because of their endearing personality, strength, and beauty.
History of Belgian Horses
As their name implies, Belgian Horses were developed in Belgium, specifically in the Brabant region. One of the other names for the breed is the Brabant horse. Their history goes all the way back to the great horses used by medieval knights, making them one of the purest European draft breeds. These knights were covered in heavy armor, so extremely large, strong, and athletic horses were needed.
Formal breeding of Belgian Horses started in the 1600s. Their uses included farm work, transport, logging, and artillery during wars and conflicts. These types of work require a calm horse as well, the term "courage under fire" applies to Belgian Horses as much as soldiers, whether that fire was on the battlefields or as workhorses.
European immigrants brought their horses to North America with them, the same way other breeds also crossed the Atlantic Ocean. Once in the United States, their uses and popularity swelled, as they had in Europe. Breeders in the United States did trend towards a taller, more athletic horse, and today we see a distinct type difference between those of European and North American breeding.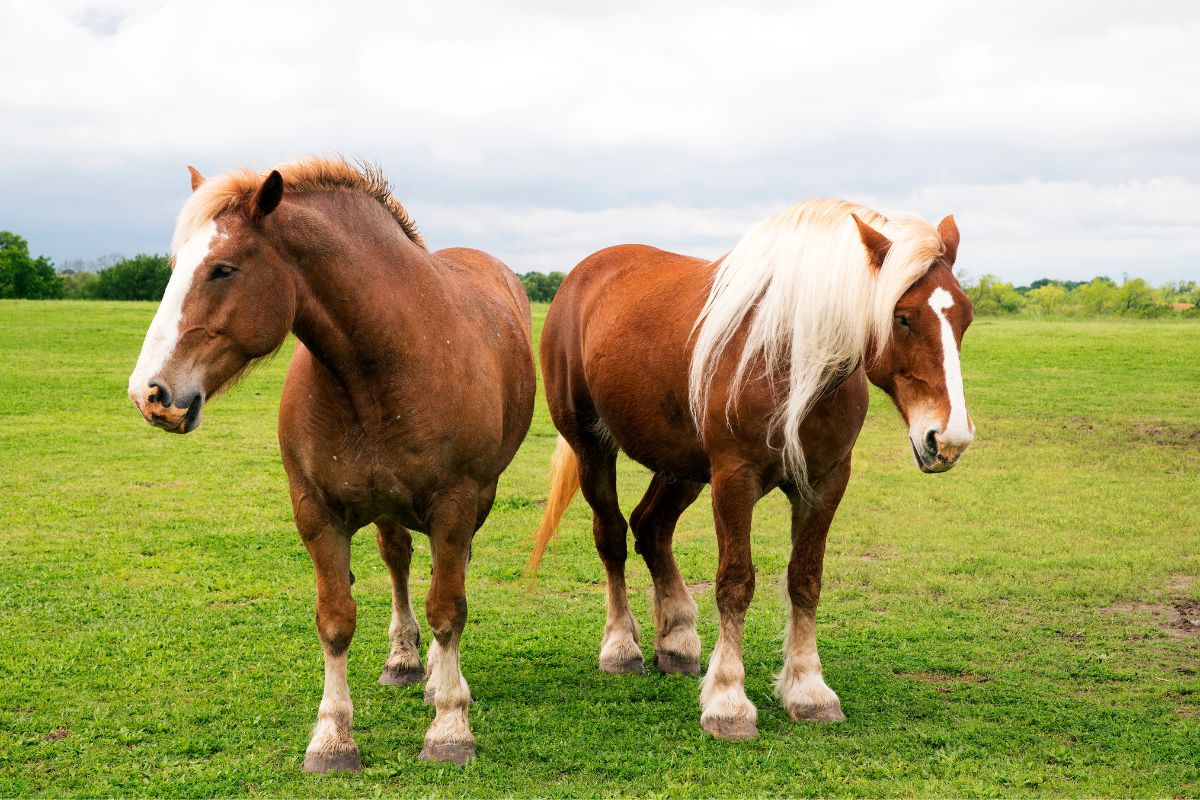 Breed Characteristics
Belgian horses have distinct characteristics, making them easily distinguished from other draft breeds. Their distinct color of blonde, chestnut, or sorrel with a blonde mane and tail is a distinguishing feature. However, this is a popular color in the United States, but there are other colors allowed and found. Bay, brown, red roan, and blue roan are also seen, especially in Europe. Occasionally, a gray or black horse is also registered. White markings are common among Belgians.
Average height is between 16 to 18 hands, and their weight is between 1,800 and 2,400 pounds. Their head is small in proportion to the rest of their body, with an intelligent and kind eye. The neck is short, thick, powerful, and connected to a broad chest. Well-sprung ribs lead to powerful hindquarters. Distinctive hair feathers arch down their leg from the knee, encapsulating their large hooves.
Temperament-wise, Belgian Horses are sweet, patient, and kind. They truly are gentle giants and are both smart and willing to work. The fact that they rarely spook is a favorite trait of many owners, just as their sense of humor also is. Belgians are frequently shown and handled by young children, further proving what a great temperament they have.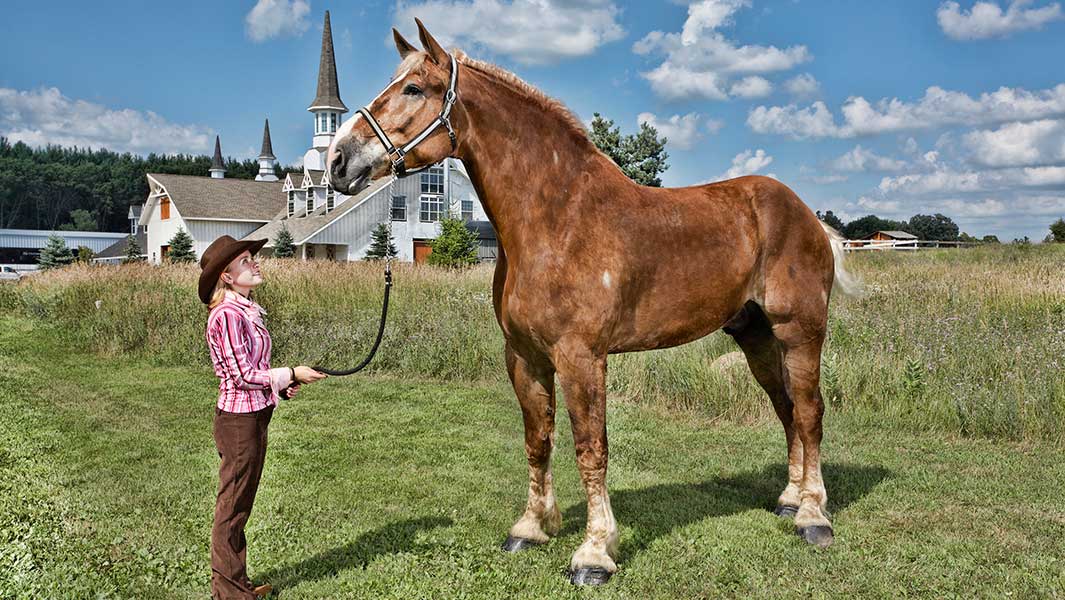 Breed Ambassadors
The Belgian breed has certainly benefited from some breed ambassadors that have helped increase their popularity. Big Jake is one of the more recent examples. He was owned by Smokey Hollow Farm in Wisconsin and held the Guinness World Record as the tallest horse until he passed away in 2021.
Before that, Rock and Dick were a pair of Belgians that were featured in Sports Illustrated in 1974. They pulled an amazing 22,000 pounds – a world record in 1981 – all without being encouraged by their owner at all. They were originally logging horses in Maine for Dick Wallingford but became superstars on the pulling circuit instead.
Finally, the horse-drawn trolleys at Disneyland in California are always popular with visitors. Some of the horses pulling those trolleys are Belgians, further introducing people to this lovable draft horse breed.
Belgian Horses Today
The fate of many things seems as cyclical as the tides of the ocean, rising and falling on their own distinct rhythm. The breed suffered population setbacks with mechanization and is on an upward swell again as they are used and enjoyed for recreation, pleasure driving, logging, agricultural work, at entertainment venues, and as riding horses.
Populations are steady and maintaining in both the United States and Europe, with over 300,000 in the United States. Their owners compare having a Belgian to a luxury car. More important than that, the people that interact with and own these horses are touched by the kind and funny personalities and quiet strength the breed exhibits. They'll continue making friends and cementing their place in our lives through their quiet and steady contributions everywhere from a logging operation deep in a forest to the streets of Disneyland.
Sources: Belgian Draft Horse Corporation, Big Jake, Disney Parks, FEI.org, Maine Life Magazine, and The Livestock Conservancy.