Cremello horses are a striking color that is rare. It's often confused with other colors, and susceptible to sunburn. The astute equestrian can discern between a Cremello horse and another color though, by the subtle differences that bring this double dilution into life across many breeds of horses.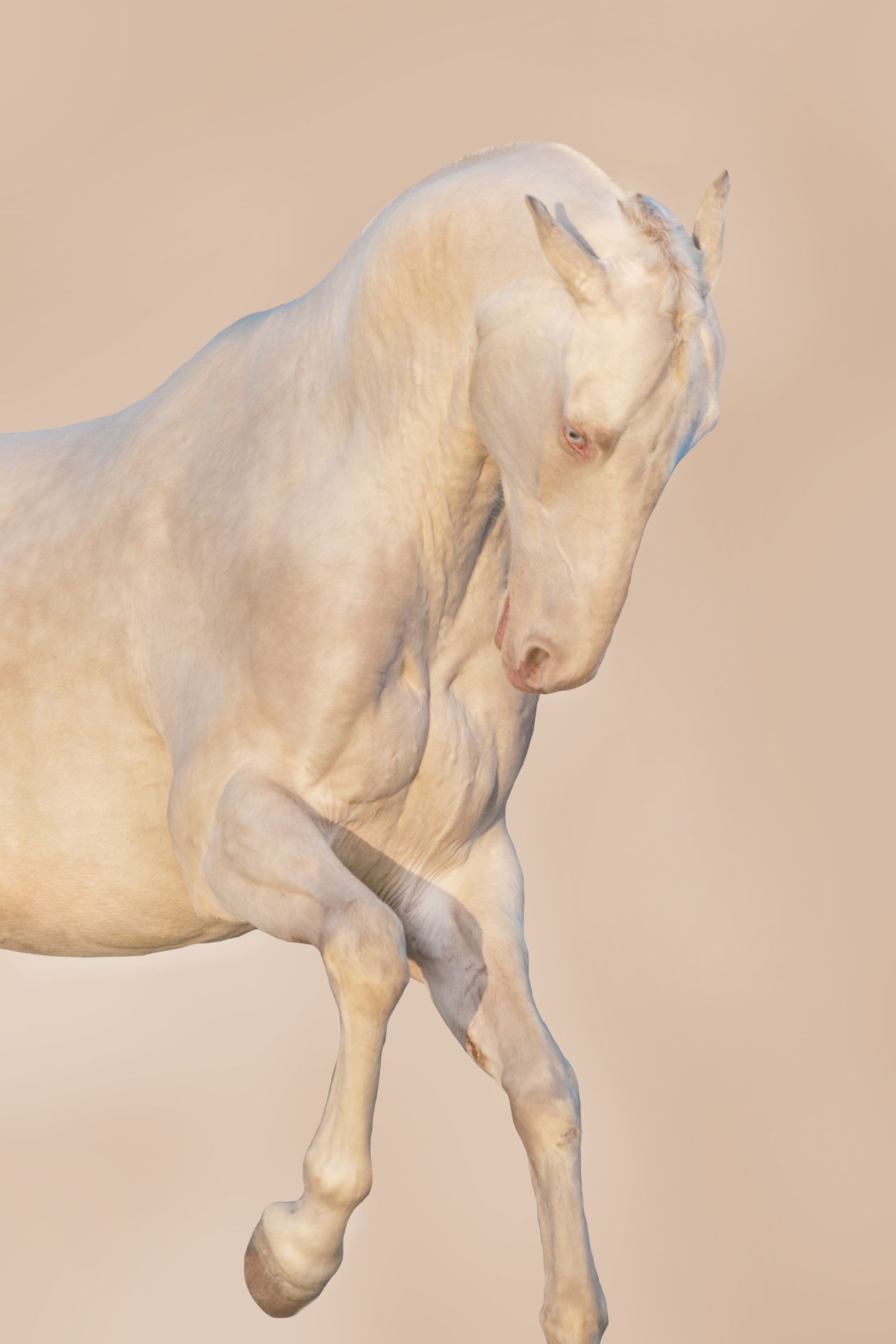 Horse coat color is determined by genes, like human hair color. We are used to seeing bay, black, chestnut, grey, and paint horses, but that's really only the tip of the iceberg as far as color goes. Digging deeper into genetics, history shows us how many coat colors there are.
Cremello is one of those, and as such, is seen in many breeds of horses, from the miniature to the Andalusian. It is a color designation only, so there aren't specific body types or disciplines, you can find Cremello horses anywhere, except it's a rare color so not as prevalent as your chestnuts and bays.
The Look
Cremellos have a chestnut base coat color and pink skin. The cream coat color looks almost white. They have a white mane and tail too, and pale blue eyes. Looking at photos, it's easy to understand why people see Cremello horses and assume they are white.
A closer inspection is required, and honestly, in some cases, a DNA test is needed to determine which color a horse really is. The coat colors can be so close that the astute equestrian must rely on genetic testing to verify their hunch.
The Cream Gene
First, let's have a quick science review because this part can be confusing if you're not regularly immersed in genetics. Genotype is the combination of alleles in a gene and comes from the parents – one from each parent. The phenotype is what we see when we look at the person or animal. It's how the genes are expressed.
Cremello is one of the rarer horse coat colors and is caused by the cream dilution gene. Basically, when horses have this gene, it fades their base coat color into something different.
The gene alleles are N (Normal or Non-cream) and Cr (Cream). Horses need one cream gene to show the phenotype and exhibit the coat color. They can also be homozygous, meaning they have two cream alleles. The combination of alleles in the gene and their base coat color dictate which of the six colors they are.
All The Pretty Horses
Many horse breeders prize this gene because of the phenotype we observe. The cream phenotype causes many colors besides Cremello, including palomino, smoky creams, buckskin, smoky black, and Perlino.
Cremello horses have a chestnut base color and both alleles are cream. Palominos have a normal and cream allele on a chestnut base color. The smoky cream is two cream alleles on a black base coat. Buckskins have a bay base coat color and one cream and one normal allele. The smoky black is one cream and one normal allele on the black base coat.
Perlino is also closely related to Cremello horses. It's also caused by the cream gene but has a bay base instead of a chestnut. Differentiating between a Perlino and a Cremello often requires a DNA test.
Horses with two normal alleles only appear as their base coat color – chestnut, bay, or black. Their offspring cannot inherit any cream color.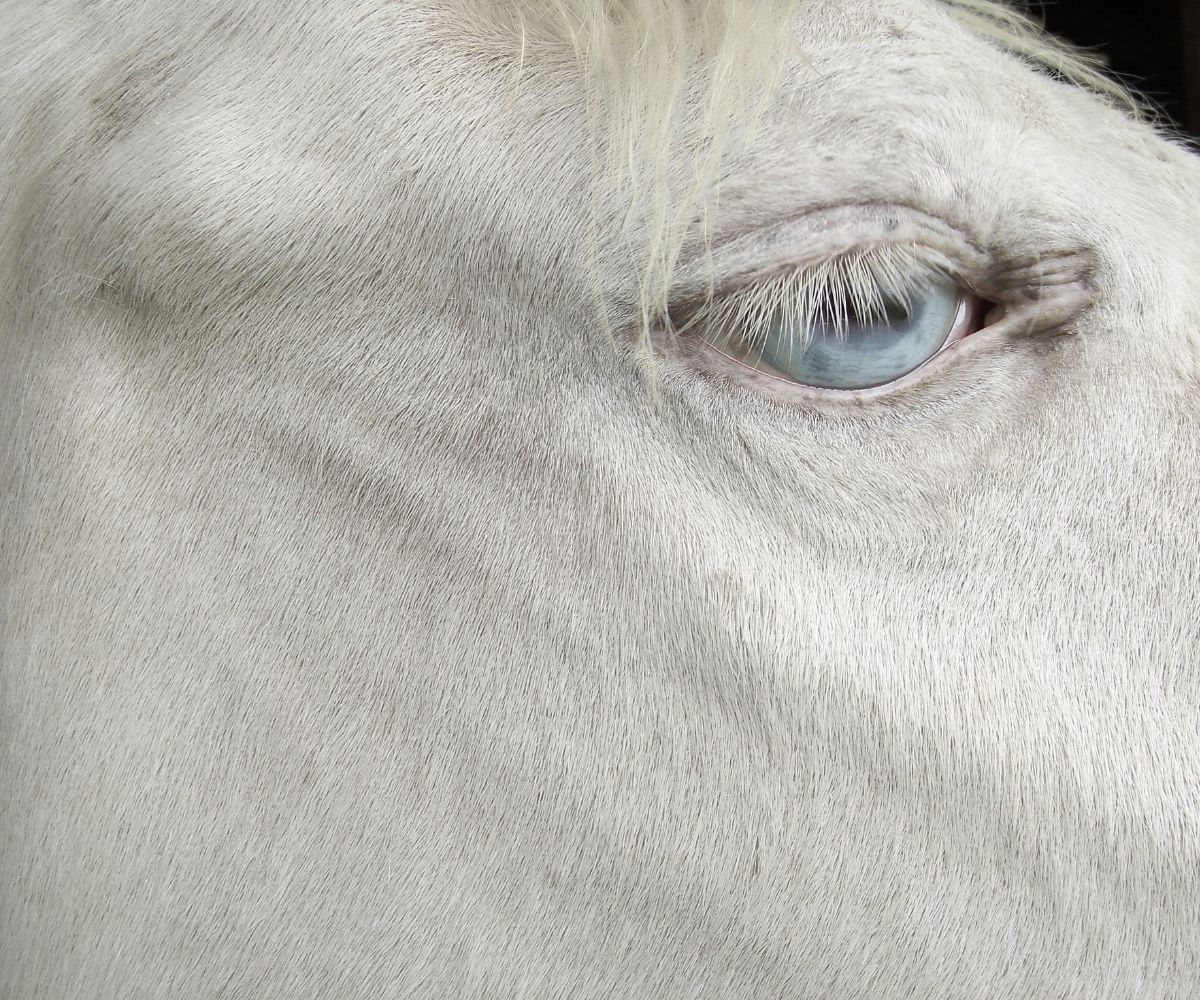 Breeds with Cremello Horses
Many breed associations recognize and register Cremello horses, although there may be a limited number within the breed that is actually the color since it is rare.
Andalusians, with their majestic appearance and skill in many disciplines, including dressage, can be Cremello. The Akhal-Teke is a rare breed known for its golden sheen, which is most readily seen on the Cremello and dun members of the breed. Morgan horses, Racking horses, Saddlebreds, Quarter Horses, and Miniature horses are just a few others that allow Cremellos.
Cremello Horses Today
Uniquely colored horses always attract our attention; it's been that way for thousands of years. However, when breeding horses, it's always important to start with good conformation, soundness, and temperament. Breeding only for a specific gene or trait can be detrimental to the overall vitality of the individual animal and species.
Cremello horses today remain popular, and rare. Research and testing ease make it easier to identify cream-colored horses and take some of the guesswork out of breeding. Their rarity often drives their price up, but those with a Cremello horse prize them for their beauty, as well as athleticism and temperament.
Sources: Cowgirl Magazine, UC Davis, University of Kentucky, Tennessee Extension, and Animal Genetics.