Side saddle is the picture of elegance. But it can feel awkward the first time you try it, and a little scary. Women rode side saddle because it was "unbecoming" for them to ride astride in their skirts. The right leg drapes over the front of the saddle, so both legs are on the left side, with a skirt covering them. Today, it's still a popular discipline for show and fun.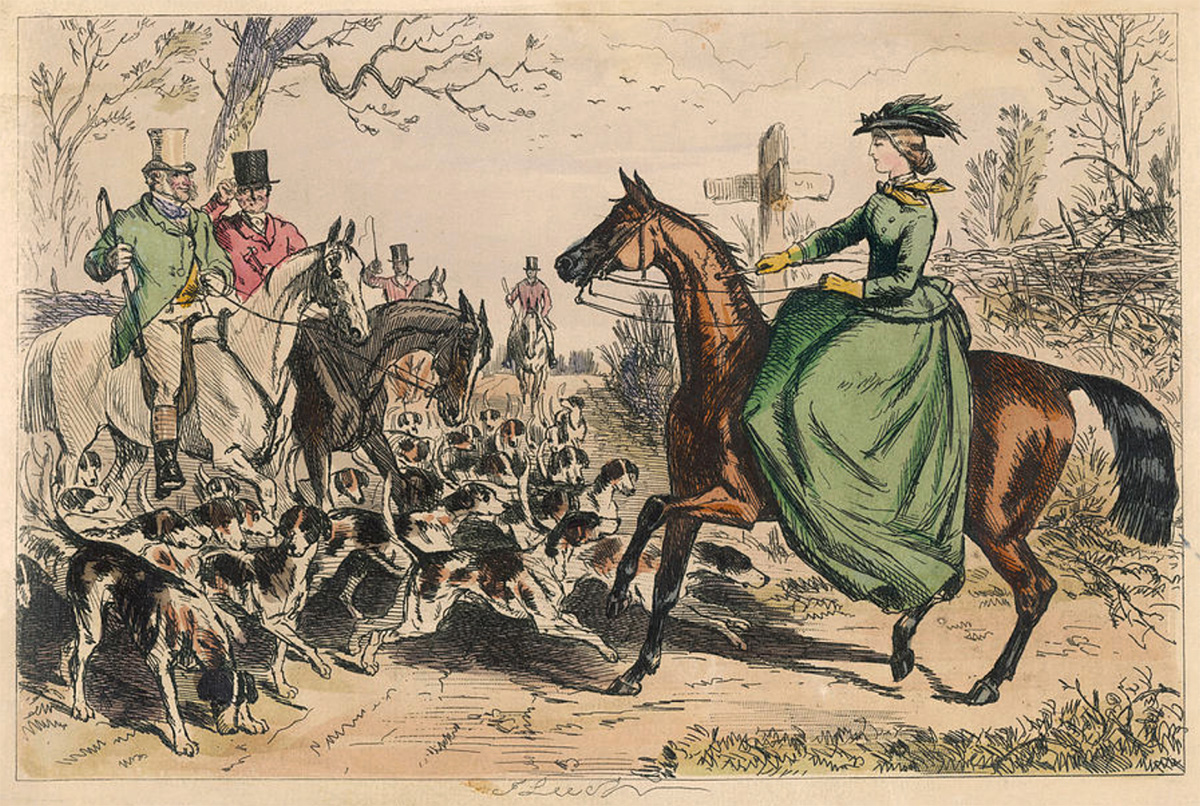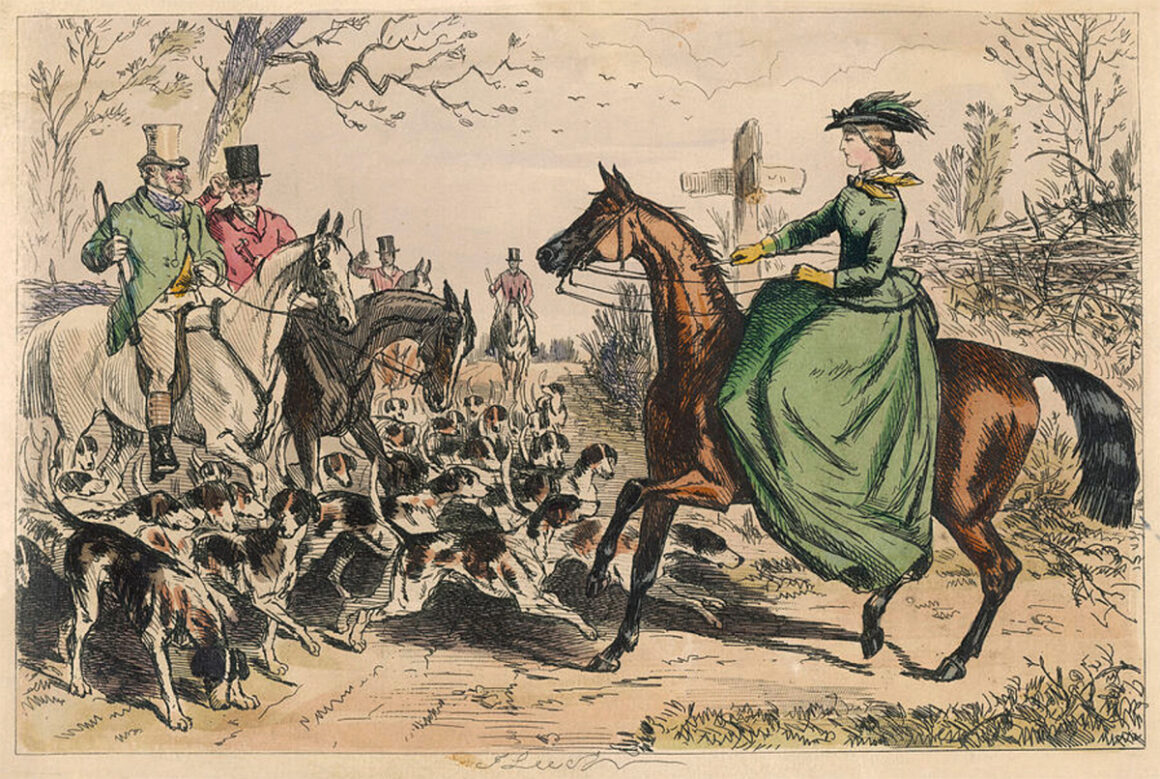 Women in beautiful riding habits cut an elegant figure sitting atop a horse, with their right knee tucked over the front of the saddle, and their skirts covering both legs. Riding side saddle, these intrepid women could explore the countryside, ride the hunt with the men, or travel independently. Side saddle offered women an opportunity to pursue equestrian sports and have a bit of independence. There are enough differences between riding astride and riding side saddle to make this a challenging but rewarding discipline for riders to pursue.
History of Side Saddle Riding
The earliest side saddle riders were likely Greeks and those in medieval times. Women wore dresses and skirts back then, pants weren't an option, and it really wasn't feasible to ride astride the way men did. So, various saddle forms took shape, from just sitting sideways on the horse to chair-like saddles. The saddles evolved over time as new ideas and innovations helped refine them.
Europeans developed the side saddle we're familiar with today. Aristocratic ladies used them because they wanted to ride their horses, join a fox hunt, or whatever other pursuit they had in mind. The saddle with two pommels developed in the 1830s and really allowed women to start riding and enjoying equestrian sports.
The fixed head is the top pommel and riders drape their right leg around it. The leaping head is the lower pommel. The two pommels face in opposite directions. Riders wear a habit. This includes a jacket and skirt, which is more like an apron. Safety aprons were created in the 1800s so that if a rider falls, they won't get dragged. The male grooms also rode in these saddles to keep horses fit and make sure their training was adequate. Women started riding astride after World War II, but the discipline has remained, albeit in a lesser role.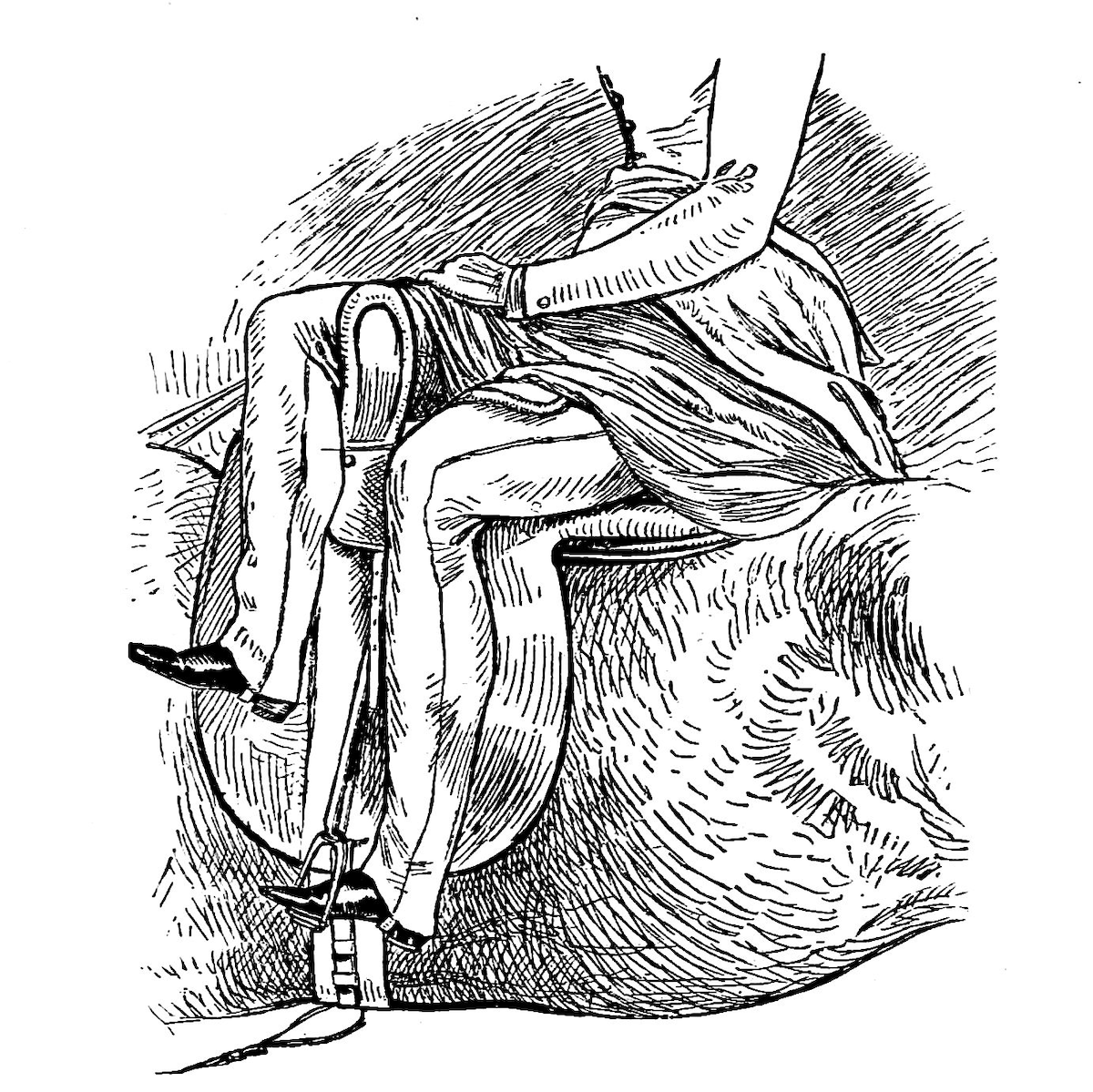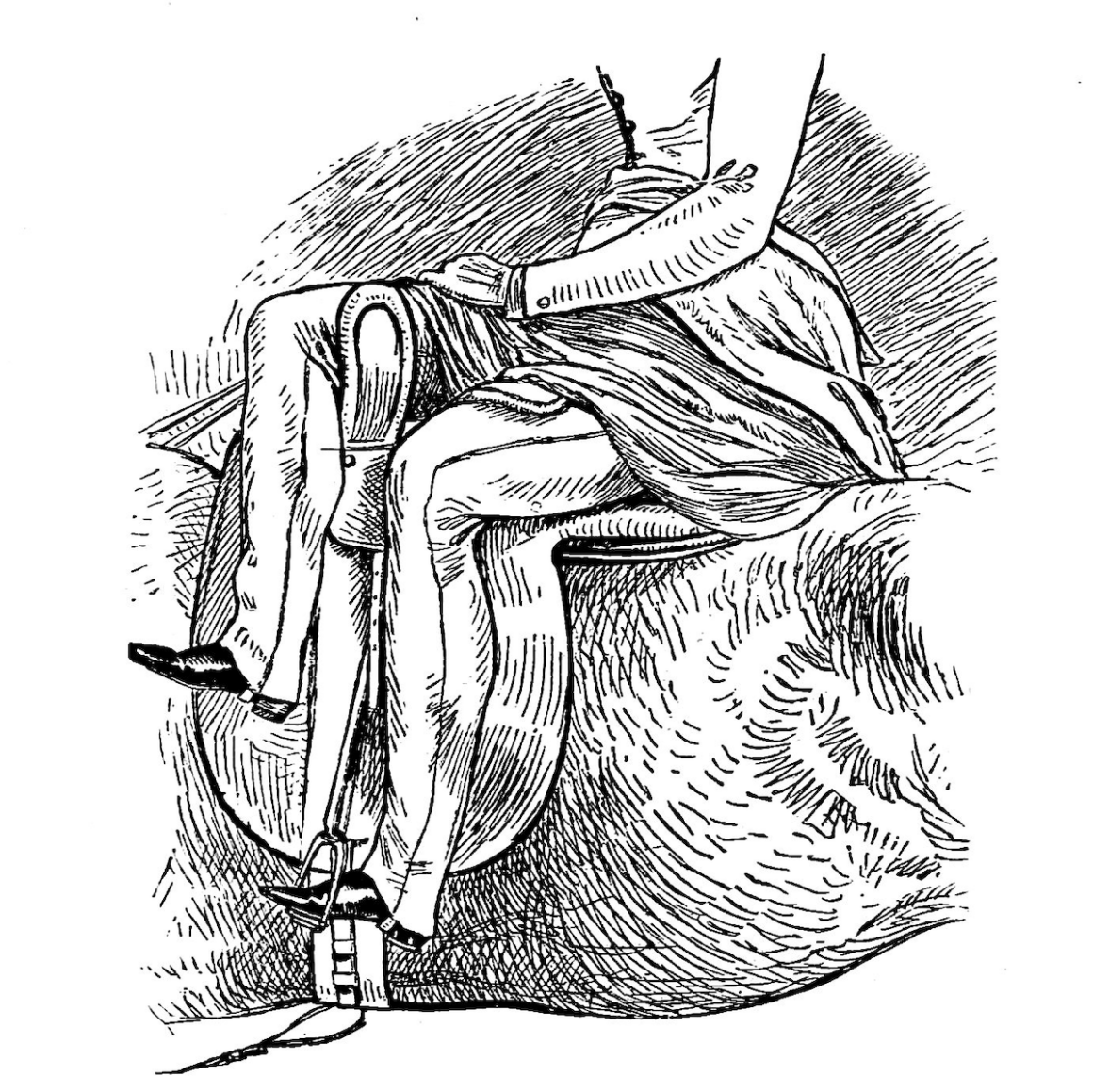 Equitation
Proper equitation is always important. Sit straight in the saddle, even though both legs are on the same side. Hips must remain level and aligned with the horse's ears, the way they are when seated astride. The rider's right shoulder must also stay up and back, again, you are sitting up straight. The point of balance is just behind the right knee, so it's different.
Some riders collapse their left hip, and this adds more weight to that side and makes the horse fall in. Sitting tall and softly in your seat with good equitation avoids this. Now, here's where it gets tricky. The hips remain straight, but the upper body does turn ever so slightly towards the right side, one side saddle expert says the upper body should be at five past twelve if you think of your position as a clock.
Ideally, you should sit in the saddle in such a way that it feels like your right heel is reaching for your left shin. One thing that feels odd to those new to riding side saddle is that the right toe points down. You should have a hand width between your stirrup and lower leg, the stirrup shouldn't feel rammed in under the lower pommel. Overall, you'll actually feel more secure than you do riding astride.
Riding Cues and Horse Training
Riders carry a whip in their right hand, and this acts as their right leg. It needs to be long enough to cue the horse without moving your hand. Most riders just tap the saddle and don't need to tap the horse, but this is dependent on the horse being well-trained. Otherwise, the rest of the cues remain the same as riding astride.
Saddle fit with a side saddle is harder than traditional English or western tack. Saddles that aren't level cause problems and pinching at the withers is another common issue. It's best to seek expert help to ensure the correct fit. Side saddles fit best on horses with prominent withers and a longer back. They don't fit wide horses well.
Next, some horses really don't like the feel of a side saddle, so introduce it slowly. It's also important for the rider to feel comfortable and secure, otherwise, they may further disrupt the horse. If possible, learn on a horse that's already comfortable and trained in side saddle tack. Sitting trots are performed today, although Victorian ladies did post.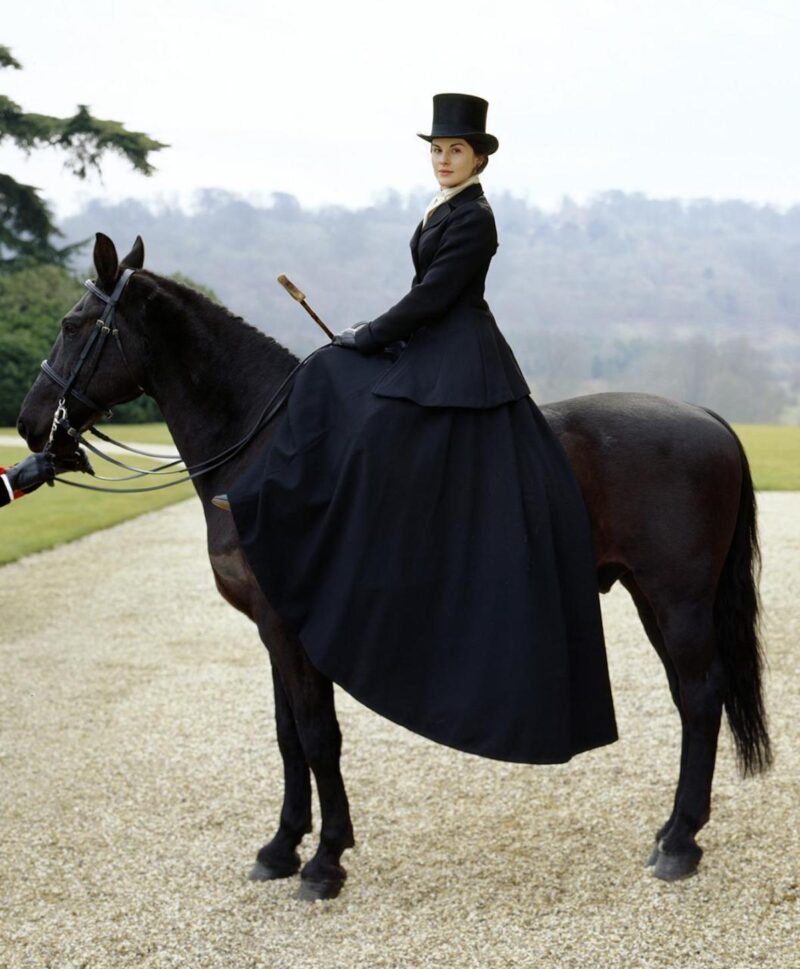 Side Saddle Riding Today
The first Side Saddle Association was formed in 1974 to preserve discipline. Both women and men enjoy it today. Some choose side saddle because of medical conditions or limited use of their right leg, while others enjoy the outfits, or trying something new.
Side saddle equitation gained renewed interest with the popularity of Downton Abbey, which often showed Lady Mary Crawely riding her horses side saddle.
There is a slightly annoyed feminist somewhere deep inside me. She's thinking: you know, making women ride side saddle is just further proof of how athletic and talented they really were – and still are. Despite the negative connotations with how this type of riding was developed, it is a beautiful and classic art form that's preserved and celebrated by many female (and male) riders today. Riding in a side saddle is one way to deepen your talent and skill as a rider and give a tip of the hat to all the intrepid women who paved the way for female equestrians today.
Sources: American Sidesaddle Association, Historic UK, Horse & Hound, Horse and Rider UK, and The Side Saddle Association.