What is a Zorse? It is a cross between a zebra and a horse. This unique combination is pretty rare, but also very memorable when you do see one. The Zorse originated in Africa. Zebras were crossed with horses to create pack animals that were immune to the tsetse fly. But their story doesn't end there, and in true zebra fashion, they have some opinions of their own too.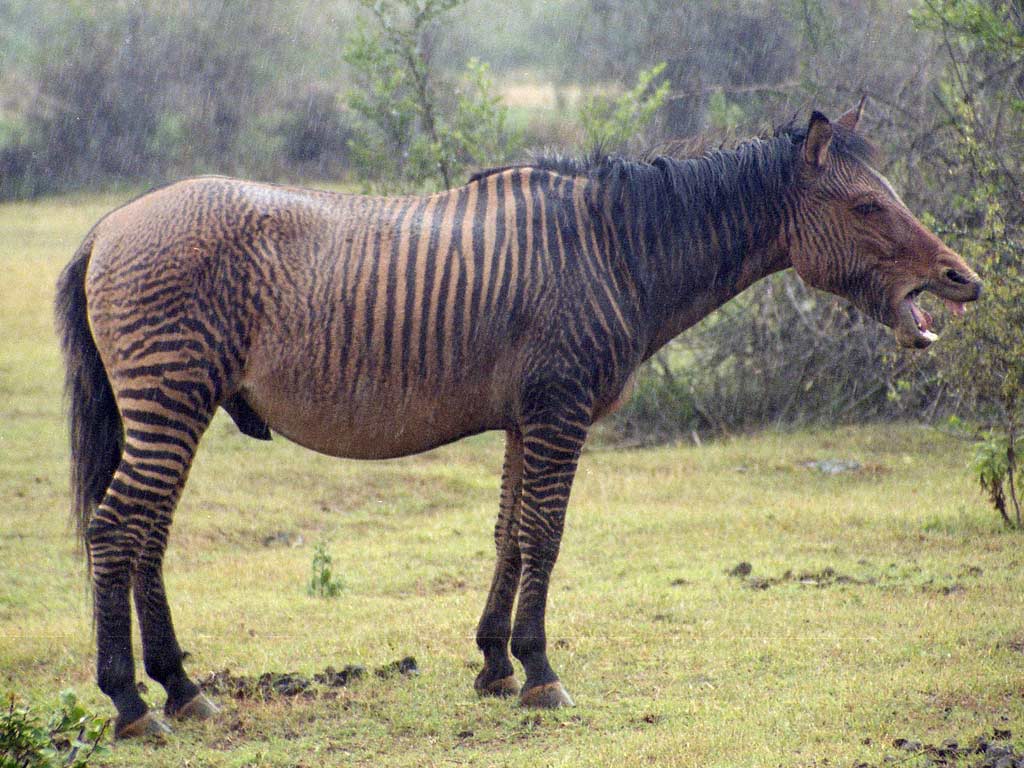 If you hang around on equestrian Instagram at all, you'll run into the Zorse at some point. Or maybe you already have, and that's why you're here. The Zorse is a cross between a male zebra and a female horse. It takes the horse's coloring with the zebra stripes, making a striking animal. Although they may look cute and friendly, the zebra personality comes through stronger than the horse personality, and they can be hard to manage.
The History of the Zorse
Zebras are an integral part of the landscape in Africa, and many people enjoy visiting for the opportunity to see them in their natural habitat. They are hardy animals, that have a strong sense of self-preservation, and a stunningly beautiful striped coat pattern. The zebra also has natural immunity to the tsetse fly and horses didn't. So, they started crossing zebras with horses in the early 1800s to get some of that natural immunity.
These are planned breedings because of the size difference between the zebra and the horse. They don't often naturally associate with each other. A zebra stallion is used with a mare. This is because of its size and female zebras are needed to continue their own species. Although breeding started in Africa, some Zorses have also made their way around the world.
Breed Characteristics
One of the primary Zorse breed characteristics is the striping, and many people ask about this. The mare's color helps determine how visible the striping is. Bays, sorrels, and red duns produce Zorse's where the stripes are easier to see and more visible.
The Zorse is a hybrid, or cross between two species, and that means they are infertile. They often assume the conformation of the horse. Some of the zebra characteristics are also seen in the head, eyes, and ears especially. The tail is another area where more zebras seem to shine through, as it has the same slighter tail as that species. In general, they can live about 30 years.
Zorses definitely inherit the personality of the zebra though. Zebras are known for their strong sense of self-preservation, and given the choice between fight or flight, they choose to fight. This makes the Zorse incredibly hard to train, but not impossible. Zorses like zebras, bond to one other mare in particular. Since the Zorse is usually kept separate from other horses because of their serrated teeth and fight prevalence and strong personality, the Zorse bond needs to be with its human. Some people do keep a Zorse with donkeys and mules, and this grouping works well.
Owning and Training a Zorse
Some people do own a Zorse, as we've seen in our Instagram feeds. They are also popular in zoos and other exhibits. Training a Zorse is different from a horse and needs to be done correctly if the animal is to be ridden. It is possible but seek guidance from an experienced Zorse owner prior to beginning. It's well known that zebras are hard to handle, and animal trainers for movies, zoos, and others with experience with either the Zorse or zebra can provide a wealth of information.
Many people ask, which is faster, the Zorse or the horse? The answer is – it depends. We know that the average horse runs between 25 and 30 miles per hour, but the fastest horse topped out at 55 miles per hour. The zebra can run up to 35 miles per hour. So, your Zorse will often be faster than the horse, but there are some exceptions.
The Zorse Today
Today, the Zorse is still turning heads wherever they are found. Conservative estimates state that there are about 100 worldwide, but those are also older numbers. There are more around now it seems, especially when you start scrolling through Instagram. Even better, you see people riding them, and bonding with their Zorse, and that's the ideal situation for any animal. Cost-wise, they are expensive because they are rare animals, and need to go to people with the skills and dedication to carefully train them. The Zorse may never be mainstream, but it certainly leaves an impact.
Sources: National Geographic, Cowgirl Magazine, Farm Show Magazine, San Diego Zoo, TheHorse.com, and the American Donkey and Mule Society.