Proving the bravest hearts can come in small packages, "Reckless" was a 14hh pony who served in many battles during the Korean War.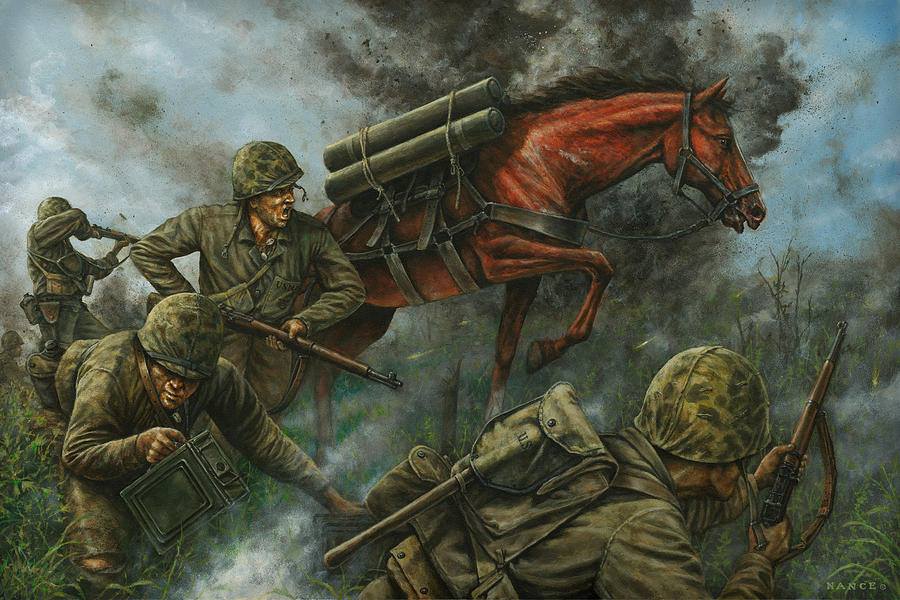 During the Korean War one of the U.S. Marine Corp's most deadly weapons was the six-foot long recoilless rife. Weighing over 100lbs, several men had to carry it into battle where it could fire a 75mm shell thousands of yards with incredible precision. However, deploying this weapon, which the soldiers nicknamed "reckless," was dangerous. Eric Pederson, the commander of the platoon in charge of the weapon, wanted to find a better way.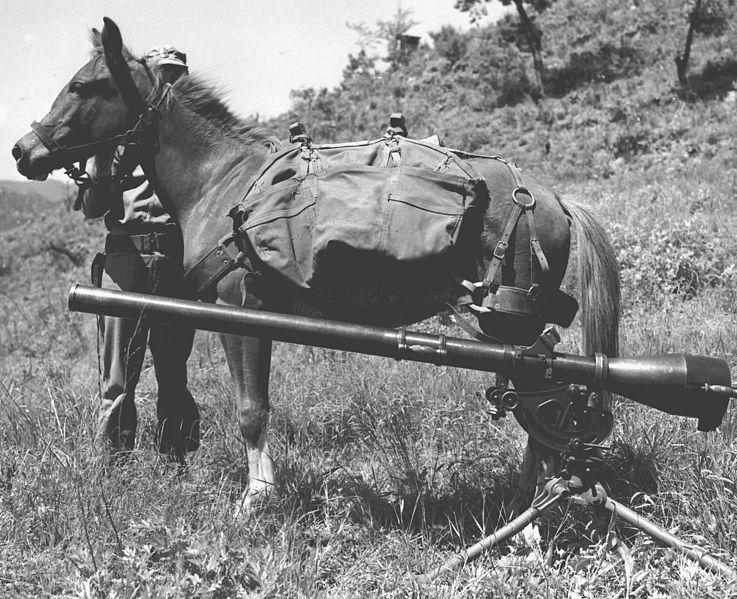 The solution came to him in the form of a small chestnut mare named Ah Chim Hai, or "Morning Flame." He paid $250 of his own money for the pony. Then he and his men trained her to carry the rifle, plus nine heavy 24-pound shells. The mare also learned to lie down under fire, avoid barbed wire, crouch in foxholes, and to run for cover when there was incoming fire.
The Marines nicknamed her "Sergeant Reckless" and after two years the commander of the 1st Marine Division was so impressed by the mare that he gave her an official battlefield promotion to the rank of Sergeant. Her fellow soldiers took the rank seriously. No one was allowed to ride her, not only because of her rank but also because she was too valuable.
Eventually her role and responsibilities grew beyond hauling the heavy rifle. She carried supplies and ammunition to dangerous outposts, and carried wounded soldiers from the battlefield.
The Battle for Outpost Vegas
In 1953 Reckless was at the Battle for Outpost Vegas where thousands of soldiers were killed in three days of fighting. In one single day of the battle, Sergeant Reckless made over 50 trips across rice paddies and up steep mountain trails to the front lines and back. At first she would make the trek with a Marine leading her, but after casualties grew so great that no one could be spared to guide her, Reckless made the trips on her own save for the occasional wounded soldier across her back.
She was wounded twice, hit both above her eye and in her left flank. Despite her wounds, Reckless continued to make the trip back and forth while under fire and without a human being to help her. Sgt. Harold Wadley was one of the soldiers present that day, and couldn't believe the sight of this riderless mare braving the dangers of battle. "I looked back at the eastern skyline through all the smoke and swinging flare light and could hardly believe my eyes," the Battle of Outpost Vegas veteran recalled at the unveiling of a statue of Reckless at Camp Pendleton in 2016. "Surely an angel must have been riding her."
"I looked back at the eastern skyline through all the smoke and swinging flare light and could hardly believe my eyes. Surely an angel must have been riding her."

Sgt. Harold Wadley
The bond between Reckless and her fellow soldiers ran deep. They would give her the coats off their backs to help keep her warm. She would make them laugh even during the toughest times. She shared their C-rations and mess hall chow, and even slept in their tents on cold nights.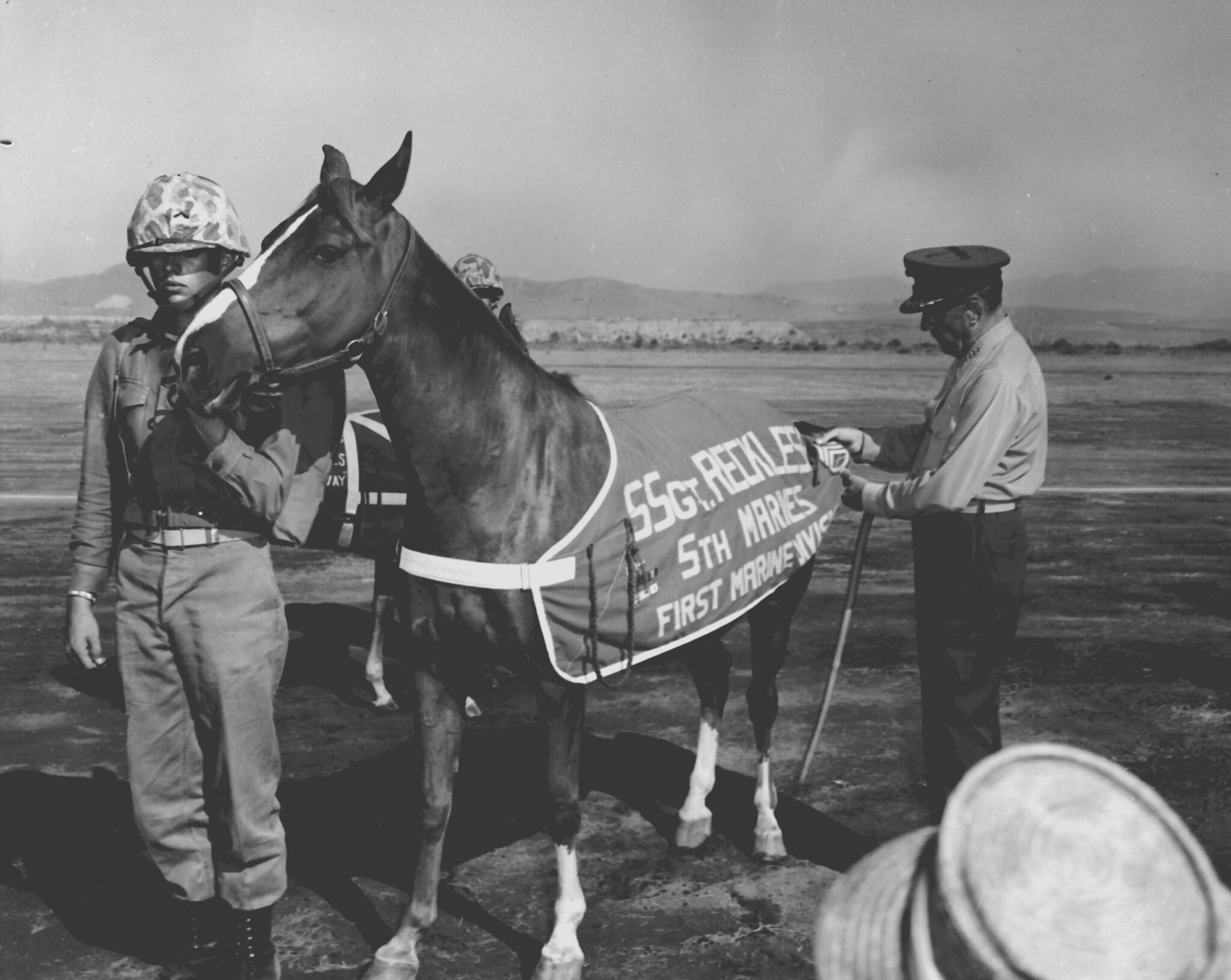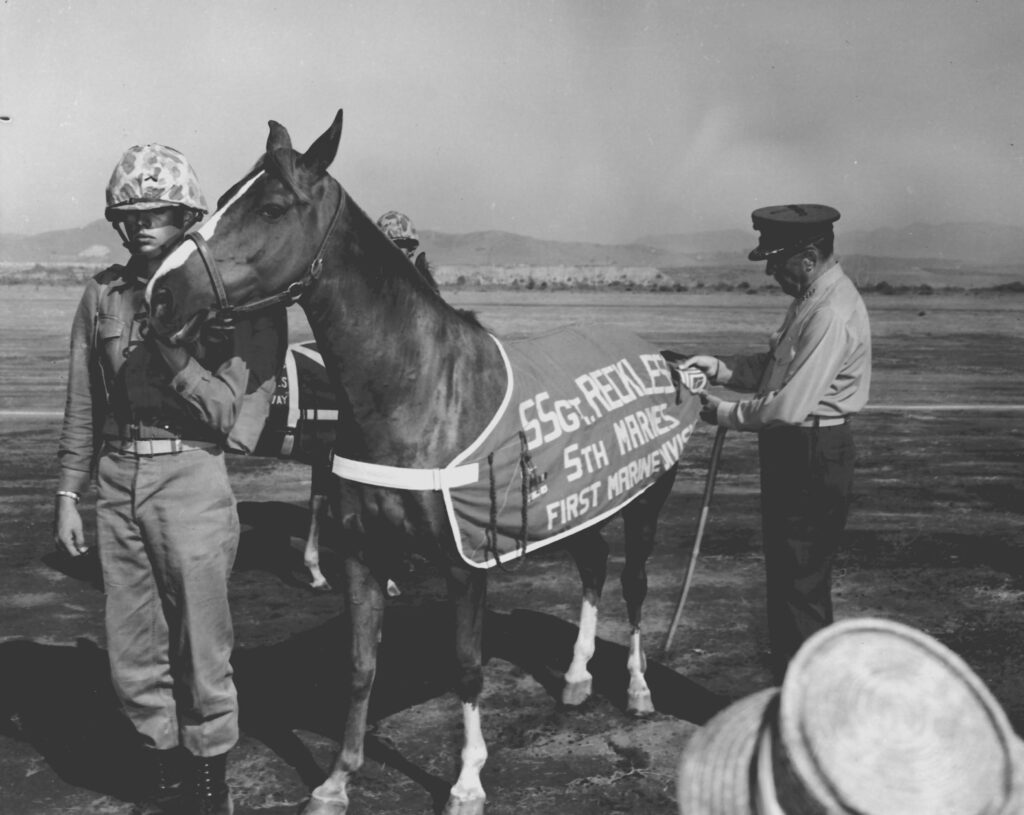 Reckless in Retirement
At the end of the war Sergeant Reckless lived at Camp Pendleton and was treated as a hero. She was awarded two Purple Hearts, a Marine Corps Good Conduct Medal, a Presidential Unit Citation with Bronze Star, the National Defense Service Medal, a Korean Service Medal, the United Nations Korea Medal, a Navy Unit Commendation, and a Republic of Korea Presidential Unit Citation. She would wear these awards on her horse blanket.
Reckless also became a mother in retirement, producing four foals: Fearless (colt, 1957), Dauntless (colt, 1959), Chesty (colt, 1964) and an unnamed filly that died a month after birth.
Sgt. Reckless died at Camp Pendleton in 1968 after falling into a barbed wire fence. She passed away while being treated for her wounds under sedation. Although no one knows how old she was, it's estimated that she was 19 or 20 years old when she died.
Today there are statues in her honor at the Museum of Marine Corps in Quantico, Virginia and at Camp Pendleton. In 1997 LIFE magazine named Reckless as one of America's 100 all-time heroes.
Sources: History.com, Horse Stars Hall of Fame, America's Best Racing, Sgt. Reckless: America's War Horse.