Prehistoric caves in France depict spotted horses, and they were also popular in the United States, most recognizable as the Appaloosa horse of the Nez Perce Indians. What few people realize is that many of these horses were gaited, and the Walkaloosa Horse is a newer designation that preserves and protects the bloodlines and these traits.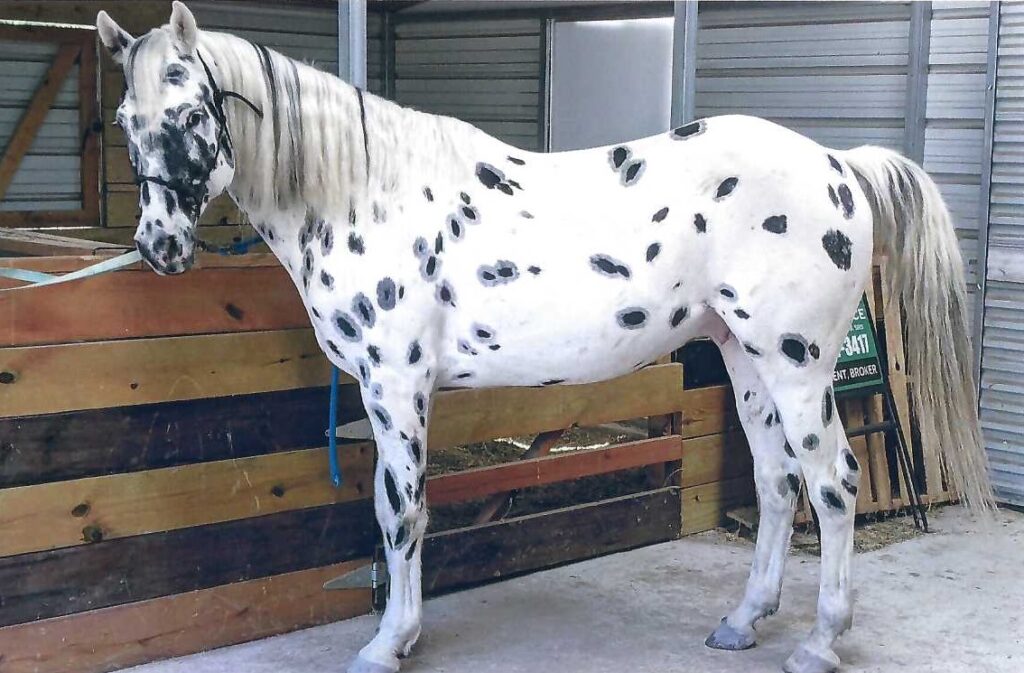 Spotted horses are intertwined with humans from prehistoric times through to today. The distinct coat pattern is easily recognizable but it's not the only trait these horses are known for. The Appaloosa horse is the breed that many of us naturally think of when spotted horses come to mind.
Since early times, some Appaloosa horses were also gaited, owing to the Paso Fino bloodlines incorporated into the breed at one point. A newer breed designation, the Walkaloosa Horse, is preserving this exceptional combination.
History of the Walkaloosa Horse
The history of the Walkaloosa Horse starts with the prehistoric cave paintings in France. We know from those that spotted horses existed. People liked this coat pattern and bred for it. It can be assumed that there were spotted members of many different breeds. When Christopher Columbus came to what he dubbed the "new world," he realized that horses were needed. Therefore, he brought the ancestors of Paso Finos with him and his conquistadors on his second voyage in 1493.
Paso Fino translates to smooth gait or fine gait. Horses that gait have a four-beat gait that is also fast and replaces the trot. It's easier for people to ride because it's smooth and less jarring. These early Paso Finos sometimes left or escaped and made their way north.
The Nez Perce Tribe has resided in the Pacific Northwest, around the Columbia River Plateau, for over 11,500 years. The Paso Fino horses descended from those that Columbus brought over and eventually worked their way north. The Nez Perce Tribe liked both the spotted coat pattern and the smooth gaits that some of these horses had. They started breeding for both traits and were known as excellent horse people.
Gaited horses became known for their "Indian Shuffle," the smooth gaits they had. This became a prized trait, with people willing to pay extra for it. The term eventually became "Shuffler" and these horses continued to be bred alongside other members of the Appaloosa breed.
Breed Characteristics
The two primary breed characteristics are the spotted coat color pattern of the Appaloosa horse and is also gaited. The purpose of the registry is to combine beauty and functionality. Horses have a good temperament and are known as docile and willing to work. Their gaits are animated and lively. Gaits should be balanced, and horses are generally easy to train.
Walkaloosa horses are known for their versatility; they can be ridden in many disciplines and driven. All horses should exhibit good conformation, although the type can vary slightly. They all should also exhibit the radiant and distinctive Appaloosa color. Soundness and longevity are also prized breed characteristics.
A New Registry
The Walkaloosa Horse Association was formed in 1983 to protect, preserve, and promote gaited horses with the Appaloosa or spotted coat pattern. The breed association's tagline is "The Walkaloosa is the gaited horse with a fancy paint job," and that certainly sums up the breed perfectly.
Horses in the registry are used for work, performance, and pleasure. They must have parents registered in the Walkaloosa Horse Association or be of verified Appaloosa bloodlines to be registered. The Appaloosa coloring must be visible from at least 10 feet away, and horses must be certified as gaited by a veterinarian or professional horse trainer.
Horses with a gaited breed parent, such as a Tennessee Walking Horse, the Paso Fino, or a Missouri Fox Trotter, can be registered with the Walkaloosa Horse Association as long as they have an Appaloosa parent too, and the spotted coat coloring. Many breeders also seek foundation Appaloosa bloodlines, and then breed for both the color and gaited characteristics and can register their foals with both the Appaloosa Horse Club and the Walkaloosa Horse Association.
Walkaloosa Horses Today
Walkaloosa Horses today continue gaining popularity. Uses include pleasure, ranch work, showing, and trail riding. The smooth gaits and fancy color make them popular as trail horses. The breed association was started by private breeders and is currently located in Cayucos, California. The association and dedicated Walkaloosa horse breeders continue stewarding the breed, helping them gain in popularity, and bringing their fancy paint job and gaits to riders everywhere.
Sources: Walkaloosa Horse Association, Nez Perce Tribe, Equisearch, Pleasure Saddle Horse Registry, and Livestock of the World.