After almost a year of trying every kind of "anti fog" mask on the market, I finally found a mask I can wear to the barn without fogging my glasses! This is a big deal folks.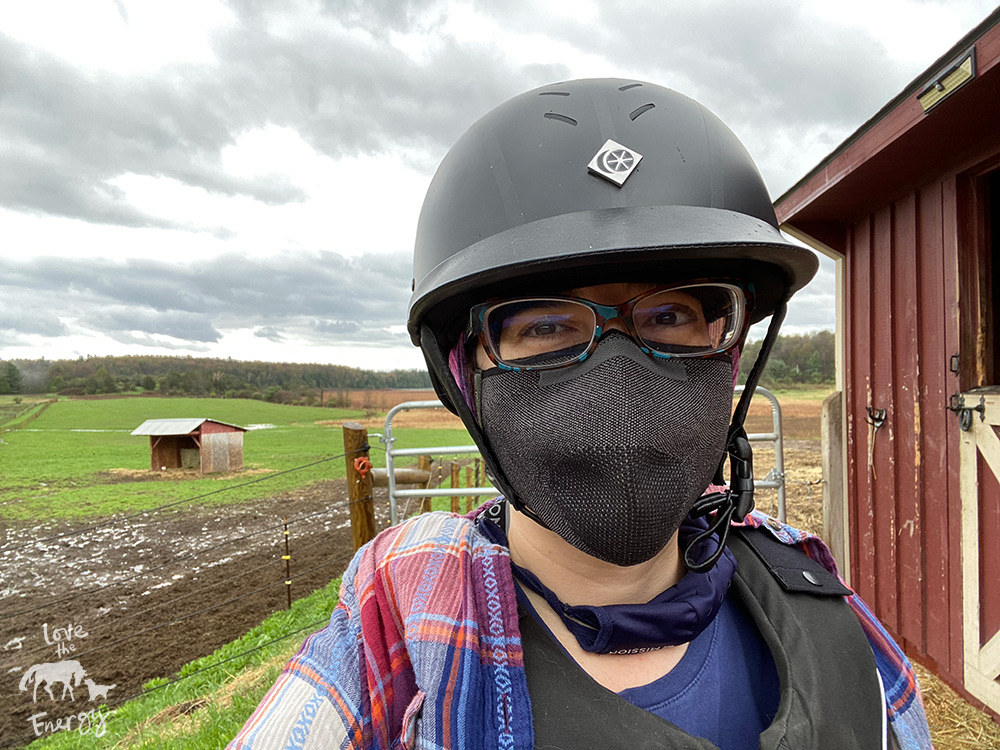 If you've been riding this past year, odds are you have been trying to solve a new equestrian conundrum: how do you wear a mask at the barn without your glasses fogging up? Finding a way to prevent my glasses from fogging up while wearing a mask as been one of my big puzzles this year.
I've tried at least 20 masks and all manner of anti-fogging treatments for my glasses. Most of them did not work. One combo kinda worked. (More on that below.)
Since our barn requires masks anytime you're not on a horse (a fact which I love!) there have been more than few times where I could barely see what I was doing. Eventually I started adding 20 minutes to my pre-ride routine just to accommodate the number of times I had to stop to de-fog my glasses.
It's a catch 22. On the one hand, wearing a mask during a pandemic is essential. In fact, it came in handy at least once that I know of, when I was in contact with someone who was unknowingly positive but we were both wearing masks. On the other hand, working around a 1,200 lb animal without being able to see what you're doing seems equally dangerous.
The Mask That Finally Worked
So which mask is my holy grail? The Honeywell Dual Layer Face Cover with Replaceable Inserts. I found this mask after another frustrating morning barely being able to see what I was doing at the barn. And while the price-point initially made me pause, I then realized it was for 4 masks with 32 filters. That evens out to about $14-$15 for each mask when you factor in all the filters.
I love this mask so much it's now the only one I wear.
In my experience as a regular person trying not to deal with foggy glasses, here's what makes this mask different/better:
Molds to your face: There are other masks that say they mold to your face. But every one I tried up until this one still fogged my glasses. Especially on a cold Vermont morning, even the tiniest bit of breath escaping from the mask is enough to fog your glasses big time. With this mask there is a light, comfortable piece of wire inside the top of this mask that lets you fit it not only across your nose but also across your cheekbones. I think this gives you a better seal.
It has a replaceable filter: There are two reasons I like this. First, it seems like the filter absorbs some of the moisture from breathing, which also helps prevent fogging up. I also like how this filter blocks ≥ 98% of 0.3-micron-sized particles (BFE) and 0.1-micron-sized particles (PFE), according to the manufacturer.
Stands off the face: You know how some masks just sit right up against your face and make it hard to breathe? This one doesn't do that. In fact there is a pronounced pocket right where your nose and mouth go. I find it very easy to breathe in this mask. The pocket also gives your breath somewhere to go vs. being pushed up under your glasses.
There are other things to like about this mask. Like the fact that it's washable and holds it shape well etc etc. But many cloth masks do that. For me, it was all about the fact that it doesn't fog my glasses. I don't even have to treat my glasses with anti-fog spray!
The Runner Up
Before I found the Honeywell mask, my favorite mask was this one by Starks Vacuums. This mask has a cloth nose guard that goes up under your glasses when you're wearing the mask. It does a decent job of not fogging glasses but only if you also treat your lenses. It doesn't mold to your face as well so breath does escape, especially if you are breathing harder. When I was using this mask my routine was as follows:
Even with all the above though, I would still need to stop 3-4 times to de-fog my glasses. The nose guard on this mask rests on top of your nose, it doesn't mold to your face. As a result, there are open areas near the inside corner of your eyes where breath escapes and fogs your glasses. This mask also sits flush against your face, so if you breath heavily the mask pushes the air up under your glasses.
Happy Riding!
I hope this info was helpful! If there is another mask you like to wear at the barn please share that info in the comments below. 🙂