Many people know about General Robert E. Lee, the commander of the Confederate Army during the Civil War. But what about his horse? Maybe this is a question only equestrians ask, but after seeing so many photos of General Lee astride a grey mount I wanted to know who this horse was.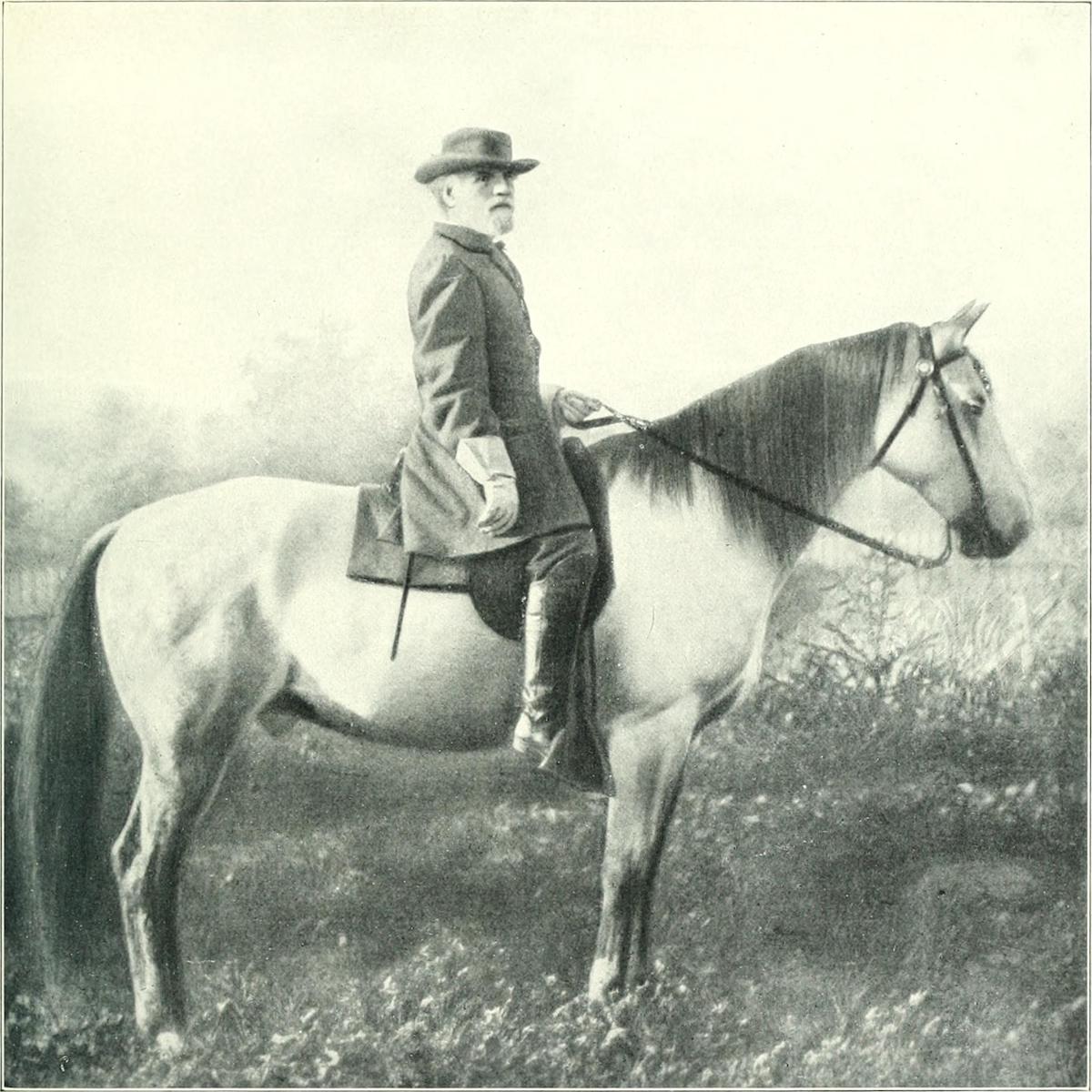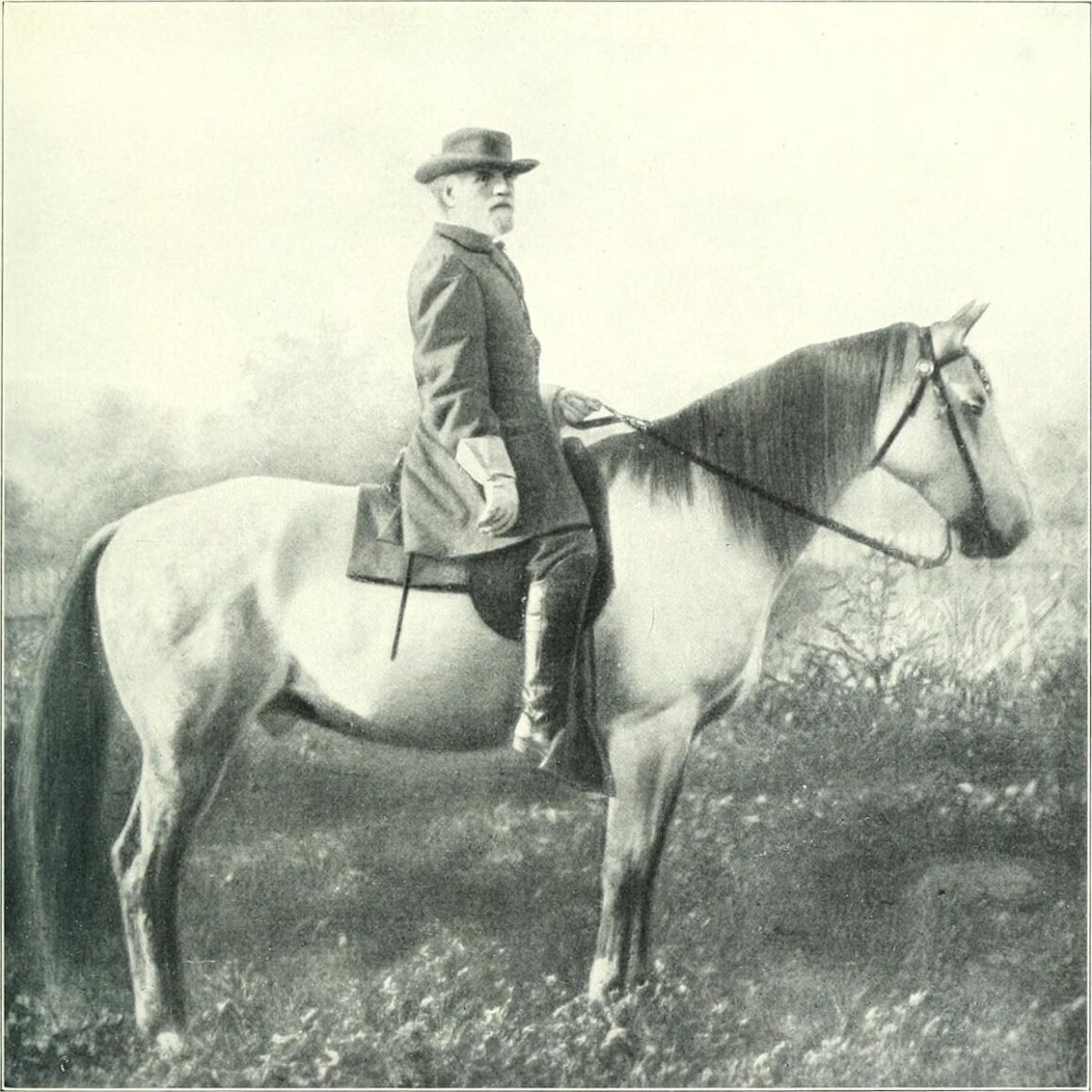 Turns out General Lee's horse was named Traveller. He was a 16hh grey gelding that was reportedly unruly and difficult to ride. But the same spirit that made him a challenging mount also made him a superb warhorse. In fact, Traveller participated in more battles than any other horse in the Civil War.
Traveller Was a Show Horse in his Early Years
The primary purpose of horses in the 1800s was transportation and sport. Traveller came from a well-bred line of sport horses. Grey Eagle, the sire of Traveller, was also 16-hands and won a $20,000 stake race in 1839 at the track in Louisville, Kentucky. Traveller was born in Virginia in 1857, and out of the mare Flora. She was either a Saddlebred or Tennessee Walking horse.
James W. Johnston of Virginia had purchased Flora in-foal to Grey Eagle. Johnston originally named the colt "Jeff Davis" after the Mississippi Senator. Jeff Davis later became President of the Confederate States of America, and this coincidence foreshadows Traveller's future. Johnston competed in the saddle classes at the Greenbrier County Fair in Virginia with "Jeff Davis" when the colt was two and three years old, taking home blue ribbons both times.
Traveller Meets General Lee
So, how did a show horse end up participating in more battles than any other horse? Horses were in high demand during the war, and officers wanted a horse that looked fancy and could do the job. Captain Joseph M. Broun purchased the horse "Jeff Davis," renamed him "Greenbrier" and took him to war. When Robert E. Lee went to Virginia in 1861 to advise Henry Wise, a Brigadier General on his troops and war strategy, he saw "Greenbrier" with Broun. Lee immediately liked the horse and called him 'my colt.'
Lee and Broun crossed paths again in South Carolina at another confederate camp, and Lee asked about the horse. Broun offered to give him "Greenbrier." It was quite an honor to have the commander of the army interested in your horse. But Lee insisted on purchasing the horse after a one-week trial and paid Broun $200. So, he became Lee's horse and received his new (and final) name, Traveller, because he walked five or six miles per hour over any type of terrain.
Traveller's Role in the Civil War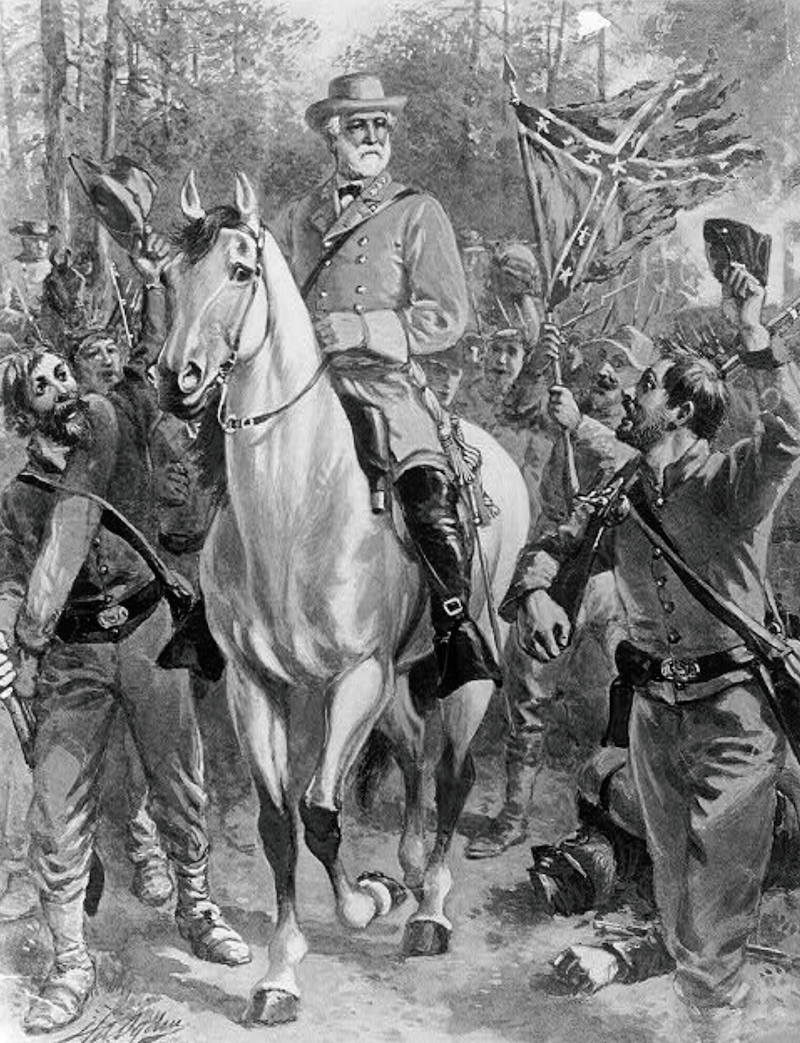 Traveller was one of five horses that Lee rode during the Civil War. Traveller retained his vigor throughout the entire war – the only horse of General Lee's that did. The other horses that Lee rode were Lucy Long, Richmond, Brown-Roan, and Ajax. Only Lucy Long and Traveller lived through the entire war. Lucy Long remained with the Lee family until she was 34-years old.
Not only was Traveller a fast walker; he was also very spirited. Robert E. Lee Jr., the General's youngest son, once borrowed Traveller during the war for a 30-mile trip to Fredricksburg and stated that the horse did not walk on the entire journey. Traveller bucked and was high-stepping, and generally testing the young soldier. Instead of feeling honored to ride his father's horse, the young Lee was relieved to arrive in Fredricksburg.
General Lee started riding Traveller regularly in 1862, although the horse was still feisty. Lee took a bad fall off him after the Second Battle of Manassas when Traveller reared, knocking Lee to the ground and breaking both of his hands. Traveller was always eager to move towards the front lines of the battlefield. Towards the end of the war, soldiers often pushed General Lee and Traveller towards the back of the battlefield to protect their lives.
His Final Years
Lee rode Traveller on pleasure rides after the war and his daughter Mildred often accompanied him on Lucy Long. Traveller's feisty attitude was ever-present. As one story recalls, General Lee was saying goodbye to Mildred's friend and left Traveller tied next to a boat. Traveller got loose and was running down the road with men trying to catch him. Lee told everyone to stop and whistled twice. The horse turned around and trotted happily back to Lee. Stunned onlookers watched as Lee tied him back up. The incident exemplifies the bond the pair had and Traveller's unwavering spirit.
After the war, Lee served as president of Washington University in Lexington, Virginia. Traveller had the run of campus, grazing wherever he pleased. He was a bit of a celebrity; students plucked hairs from his mane and tail as souvenirs. Lee once joked that Traveller was going bald because of the souvenir-seekers. The pair continued going on 40-mile pleasure rides; with Lee using the rides as a stress reliever. Lee died in October 1870 and Traveller followed the hearse in the funeral procession.
Unfortunately, Traveller stepped on a nail in his stall in June of 1871. He contracted tetanus and was humanely euthanized. The fascination with Traveller lived on though. People stole his bones from his grave and vandalized them by carving their initials in them for luck. Traveller's bones spent 30 years in the basement of a university building for safekeeping. Finally, he was re-buried in 1971 in front of the Lee Chapel at Washington University. General Lee's grave is nearby. Vandals can no longer access Traveller, concrete surrounds his wooden casket. His spirit comes and goes freely on campus from the open door of his old stall.
Traveller is a horse on the wrong side of history for his role in the Confederate Army. But Traveller did not choose his cause or side of the war. General Lee asked him to serve and the horse's contributions to Lee speak volumes to the type of horse he was – his heart, stamina, and bravery. Traveller's feisty spirit endeared him to legions of fans and his reputation lives on.
Sources: HistoryNet, Horse and Man, and The Civil War Monitor